Media
Share, spread the work and get involved through interactive media.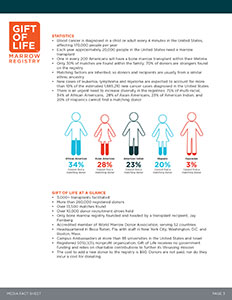 Media Fact Sheet – Click image to open and download a PDF file of information about Gift of Life Marrow Registry and statistics about bone marrow transplantation.
Video Gallery
View all Video Galleries
South Florida Steps for Life 5K
Compilation video of Steps for Life 5K Run & Walk held at FAU Stadium on January 15, 2017. Marrow donor Ethan met his transplant recipient Rich for the very ...
2016 NYC Steps for Life 5K Run & Walk
Annual Gift of LIfe Steps for Life 5K held in Battery Park on October 30, 2016.
Photo Gallery
View all Photo Galleries