Logos & Trademarks
Usage policy
The Gift of Life Marrow Registry suite of logos identifies the organization to the public and is among its most recognizable brand assets. Gift of Life maintains registrations with the U.S. Patent and Trademark Office in order to protect these valuable assets.
When using Gift of Life logos, please follow instructions consistent with Gift of Life visual identity and brand asset requirements.
DO:
Use the Gift of Life brand assets for your efforts and initiatives with Gift of Life, not with other entities that are not part of the partnership.
Always link our logos to a Gift of Life website – https://www.giftoflife.org – when using them on a web page.
Portray Gift of Life and bone marrow/stem cell donation in a positive light.
Use the logos provided on this page. Contact Gift of Life if you need assistance obtaining images or different sizes to meet your needs.
Follow the style guidelines outlined for each logo.
Promptly respond to any request from us to remove our logos or change your use.
DO NOT:
Change our logos in any way. We think they are perfect as they are and we're rather attached to them. Don't get us wrong, we love creativity, but please resist the temptation to add your own interpretations or edits, however insignificant you may think they are.
Use our logos on anything that is intended to be sold or on any commercial website or application, unless it is for approved fundraising activities for the benefit of Gift of Life. If you aren't sure, call us and ask.
Use our logos in connection with any other cause.
Use our logo in any way that implies a partnership, sponsorship, or endorsement that is not already approved by Gift of Life management.
Make our logos available for download on your website.
Remove our trademark, registration, or service mark such as ®, ™, or ℠.
Use low resolution, poor quality logos or reduce the quality through file compression.
---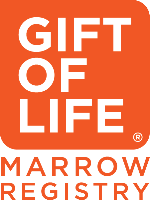 This logo is preferred for most uses.
If you require a different version, please contact us at 800-9MARROW.
Click here for a .png file.
---
At small sizes the words MARROW REGISTRY may be dropped. A rule of thumb is to use only for sizes less than 1/2" square. To avoid the risk of confusion about what Gift of Life is when the words MARROW REGISTRY are not used, this type of use is be best kept to situations where a person is involved. For example a lapel pin, button, or wrist band.
Click here for a .png file.