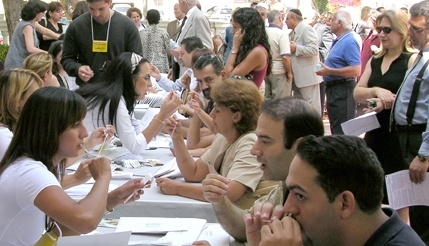 Religious Action Center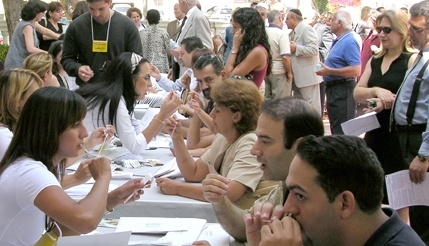 What is the RAC?

For 50 years, the Religious Action Center of Reform Judaism (RAC) has been the hub of Jewish social justice and legislative activity in Washington, D.C. As the DC office of the Union for Reform Judaism, the RAC educates and mobilizes the Reform Jewish community on legislative and social concerns, advocating on more than 70 different issues. These include economic justice, civil rights, religious liberty, and more. The RAC's advocacy work is completely non-partisan and pursues public policies that reflect the Jewish values of social justice that form the core of their mandate.

The RAC's work is mandated by the Union for Reform Judaism, whose 900+ congregations across North America include 1.5 million Reform Jews, and the Central Conference of American Rabbis (CCAR), whose membership includes more than 1,800 Reform rabbis. Representatives of these two organizations, as well as the Union's affiliates, comprise the Commission on Social Action of Reform Judaism, which governs the RAC's policy positions.

In December 2013, Jay Feinberg, Gift of Life's Founder and CEO, received the Maurice N. Eisendrath Bearer of Light Award. This award was granted in memory of Rabbi Maurice N. Eisendrath, the Executive Director and President of the Union of American Hebrew Congregations from 1943 to 1973. It is the highest honor bestowed by the Reform Movement. Jay shares this award with other luminaries such as Michael J. Fox, Professor Jeffrey Sachs, Rabbi Richard Hirsch, and Abba Eban.
The Religious Action Center of Reform Judaism and Gift of Life joined forces in March 2013 to help save more lives in North America and around the world.
Through the partnership, the RAC will provide Reform communities with the educational tools, resources, and follow-up necessary to increase Gift of Life's donor database. This will make transplants possible for more patients around the world while creating meaningful and lasting relationships between congregants, Gift of Life, and the Reform Movement. The RAC hopes to expand Gift of Life to congregations with three major programs:

Yom Kippur: Swab a Cheek, Inscribed for Life
Gift of Life has partnered with the URJ to run bone marrow recruitment drives on this important day. This program gives congregants the opportunity to perform the ultimate mitzvah, Pikuach Nefesh (preservation of human life).

Martin Luther King, Jr. Day Initiative
Bone marrow recruitment drives will be held during MLK commemorative events at historically black churches or colleges. This is a great opportunity for congregations that are interested in interfaith activities and hands-on social action projects.

Hero for Life
Hero for Life is an opportunity for b'nai mitzvah students, with the help of an adult, to run bone marrow recruitment drives as their b'nai mitzvah project. Students gain valuable leadership and life skills that keep them engaged in the Jewish community.