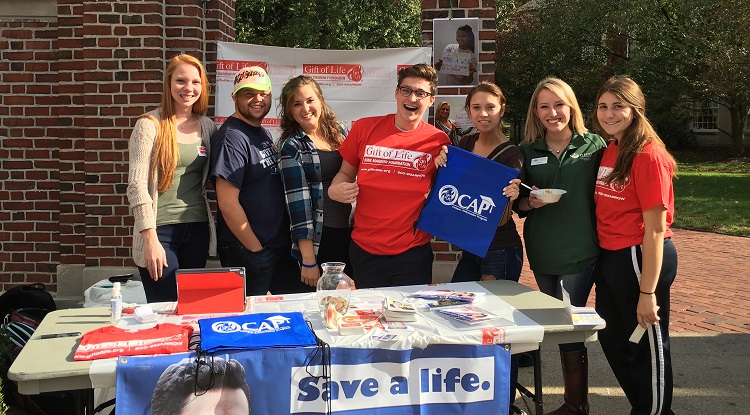 Swab on Campus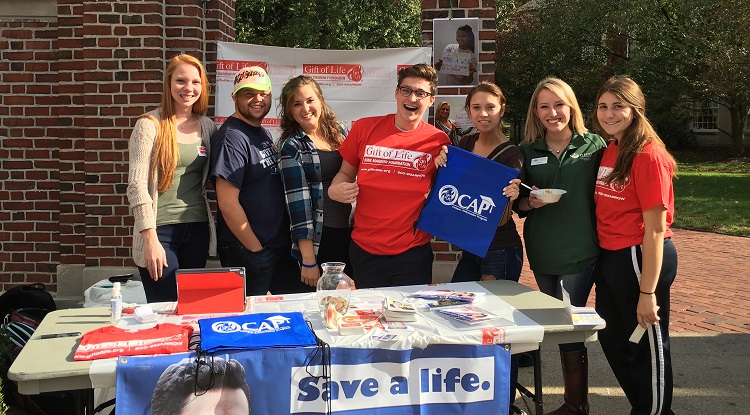 College students are extremely important to patients in need of lifesaving bone marrow transplants. Why? Nearly 65 percent of donors called as a match are between the ages of 18 to 29. Transplant physicians have determined that patients who receive bone marrow or blood stem cells from younger donors tend to have better outcomes.
Gift of Life has teamed up with groups on college campuses to organize donor recruitment drives for over two decades. Together with service organizations, fraternities, sororities, and other campus groups, Gift of Life donor drives provide students with the opportunity to save lives. Students take on leadership roles organizing and executing the drives, while Gift of Life provides behind-the-scenes support, training, and supplies. Hundreds of students partner with Gift of Life each year and their efforts have saved countless lives.
In addition to conventional drives featuring swab stations set up throughout campus, student groups often develop creative recruitment drives and campaigns, or piggyback with other campus events where a critical mass of potential donors will be present to achieve maximum exposure and turnout.

Check out University of Florida's creative "Dance Marathon" bone marrow drive:
Gift of Life donor drives represent the ideal community service project. They also provide students with the opportunity to explore and hone their communications and volunteer management skills. Gift of Life is pleased to provide drive organizers with letters of recommendation, verification of community service hours, and certificates of achievement on request! There are few better ways for students to demonstrate and grow their social justice values than to organize Gift of Life donor drives.
Gift of Life also offers on-campus internships through our Campus Ambassador Program. To learn more, click here.