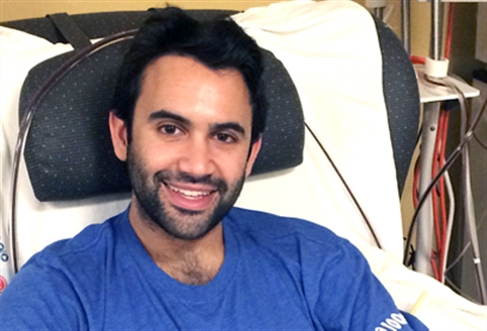 Jonathan donated stem cells, and now considers his recipient as family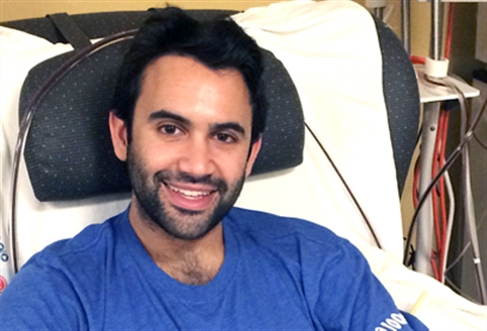 Jonathan describes the night in 2010 when he decided to swab his cheek as an "everyone was doing it moment." As a result, he joined Gift of Life's bone marrow donor registry. If ever there was ever an argument that peer pressure is a good thing, this was probably it. The drive was held at a charity event in New York City that Jonathan had helped organize, to benefit Bet Elazraki Children's Home in Netanya, Israel.
Just a few years later, Jonathan got the call that he was a potential match for a 47-year-old woman, suffering from acute lymphoblastic leukemia, who needed a transplant to survive. It was a call that changed his life. He said, "At that moment, every other worry I had was completely insignificant. To be perfectly honest, I was really nervous and scared of the unknown but I was excited to be given this opportunity, which doesn't come around often." He added, "The second I received that call, she became family, and I hope she feels the same way."
Not knowing much about the woman he would be donating to was somewhat difficult for Jonathan. He said, "I couldn't stop thinking and wondering about her. Why were we matched? It's tough donating something so personal to the unknown, so I imagined a really close family friend named Maria who was around the same age as the woman I matched. She had been diagnosed with cancer and recently passed away. Since I couldn't put a name or a face to the woman I was donating to, I used Maria as a beacon. It made the process a lot easier."
Jonathan admits that at first the donation process seemed scary, but the caring and nurturing staff at Gift of Life made it easy and comfortable. He gave his peripheral blood stem cells (PBSCs) at Cornell Medical Center in New York City and, though he was a bit sore for a few days after, he reminded himself that he had an incredibly rare opportunity to give in a way that most people don't get to give in a lifetime. He said, "I like to weigh all possible scenarios before doing something and all possible scenarios led to this being a no-brainer."
Friends and family were impressed with Jonathan's donation, and many became interested in following his lead and learning more. When asked what he would say to someone who is not sure about volunteering as a donor he replied, "It looks a lot scarier on paper." He explained, "If you look at the person to the right or the left of you, they can't help the person you're matched with. You are the lone star in the sky, and it's a beautiful thing. Think of someone you know that suffered from a life-threatening illness. If you had the opportunity to help that person, would you?"
After the transplant, Jonathan received a handwritten letter from the woman he donated his cells to. He said, "She told me that she is doing great and she will live a lot longer because of me. The words she wrote were powerful, but the fact that it was handwritten gave me a sense of actuality. I've never met my recipient, so the handwriting on that letter was the closest thing to making the entire experience real." Jonathan was happy to reply to his anonymous recipient, writing, "Whether we know each other or not, we are now family, and that is truly amazing. We literally have the same blood and there is no stronger bond than that." He continued, "I believe in the power of prayer, so, every morning and every night, I pray for you. I pray that you will be healthy and strong. I pray that you will be able to live life to the fullest. I pray that one day we will meet. And I will continue to pray. You inspire me. You motivate me. And for that, I thank you. Stay strong."
Jonathan has remained involved in Gift of Life by helping to swab new volunteers at local events, speaking about Gift of Life to many friends and contacts, and organizing an event in New York for twenty-somethings. He said, "Gift of Life connects people in life and death situations, and I'm proud to be involved!"
Jonathan runs a digital marketing agency in New York City. He enjoys connecting people, whether through business or friendships. His hobbies include playing guitar, football, basketball, and barbequing.