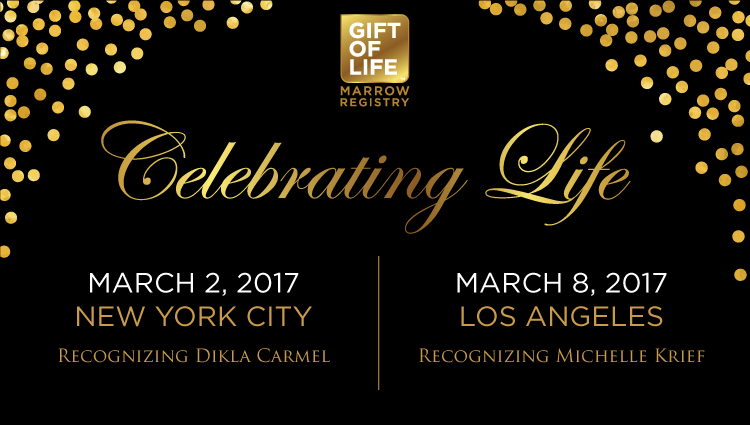 Gift of Life hosts Celebrating Life events to honor marrow donors and recipients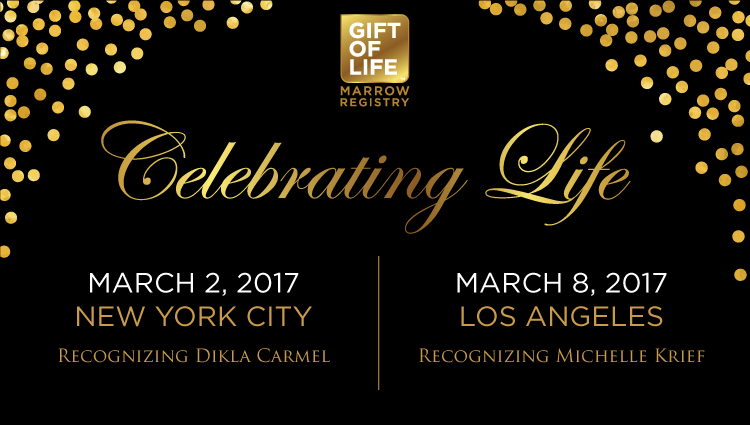 Gift of Life's annual Celebrating Life events will honor marrow donor, recipients, supporters, family and friends in two locations this year: New York on March 2 and Los Angeles on March 8, 2017.
Two women, Dikla Carmel and Michelle Krief, will be recognized for running a massive donor search on behalf of a single patient during the fall months of 2016. Michelle's brother, Adam Krief, was diagnosed in July with an aggressive form of leukemia. This young father of three did not have a match in the international registry, so family and friends united to launch a search.
Michelle and Dikla organized hundreds of drives across the United States, and the #Hope4Adam effort resulted in an astonishing 22,484 new donors joining Gift of Life's registry between September and December 2016. To date ten matches have been found, and one transplant completed.
Adam also received a transplant, in December 2016, and is currently in recovery.
Tickets are on sale for both events and space is limited.
Sponsored by the Gift of Life Young Professionals Network
Recognizing: Dikla Carmel
Date: Thursday, March 2, 2017
Time: 7:30 to 10:30 p.m.
Location: espace
635 West 42nd Street
New York, NY 10036
To register: giftoflife.org/YPNYC
Pricing: $75 regular admission
$135 includes access to Donor Lounge
Recognizing: Michelle Krief
Date: Wednesday, March 8, 2017
Time: 7:30 to 11:30 p.m.
Location: The Mark
9320 West Pico Boulevard
Los Angeles, CA 90032
To register: giftoflife.org/LACelebrateLife
Pricing: $60 early bird through February 15
$75 regular admission
$135 includes access to Donor Lounge and five raffle tickets
For sponsorship information, contact Gift of Life Director of Development Robyn Malek, rmalek@giftoflife.org.