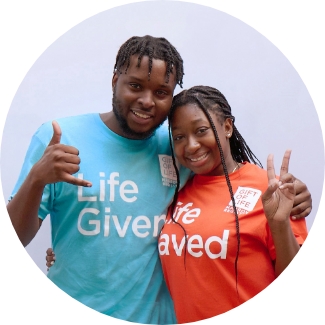 Thank you for joining Gift of Life Marrow Registry! When you swabbed there wasn't much time to tell you about us, so here are a few things to know:
You could save a life – If you are a match for a patient battling blood cancer (or another blood disease), you will be offered the chance to become their hero.
Donors are incredibly special – only someone who matches the patient can donate to them, and immune system matches are extremely rare. You may literally be the only person who is their lifesaving match.
A rewarding experience – Donors tell us that donating blood stem cells or bone marrow was one of the most meaningful experiences of their life. You, too, may get that chance.
It's free and easy – They also say donating was easy, and Gift of Life does everything possible to make it so. We work around your schedule and pay for it if you donate – from travel to hotel to meals and medical exams, it's on us.
A donation vacation – If you donate stem cells, you can come to our beautiful collection center in South Florida. Our state-of-the-art facility is second to none.
We invite you to read some of the stories donors have shared with us, and to watch the other videos. If you ever have questions, we're here for you. Visit giftoflife.org/ContactUs and we'll be happy to answer your questions, or just say hi!