EVENTS
>
Hope 4 Adam Legacy Walk
Hope 4 Adam Legacy Walk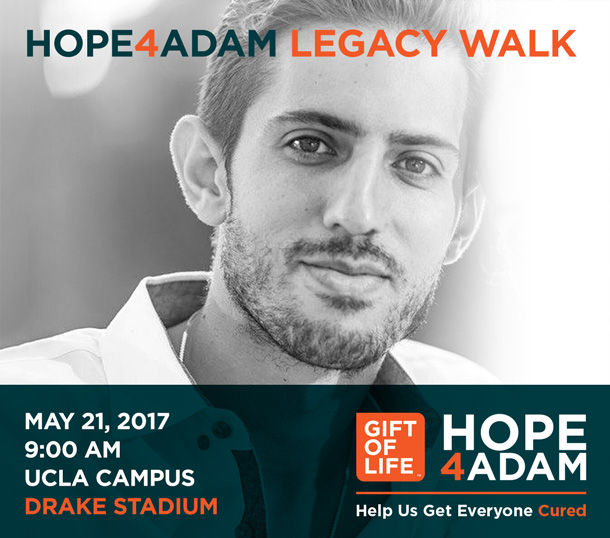 PURCHASE TICKETS
DONATE
Hope 4 Adam Legacy Walk
Join us on May 21st for The Hope for Adam Legacy walk, sponsored by Gift of Life Marrow Registry, on the campus of UCLA at Drake Stadium.
This event will give us all the chance to stand together and honor the legacy of a man who brought a community together and taught us all a lesson of love and action.
The "Hope for Adam Legacy Walk" celebrates the spirit of Adam Krief and those around him who worked tirelessly in hopes of a miracle and continue everyday towards the goal of getting everyone involved, swabbed and cured.
Activities include a short program, Super Hero Kid Sprint, and a memorial walk.
No Solicitations will be made at this event.
Please register using the ticket link above. There is no cost for this event.
Shirts will be given to the first 500 guests that register.
Any questions please contact Linda Barrocas at lbarrocas@giftoflife.org
ADD TO MY CALENDAR
340 Bruin Walk, Los Angeles, CA 90095