On August 8 - 10, 2022, college students from across the United States participated in Gift of Life Marrow Registry's Campus Ambassador Symposium to prepare them for running donor recruitment events on their college campuses in the Fall 2022 semester.
Known as "CAPs" (Campus Ambassador Programees), these college students were drawn to support Gift of Life's mission through their interest in service. Some were already registry members when they learned about the Campus Ambassador Program, and several have even become donors themselves.
"I am a 27-year transplant survivor thanks to people like you who are willing to make a difference in this world, and do something to help a total stranger," said Gift of Life Founder and CEO Jay Feinberg as he welcomed the CAPs.
"We combine hands-on practice in organizing, promoting and managing drives with educational programs about the science behind curing blood cancer and other life-threatening diseases through transplants," said Marti Freund, Directory of Organizational Advancement at Gift of Life. "The CAPs also learn public speaking skills, and how to recruit and motivate volunteers. They leave here fully prepared to represent Gift of Life and hold drives at their university."
Stem cell recipient David joins symposium via Zoom to surprise his donor, Campus Ambassador Alex


Gift of Life had a heartwarming surprise in store for Alex Gonzalez, who represents the organization on the Florida Atlantic University (FAU) campus in Boca Raton, Fla. Alex, a senior, joined the registry in March 2019 during a drive at Florida Southern College and two years later was called upon to donate blood stem cells to a man battling against Acute Myelogenous Leukemia. He transferred to FAU last year.
Alex was introduced by longtime Gift of Life volunteer Gail Oliver and asked to wait just a moment before someone via videoconference appeared.
A transplant recipient named David came on screen and spoke to the group about his diagnosis, his battle to survive leukemia, and the hope given to him by his donor. His health is recovering, and he is doing great.
"My time from being told I needed a donor to getting a transplant was only two months, thanks to having donors in the registry," said David, who then ended his speech by saying, "When you hear that a donor has been found and is willing to donate, it is a great feeling and the light at the end of the tunnel gets that much brighter. You have the opportunity to continue your life thanks to an individual who has stepped up and had an impact. Thank you, Alex, for being my donor and saving my life! We are now blood brothers."
Alex was speechless for a moment as he realized this was his recipient, as his parents and grandparents hugged him in this emotional moment.
"David, I'm so happy to meet you. You know, I've always wanted a brother!" Alex said. "I'm so happy you're doing well. I have a question I've been thinking about for a while, I wonder if you have noticed anything different? I really like spicy food and I heard that things like a taste for certain foods can transfer to recipients."
"Not yet, my wife considers me a wimp when it comes to really spicy foods." joked David, who was pleased to be part of the surprise and looks forward to meeting Alex in person soon.
Alex went on speak about how he swabbed to join the registry and donated stem cells soon afterward. Then, wanting to pay it forward, he volunteered at the organization's Steps for Life 5k in Boca Raton last January. There he learned about the Campus Ambassador Program applied to represent Gift of Life on the FAU Campus.
Words of wisdom from a 30-year volunteer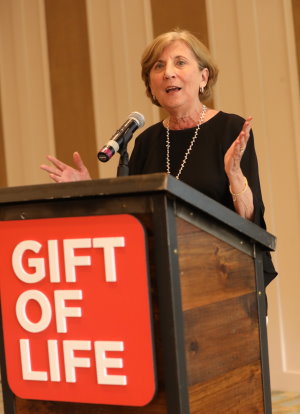 Gail Oliver shared her experiences in running recruitment drives with the CAPs, as well as offering words of encouragement. Gail began holding drives in the early 1990s when she learned through a newspaper article that Jay was searching for his match. When she began spending winters in Florida, she found even more ways to help the organization.

"I learned about a Cuban-American patient named Manny who needed a match and I started running drives in South Florida as well as in Newburgh, N.Y., which has a large Hispanic community," said Gail. "Then I realized as an avid pickleball player I could organize a tournament, so we've now done five of those, and through those events we have found 27 matches for patients to date."

"Don't be discouraged if someone turns you down," Gail added. "Look for lots of different events and opportunities and always remember that every single person you swab has the potential to save someone's life."
Want to become a Campus Ambassador?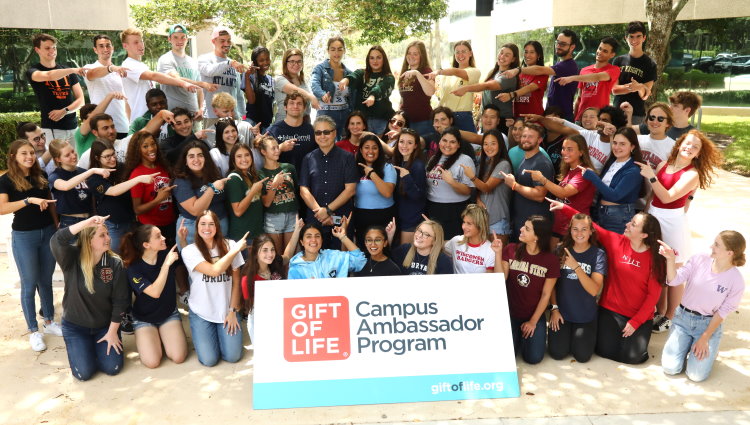 The Campus Ambassador Program has been wildly successful, adding more than 76,700 new donors, and resulting in over 2,700 matches for patients with 316 lifesaving transplants completed to date. Transplant centers most often request donors 18 to 25 because they produce a better outcome for patients, due in part to producing a higher number of stem cells and being healthier in general.
Are you a college student? Would you like to save someone's life? Apply to become a CAP for the spring 2023 semester. To learn more, click here.