Future physician donated stem cells to save woman battling leukemia
Mario was a freshman at the University of Michigan, Ann Arbor, when he joined Gift of Life's registry.
"I was involved in the Health Sciences Scholar Program and that's how I found out about Gift of Life," said Mario. "I swabbed my cheek at a recruitment drive in my dormitory during my freshman year."
At the time, Mario did not realize that donors and recipients need to have matching tissue types for a transplant to be successful.
"I thought that by getting swabbed I could immediately start the donation process," he said. "I had a friend who passed away from blood cancer when I was in middle school, and I wanted to make my own contribution against this disease."
When a prospective donor completes a swab kit, the swabs are tested for the Human Leukocyte Antigen profile, and that information is entered in the worldwide database where physicians can search for donors who match their patients. But such matches are rare – while 30% of patients find a match inside their family, the other 70% must search the worldwide registry for an unelated donor. About 1 in every 1,300 members of Gift of Life's Registry are found as matches for patients, which can happen at any time after registering, even years later.
Mario was in his junior year in March 2021, and while walking back from the gym he received a call from an unknown number. Not recognizing it as Gift of Life, he didn't answer immediately, but his backup contact, his dad, was called to make sure he got an important message.
---
I am still in shock that I was able to make such a big difference in the life of my recipient and her family.
---
"My father called me that night saying he was notified by Gift of Life that I was a match," said Mario. "The next day I called, and the rest is history." Mario was a match for a woman in her late 60s battling Acute Myelogenous Leukemia, and a transplant of his stem cells had the potential to save her life.
When Mario told his older brother he was a match, it turned out his brother was also a stem cell donor. He told Mario it is a once-in-a-lifetime opportunity and that he'd had a positive experience.
"Without hesitation I knew that I wanted to donate," said Mario. "I emailed my professors to let them know I'd be traveling to Florida and would have to make up some classes. All of them were understanding and fully supportive."
Mindful that the COVID-19 virus was still circulating, Mario took precautions to remain socially distanced from others while traveling and during his stay in Florida on his "donation vacation."
"Gift of Life definitely spoiled me throughout the week," he said. "I did not expect to be staying in a grand resort and have personal drivers take me to and from the collection center. Also, I ate extremely well, and the beach was a great place to stay six feet apart from others!"
During his donation, Mario attended a class remotely via Zoom, watched some television, and studied for a Genetics exam coming up the next week. His friend Jonathan accompanied him and sat beside him during donation offering support.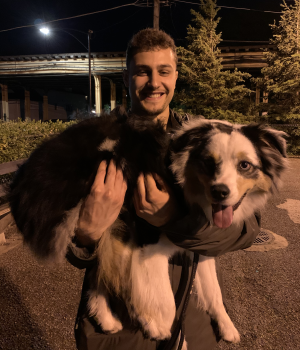 As pleasant as the experience was, Mario remains focused on his recipient and her health.
"I look forward to one day hearing from my recipient," he said. "I am still in shock that I was able to make such a big difference in the life of her and her family. Since my donation I have gotten more involved with patient care, and currently work as a home health aide and also volunteer in hospice care."
"Don't be intimidated by the procedure itself or the commitment," Mario advises those who are thinking of joining the registry. "You will surely be thankful after you have the opportunity to donate."
When he's not studying, Mario lifts weights, bicycles, and cooks. He aspires to become a physician and is strongly considering the field of oncology as his focus.