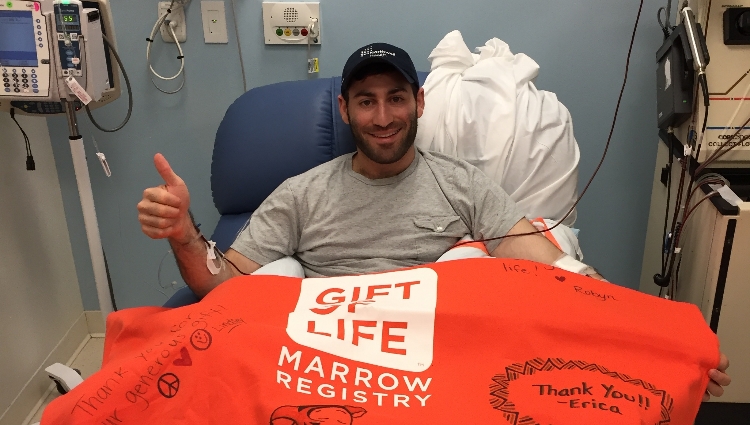 Two-time lifesaving hero now saving at-risk youth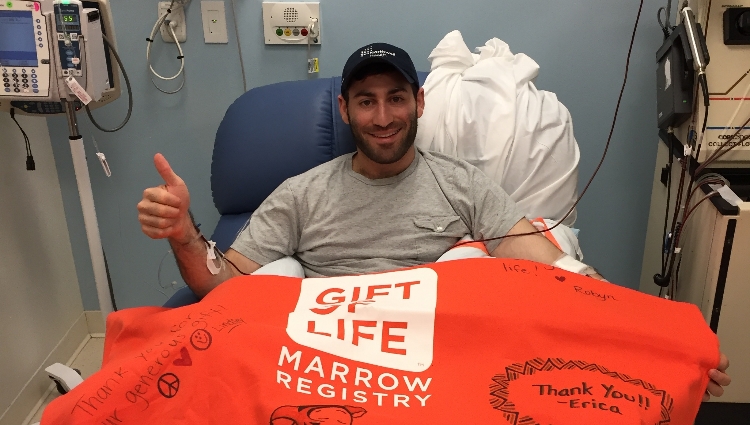 Many donors tell Gift of Life that their lives have been changed, that they did not realize ahead of time how meaningful it would be to save someone's life. Dr. Peter Gold has saved lives – two of them so far – and to say his own life has changed is a huge understatement.
When Peter received an email from Gift of Life in February 2017 to tell him he was a match for a woman with leukemia, he chuckled in disbelief. It had been only a year and three months since he intervened to save a woman from a crime in progress and had been shot. Peter just could not believe he was getting the chance to save another life.
He joined the marrow registry in April 2012 while an undergraduate at Tulane University. Peter was serving on the executive board of Hillel when the organization held a donor recruitment drive for Gift of Life. "It was super simple, only took a minute, and I already knew I was going into medicine so it seemed to fit," he said. Knowing that most volunteers never get to be someone's match, he put it out of his mind.
However, before Peter received a match call from Gift of Life, he received a call to action of another sort. In November 2015, he was driving in New Orleans when he saw a man dragging a woman away at gunpoint. He jumped out of his car and tried to talk to the man, 21, who shot him at close range in the stomach. As Peter fell to the sidewalk the man leaned over and tried to shoot him in the head, but the gun jammed three times. The man drove off but security cameras filmed his car and license plate – he was caught within days and is now serving a lengthy prison sentence.
Peter and the woman were taken by ambulance to the hospital. She was unharmed, but his spleen had to be removed. When he woke up two days later, his parents and a group of his friends were by his bedside waiting for him. "This moment will forever be the happiest in my life," Peter said in a court statement later on. The crime was widely reported on news worldwide due to the dramatic security camera footage.
---
We can give people their lives back so easily. I have good stem cells and you need them – it's as simple as that.
---
Fast forward to February 2017, and the call from Gift of Life. "Here I was getting another chance to save someone's life – the opportunity to donate stem cells just confirmed for me that there are a million ways to help others. They are right in front of us all the time, we just have to see them. It could be as simple as giving someone a few words of encouragement, or you may get the chance to save someone's life."
Peter's stem cells were collected at Hackensack University Medical Center, where he was accompanied by one of his best friends. "The whole donation was easy, Gift of Life made it incredibly simple for me," said Peter. "I've already had an update about my recipient and she's out of the hospital and recovering well. I would love the opportunity to meet her."
He believes that joining the registry is something everyone should do. "For the people who need the marrow transplant, this is their last hope. If you had a water bottle and someone in front of you was dying of thirst, would you say, No, I won't give you any? We can give people their lives back so easily. I have good stem cells and you need them – it's as simple as that. Don't make it into some big, scary thing."
Strong City is born of hope
After the shooting, when Peter awoke in that hospital room surrounded by friends, he had an idea. "I told them we needed to turn this terrible experience into the opposite. I kept wondering what had happened to this man to bring him to the point where he could just shoot someone so casually, without a second thought. We decided to do something to help kids and their families before the kids fall into violence." Together they made a conscious decision that, instead of recreating the wheel, they would seek out organizations around the country that are doing the best work and give them support.
They launched Strong City in 2016, with New Orleans as their first city. Strong City is currently working with the Youth Empowerment Project (YEP) to create a positive environment for children and give help to them and their families.
---
Dr. Gold is now an orthopedic surgeon at a hospital in New York City, and is building the Strong City program across the country. To learn more about Strong City visit www.mystrongcity.org.