Samuel Ian Rosen's 2017 GOL Gala
Dear Family, Friends, and Colleagues,
Over a year ago, I had the honor of being named to the board of the Gift of Life Marrow Registry. Gift of Life is a non-for-profit marrow and stem cell donor registry facilitating life saving transplants for patients diagnosed with blood cancer in the U.S. and globally.
A patient is diagnosed with blood cancer every four minutes. The lifetime probability of receiving a life saving stem cell transplant is 1 in 200. As tissue type is inherited, like hair or eye color, the best chance of finding a genetic match lies with those of similar race and ethnicity. There is an "indexing problem" -- we have the medical technology to facilitate life saving transplants but finding the right match is the hardest part. Imagine the battle every person who needed an organ donation would face if there wasn't a donor signup on the back of the driver's license. That's the battle that patients with blood cancer face globally today.
Gift of Life has a H.U.G.E. mission: Help Us Get Everyone Swabbed. Joining the Gift of Life registry (and globally via Bone Marrow Donors Worldwide) is easy and can be done with a quick swab of the cheek. Over 80% of transplants are done with a painless stem cell donation which looks and feels painless like donating blood. Please watch this 5 minute video to learn more -- I promise you'll be inspired. The longer version of my story is detailed below.
This is the only charity that I will personally ask for donations as I'm deeply connected to this mission. Our annual gala is May 17 in NYC and my goal is to raise $10,000. This money will sponsor the processing of swab kits and you'll be able to track the results of my drive via a Donor Circle that sends you updates when matches are made from the kits that we sponsored. Your 100% tax deductible financial contribution would mean the world to me.
- S
My Story
In 2007 I was a senior in college. I joined the marrow registry with Gift of Life with a quick cheek swab while on campus at Hillel at The University of Virginia. About a year and a half later, in October 2008, I found out that I was a match for a 57 year old man suffering from acute myeloblastic leukemia. At the time my father was the exact same age so it hit home as one could imagine.
I immediately said yes and initiated the process to donate. An opportunity to save someone's life felt like the most gratifying experience that I could ever experience. A few weeks after processing my blood for extended testing I found out that I was indeed a match but that my donation wasn't necessary. The patient already had a donor that was proceeding with donation and I was a backup incase the first donor had any health complications.
Some patients unfortunately never receive a donor. Some, like this man, miraculously had two. But that was a sign to me that the work wasn't done -- this was my opportunity. So I contacted Gift of Life and asked how I could help. I realized that the organization, based in South Florida, could use some help in New York City organizing donation drives and rallying young folks who would be on the registry for a long time. I found some other people that were also affected -- former donors, children of recipients who received life saving donations and were doing well, and children of former recipients who received donations extending their lives for a few more years before succumbing to the horror of cancer.
This was our initial crew in 2010: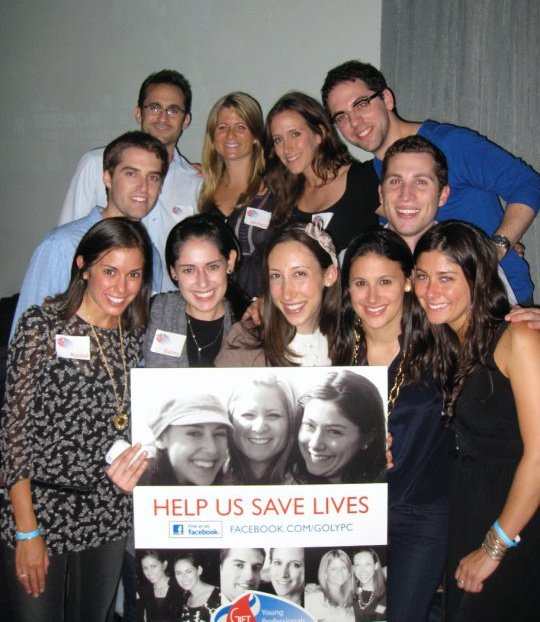 With Rachel Drori (Bobrow) who was my co-chair and now dear friend.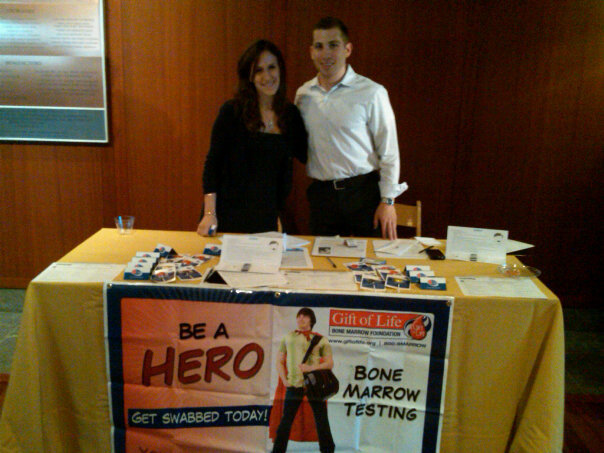 So, what's the rest of the story?
What I love most about Gift of Life is that there is a direct return on our investment -- it's not a matter of if we will save lives but a matter of when. Unfortunately, people will get sick, but when they do, we're here for them to help get a fighting shot.
We raised almost $45K in about a year, swabbed about 700 potential donors, and through the years have facilitated 13 matches and 3 life saving transplants. We haven't run a donation drive for this group since 2010 -- it's literally a gift that keeps on giving.

3 Transplants?! Tell me more!
Supporters of a "donation circle" receive updates on matches and transplants. I'll never forget the email I received. In Dec 2016, I received notice that a 53 year old woman was battling Acute Lymphoblastic Leukemia and had matched a donor from one of our drives. What I didn't know was that I was the person who swabbed the donor.
As you may imagine, this is a very emotional experience. Recipients are facing life's uncertainty and complications can arise after transplants -- this is a last resort afterall. Donors and recipients are almost always very eager to learn more about one another. The donor and recipients are in touch anonymously through the amazing people at the Gift of Life organization but one of the most special things about Gift of Life is that they have the chance to meet one another in person a year or so after the donation occurs.
Get out the tissues
My pitch to organize drives back in 2010 was simple. I'd email non profit event organizers and say:
"Hey, I'd like to set up a table at your event. We won't solicit any monetary donations but we'd like to put up a booth so people can join our registry."
One of those organizers said yes. Little did he know that he himself would be the person who had a chance to save a life. When he got that call, like most people who receive this kind of news, he immediately said yes.
His name is Johnathan Struhl. He would become a life saving bone marrow donor.
Her name is Leya Prussin Parker. She is a mother of four, wife of Chip, and thanks to Jonathan is alive and well today.
There's no price that can be put on the bond that has formed between Jonathan and Leya. They've become family. I've also had the chance to meet and become friends with Jonathan and Leya and recently met one of her children. There are no words in response to a daughter's gratitude for helping save her mom's life.
Jonathan, Leya, Sam, Chip
Meeting up with Chip and Leya in Eden Utah (population 400) while skiing Powder Mountain
Jonathan, Cassie (Leya's Daughter), and Me at the Celebrate Life event in 2017 in NYC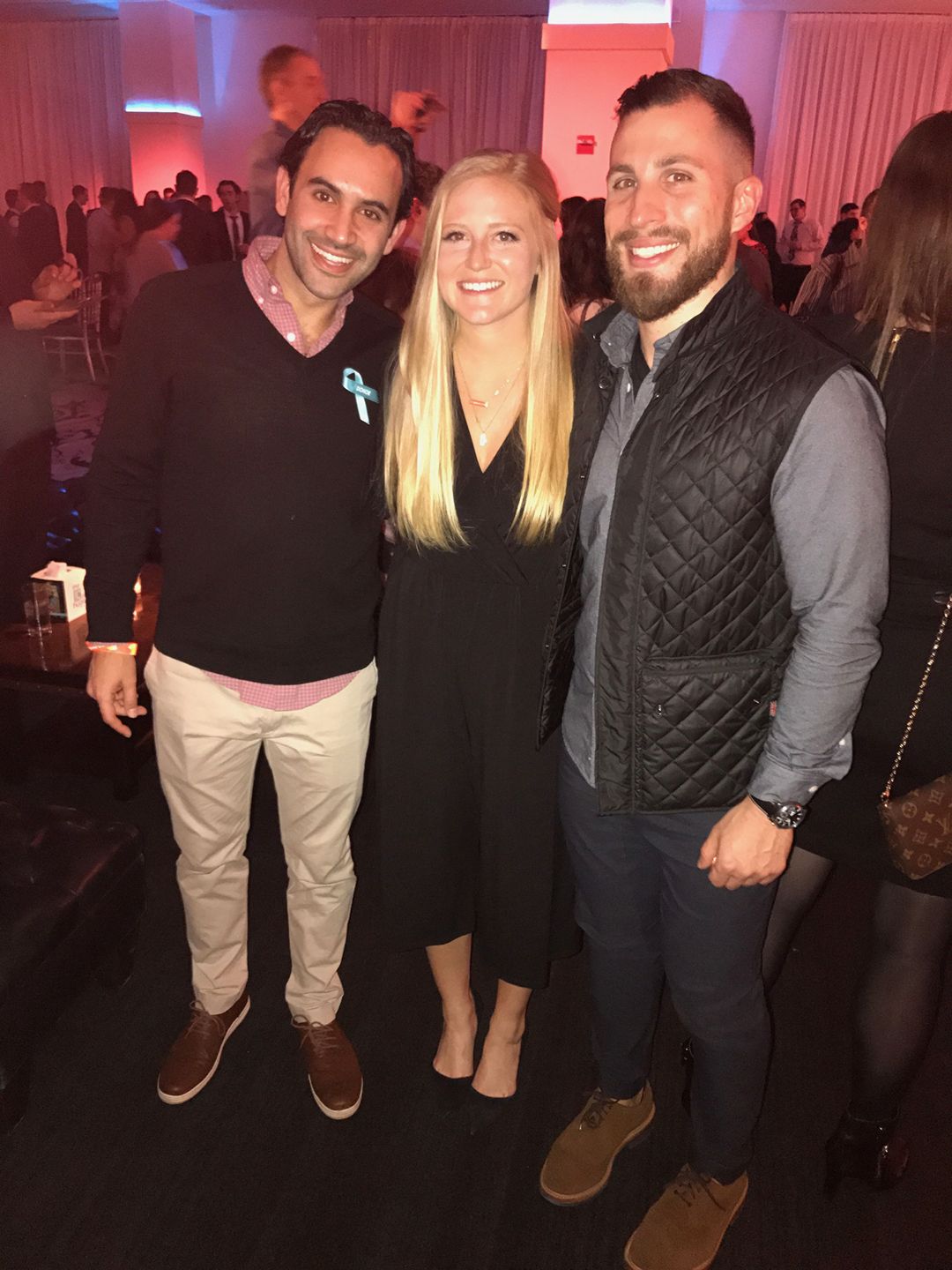 So, what's next?
Our mission at Gift of Life is HUGE (Help Us Get Everyone). My work on the board at Gift of Life will continue to focus on helping grow awareness for the marrow registry, raise funds to process swab testing kits, and support the opportunity for donors and recipients to meet one another and build life long connections.
Samuel Ian Rosen's 2017 GOL Gala Updates
Get Swabbed
Give to my Circle
74 Members
Aaron Batalion
Adam Caplan
Adam Carver
Adam Fried
Adam Kalamchi
Adam Liebman
Alan Vaynerchuk
Alexander Waldorf
Amanda Denison
Andrew Farah
Anna Frenkel
Bisnow Family
Brad Feld
Brad Rosen
Brandon Johnson
Bridget Griffin
Bruce Rosen
Caitlin Kelly
Carlos Rivera
Clark Valberg
Dana Levine
Daniel Gruneberg
Daniel Teran
David Rosen
Eric Bach
Eric Friedman
Eric Mogil
Eric Reiner
Ethan Agarwal
Evan Lintz
Gesche Haas
Henrik Werdelin
Ian Friedman
Jameson Detweiler
Jared Morgenstern
Jason Director
Jaspar Weir
JESS CAREY
Joe Lonsdale
Joe Marchese
Jonathan Jarvis
Jonathan Wegener
Josef Feldman
Kevin Colleran
Kim Tolksdorf
Kimberly Scotti
Lee Linden
Leslie and Adrienne Rosen
Mark Kestenbaum
Mark Suster
Micah Rosenbloom
Michael Constantiner
Michael Jaindl
Nicholas Thorne
Niket Desai
NIKHUL PATEL
Noah Lichtenstein
Rahul Gandhi
Rameet Chawla
Rebecca Waldman
Rick Beckerman
Ricky Van Veen
Rion Harmon
Ro Gupta
Rob Bailey
ron rofe
Ryan Matzner
Samuel Rosen (owner)
shari matluck
Stuart Goldfarb
Susan & Jeffrey Levitt
Susan Director
TALMADGE O'NEILL
William Finnerty