Carolyn Inzirillo's Donor Circle
"Teaching is what I was put on this earth to do."
Carolyn Inzirillo dedicates her life to her classroom of first grade children. But now, she needs our help. In 2014, Carolyn was diagnosed with leukemia and her world was turned upside down. For two years she was unable to work, having to undergo five months of an intense chemotherapy regimen, then multiple surgeries and one-and-a-half years of maintenance chemo.
"I was crushed to have to leave my classroom and students for so long, and had many complications and surgeries along the way."
Although she was able to go back to work, in February 2018 she was told her leukemia had returned and now her only hope of a cure is through a marrow or stem cell transplant.
"My only sibling is not a match, and there is no match for me in the registry. I am hoping we find my perfect match that I so desperately need."
Help us find Carolyn's perfect donor.
We know that someone out there is her match – maybe even you! Because matching factors are inherited, Carolyn's donor is likely to have ancestry in one or more of these groups:
Italian/Sicilian

Polish

Ukrainian
How can you help?
Join the registry:

If you are Italian, Sicilian, Polish, or Ukranian, or some combination of any of these, please swab your cheek and join the registry – YOU may be Carolyn's perfect match!

Order your swab kit at gol.org/Cure4Carolyn or join the registry at any donor drive. Find a drive near you.

Contribute funds: Processing each volunteer donor's swab kit costs $60 to find out if they are a match for Carolyn or another patient in desperate need. Click "Give to My Circle" to the right to donate money.

Share Carolyn's story: The United States has 3.2 million teachers – and someone out there is Carolyn's lifesaver. Click on "Share This Donor Circle" (above right) to spread the word.
More about Carolyn…
Carolyn is a resident of Orlando, Florida, and is originally from Flushing, Queens, New York, where she attended St. Mel's Catholic School. She has lived in Orlando since she was 12, and is a graduate of the University of Central Florida, where she earned her degree in Elementary Education. She has taught kindergarten, first and second grades.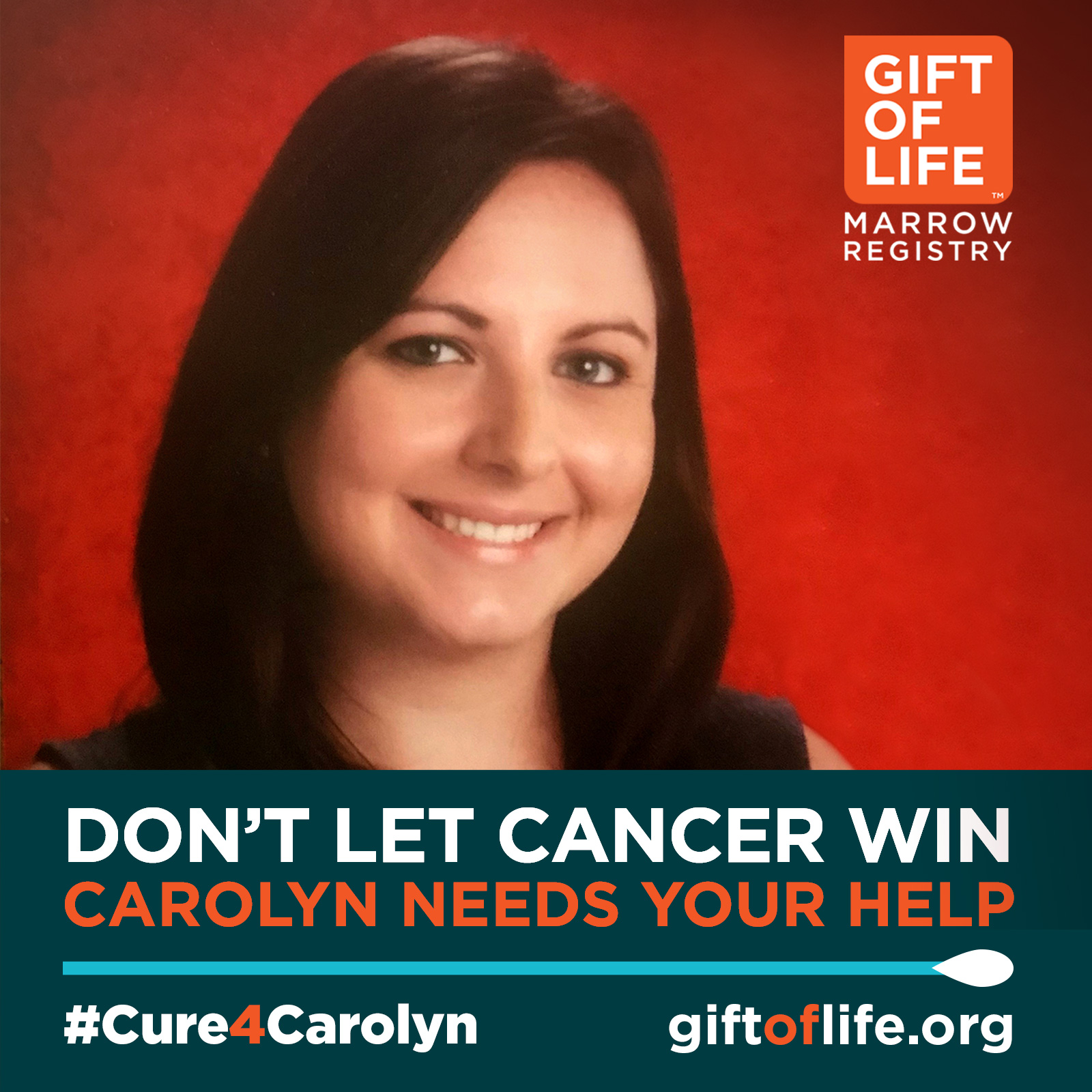 Carolyn Inzirillo's Donor Circle Updates
Recent Activity
Oct 09, 2018
New match in Carolyn Inzirillo's Donor Circle
A donor sponsored by Carolyn Inzirillo's Donor Circle has matched a 64 year old man battling Acute Myelogenous Leukemia.
Share on Facebook
Share on Twitter
Get Swabbed
Give to my Circle
41 Members
Ansley Hahn
Ashley Sizemore
Barbara East
Bridget Taylor
Brittany Teller
Carolyn Inzirillo
Cheryl Randall
Christine Kenneally
Christine Sostack (owner)
Cynthia Burt
Danielle Zanfardino
Debbie Francis
Deborah Lammens
Desera Kraus-Ramos
Diana Esposito President
Diane Esposito (owner)
Donna Desalle
Emma Mattingly
Frank And Constance Borracci
Frank And Geraldine Inzirillo
Jessica Marotto
Joseph Gugliuzza
Karen McKeon
Karen Newcombe
Kate Ruckman
Kerrie And Joseph Degregorio
Kristen Crescenti
Laura Delle Bovi
Lynda Antonetti
Mallory Guarino
Maria Lunsford
Michael Lammens
Michelle Cataldi
Nicholas Hudson
Robin Sostack
Susan Longo Treasurer
Theresa And Glenn Hudson
Tracey Kavanagh
Valerie Giaccio
Veronica Esposito
Yvonne Wilkens