Sloane needs a bone marrow transplant and you could be her match! #SloaneStrong
Sloane spent her first birthday in the hospital recovering from emergency brain surgery. She had been diagnosed with ATRT, a rare cancerous tumor in the brain. The removal of a six centimeter tumor was just the beginning. The next twelve months were marked with countless hospital stays as Sloane received 52 weeks of chemotherapy and six weeks of proton radiation.
Through it all, Sloane's strength and warm glow defied comprehension. She was so cooperative and brave, pulling up her shirt to show the nurses where her port is and giving everyone a smile or a wave hello. After a year of treatment she rang the bell signifying that chemotherapy was over. We celebrated and hoped it was the end of this nightmare, but God had another plan for us.
A few months later the cancer was back, this time in the spine. This meant more doctors and more treatment for this courageous two-year-old child. An Ommaya reservoir was implanted into her head and Sloane received chemotherapy once again. Through it all, Sloane still thrived, meeting all of her milestones and never letting her illness dull her infectious personality and sassiness.
Despite Sloane's resilience we were once again hit with devastating news. Sloane developed a secondary pre-cancer called myelodysplastic syndrome (MDS) as a result of her previous treatments.
Now 4 years old, this brave little girl is fighting two forms of cancer and needs your help.
Sloane is a hero to everyone who meets her, but you could become her hero!
What You Can Do
Join the registry! Click on the blue "

Get Swabbed

" button.

Sponsor a swab kit. Click on the orange "Give to My Circle

" button. Lab processing of every kit costs $60. Your contribution will help add new donors to the registry, who may be a match for Sloane or another patient.

Spread the word. Use the social media links to the right to share Sloane's story in your Facebook and Twitter account. The more people who order a swab kit and join the registry, the faster Sloane will find a donor. #SloaneStrong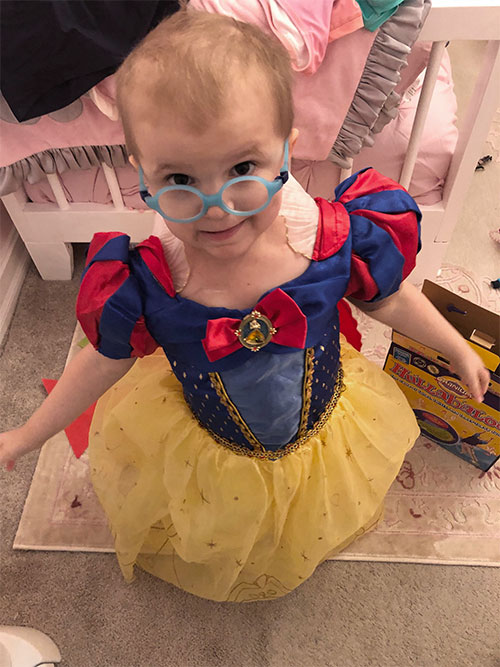 #SloaneStrong Updates
Get Swabbed
Give to my Circle
658 Members
Abbi Sevigny
Abigail Calumpit
Abigail Hopkins
Adam Fetterman
Adam Friedman
Adam Landsman
Adam Rossow
Adria Hersh
Aj Delgado
Alaina Burk
Alanna Sullivan
Alexander Carter
Alexander Stenger
Alexandra Rubino
Alexandre Chemla
Alexandre Rodrigues
Alfio Lora
Ali Myrick
Alicia Estlick
Alison Bellino Johnston
Alison Dunleavy
Alissa McKaig
Allan Schwartz
Allison Fischer
Allison Golden
Allison Scheckner
Ally Nash
Allyson Friedland
Alyssa Cannon
Amanda Davis
Amanda Everitt
Amanda Hadzimichalis
Amanda Ruggieri
Amanda Weinman
Amber Ekstrom
Amee Shah
Amy Berk
Amy Cohn
Amy Levin
Amy Lieberman
Amy Zemsky
Ana Neff-Jendrasko
Ana Palacios
Andrea Bergman
Andreea Tamas
Andrew Ahern
Andrew Daniel
Andrew Foti
Andrew Karelis
Andrew Stellino
Anessa Panzer
Annabel Perelman
Annabella Showerman
Anne Corbeille
Anne Heine
Anonymous Anonymous
Anthony Lupo
April Maxwell
Apryll J Heffering
Arlene Glassman
Ashley Gardner
Ashley Gauthier
Ashley Kurzrock
Ashley Midwall
Ashley Trager
Ayodele Oliver-Carnagie
Azadeh Rabbie
Barbara Best
Barbara Passman
Barbara Rosenthal
Barbara Siegel
Bari Steinberg
Bella Singer
Ben Schachter
Bert And Francine Wellman
Bettina Grau
Beverly Israel
Boris Pinkhasov
Bradley Gale
Brendan Nagle
Brennan Murray
Brett Klein
Brett L Baird
Brian And Tesia Forbes
Brian Matthew Blatt
Brittany Balshi
Brittany Hinds
Brittany Kohn
Brittanyandolive Belcher
Brooke Kanner
Brooke Lucks
Brooke McCready
Bruce Deluca
Bryna Wolk
Buddi Karpo
Byron Haseotes
Cait Gee
Caitlyn Brown
Calla Winner
Camila Anderson
Camille Muhtar
Candice Miller
Candice Sakolove
Carin And Scott Friedman
Carisa Ferraioli
Carl Rossow
Carol And Michael Schwartz
Carol Graham
Carol Yahoub
Carole Ann Campbell
Caryn Engle
Chandler Katz
Chris Aquilino
Chris Kuleba
Christina Davis
Christina Versace
Christine Han-Rutledge
Cindy Zemel
Claire Diamant-Yefet
Claudia Dickman
Claudia Litvak Polachek
Connie Diaz
Corbett Drummey
Corey Wishnia
Corinne Raxenberg
Courtney And Brian Rechtman
Craig Taylor
Cynthia Wohl
Dan Besikof
Dana Gabbay
Daniel Bonanno
Daniel Kadosh
Danielle Aronov
Danielle Bergman
Danielle Nairns
Danielle O'Hara
Danielle Steinman
Danielle Strazzini
Danielle Sydney
Danielle Vardi
Darren Edelstein
Dave Ziegelman
David Gildar
David Green
David Potischman
David Shaughnessy
Dawn Amaral
Dawn Bennett-Forgione
Deanna Miles
Debbi Alpert
Debbie Potash-Turner
Deborah Margolis
Deborah Ori
Debra Braun
Debra Salmanson
Debra Toma
Debra Velcofsky
Debrah Goldfarb
Dee Ersu
Denna Majerovic
Derek Lewis
Devorah Einbinder
Diana Parisy
Don Atkins
Don Hildebrandt
Doris Zilberstein
Dorothy Hearn
Douglas Dolitsky
Drew Hoffman
DTY 69
Dunyelle Rosen
Eileen Meudt
Elaine Perlmutter
Elaine Reichel
Elaine Sanchez
Eleanor And Ian And Family Landis
Elina Kislyansky
Elizabeth Berkman
Elizabeth Hammer
Elizabeth Pino
Ellen And Scott Loventhal
Ellen Burbank
Ellen Chaikof
Ellen Marx
Ellyn Goldstein
Emily Berman
Emily Caruso
Emily Haemer
Eric And Kim Feldman
Eric Niebuhr
Eric Sterling
Eric Zimmerman
Erica Aronson
Erica Caston Pisanty
Erica Ertter
Erich Buddenhagen
Erin Fergus
Erin Sloane
Eryn Kilstein
Evan And Tracey Forbes
Evelyne Kedma
Fernanda Rivera
Frank Cerisano
Frank Gepfrich
Gail And Chuck Zakroff
Gail Rosenzweig
Gary And Ashley Phillips
Geoffrey Gilbert
Geri Mankoff-Elias
Gilmarys Espinoza
Gladys MacIas
Gloria Damiani
Grace Dayan
Greg Buonocore
Greta Kruzikova
Hailey Sevigny
Haley Becker
Harlan Rausch
Harmon Family
Harriet Rosenberger
Harriet Rossow
Harris Cahn
Harvey Schwartz
Hayley McKinnon
Heather Block
Heather Denittis
Helen Shany
Herb And Ronni Amster
Herrick And Diane Garnsey
Hillary Caston
Holly Friedman
Howard Liebman
Howard Shless
Howard Weiser
Ilana Yuz Brodsky
Ilene Schwartz
Iris Zimmerman
Jack Mara
Jackie Markoff
Jaclyn Aquino
Jaclyn Savar Flavell
Jacqueline Cohen
Jade Sklaver
Jahnisa Loadholt
Jake Stuermer
Jami Finkelman
Jamie Diamant
Jamie Kramarz
Jamie Libby
Janet Margulies
Janice Lucia
Jara Weinstock
Jared Isaacman
Jason Glaubach
Jason Linde
Jason Perla
Jason Seltzer
Jay Feinberg
Jeff Daly
Jeff Suter
Jeffrey Ford
Jeffrey Rovner
Jeffrey Stein
Jen Grunfeld
Jenna Caine Parris
Jenna Glaeser
Jenna Post
Jenna Ryan
Jennifer Booker
Jennifer Clawges
Jennifer Epstein
Jennifer Goldman
Jennifer Hoffman
Jennifer Koenig
Jennifer McGrath
Jennifer Rubin Fabian
Jennifer Schillace
Jennifer Wharton
Jessica Batt
Jessica Christie
Jessica Conticello
Jessica Gussack
Jessica Hersch
Jill Belinsky
Jill Benson
Jill Finkle
Jill Hauke
Jill Levitt
Jill Rosa
Jim And Susan Ginzler
Jimi And Joy Marshall
Joanie Thompson
Joann Camacho
Joanne Polin
Jocelyn Messer
Jodi Blass
Jodi Lukach
Joel Marker
Johanna Friedman
John And Gloria Roig
John And Teresa Nogrady
John Foraker
John Orr
Jon Moores
Jonathan Caston
Jonathan Nebb
Jordan Blakley
Jordan Feivelson
Joseph And Judith Levis
Joseph Powell
Joshua Samuels
Joy Devack
Joyce Haseotes
Joyce Schneider
Judith Chason
Judith Ruttenberg
Judith Troup
Judy Field
Julia Rosin
Julie Brandstetter
Julie Greenman
Julie Levy
Julie Rhody
Julie Weber
Julio Ramos
Justin Cooper
Karen And Jeff Schlein
Karen Anderson
Karen Gerstel
Karen Gough
Karen Newcombe
Karen Sullivan
Karen Weinstein
Karin Gonzalez
Karin Zarin
Karlee Ellis
Karyn Vance
Kate Dayton
Katherine Benson
Katherine Polce
Kathy Foreman
Kathy K. Fineman
Kathy Melideo
Katie Haigh
Katie Johnson
Katie Kolosieke
Katie Richards
Kay Steer
Kaylee Hay
Keith Ehrlich
Kelli Bender
Kelly Cregg
Kenneth C Sasssower
Keri Caston
Kerry Rodriguez
Kim Altschuler
Kim Gibson
Kimberly Ings
Kimberly Touch Rinaldi
Kourtney Reppert
Kristen Yacovone
Kristin Bonifas
Kristin Brinkman
Kristina Scott
Kyle Webb
Lara Eurdolian
Lara Simpson
Laura Duffy
Laura Metz
Lauren Busch
Lauren Chrusz
Lauren Gotlieb
Lauren Moscov
Lauren Peltz
Lauren Sodowick
Lauren Sterling
Lauren Stone
Lauren Wrublin
Laurie Scherer And The Scherer Team
Lauryn Meyer
Lawrence Hildebrand
Leah Daniels
Leah Goldglantz
Leah Montana
Leah Whitmill
Leisa Davis
Leonard And Barbara Turesky
Leonard Wolkon
Leslie Berman
Leslie Sidell
Leslie Thornton
Lili Curcio
Limor Buttel
Linda Topor
Lindsay Segal
Lindsay Solomon
Lindsey Borchard
Lisa Cioffi
Lisa Goldman
Lisa Hindin
Lisa Kalman
Lisa Margolin
Lisa Meyers
Lisa Meyers
Lisa Ravitz
Lois And Paul Davis
Lori And Saul Rubin
Lori Dawkins
Lou Fusaro
Lydia Neptune
Lynden Berkley
Lynn And Marc Orlinsky
Lynn Dickerson
Lynn Sheftel
Lynne Alexander
Lynne Miller
Mallory Kirsch
Marc And Nicole Greenberg
Marc Chizek
Marc I. Schwartz
Marc Monroe
Marcy Goldman
Margaret Bernardis
Margot Caveglia
Maria Paula Victoria
Marisa Foti
Marisa Marxen
Marjorie Curtis-Cohen
Mark Donnelly
Mark Silver
Mark Uebelacker
Marla Rossow (owner)
Marlene Appelbaum
Marlene Eisenberg
Marquis Baylor
Marsha Micciantuono
Martha Stem
Marti Freund
Mary Barnickel
Matt Golden
Matthew Genovesi
Matthew Shang
Maxine Becker
Megan Helfand
Meghan Turner
Melanie Golden Hamburg
Melanie Morris
Melanie Rotta
Melissa Maniscalco
Melissa Munro
Melissa Rosenblum
Melissa Solomon
Meredith Zenkel
Mia Berlin
Michael Geraci
Michael Greenstein
Michael McMahon
Michael Obrien
Michael Pappas
Michele Cantone
Michele Doliveck
Michele Rosenblum
Micki Gilbert
Micki Koppelman
Mike Baglanis
Mindee Hewitt
Mindy Aaron
Miriam Caston
Mitch Markel
Mitchell Lazar
Modesto Millo
Mojdeh Drobnitch
Mollie O'Grady
Molly Swersky
Molly Weiss
Monica Graziani
Monika Phillips
Morad Aryeh
Morgan Beckerman
Myra Veblen
Nancy Cunningham
Nancy Furman
Nancy Osherow
Nancy Schwartz-Katz
Natalia McNerney
Nel Bloom
Nicole And Evan Sussman
Nicole Bradley Radolovic
Nicole Ettinger
Nicole Mazer Parker
Nicole Penn
Nicole Rosenblum
Nicole Wieder
Nicole Zagoria
Nicoleta Rus
Oleh Holynskyj
Orangetheory Fitness
Pam Krausman
Pam Orr
Pamela And Jeff Berez
Patricia Curran
Patricia Deleo
Patricia Kulich
Patricia Sozio
Patty Tuminski
Pau Ochoa
Paul Beverly Ittleman
Paul And Lois Davis
Paul Feldon
Paula Scarfo
Peggy Peterson
Penny Klein
Peter Katz
Peter Landy
Petra McCarthy
Phyllis Bradley
Rabbit Floors
Rachael Feldman
Rachel Lenner
Rachel Schreibman
Randi Glinsky
Rasheeda Garner
Rebecca Elman
Rebecca Gaines
Rebecca Koppel
Rebecca Kremens
Rebecca Wishnia
Renae Raos
Rhonda Palant
Rich Coppersmith
Richard Beckerman
Richard huley
Rick Devincent
Robert Frye
Robert Rosenbaum
Robert Sherman
Robin Altschul
Robin Proman
Robyn Etzel
Robyn Rusignuolo
Roland And Helga Hausmann
Romy Devack
Ron And Bonnie Kaplan
Rona Ackerman
Rona Revien
Ronah Caston
Ronald Apuzzo
Rosalind Juster
Rosemary Yun
Roy Cassidy
Ruth Sonnenshein
Ryan Katz
Ryan Maurer
Ryan Sedighim
Sabina Korman
Samantha Banker
Samantha Stoler
Samantha Teman
Samantha Tomalty
Sandee Nelin
Sandra Furht
sandy cear
Sandy Gollob
Sandy Kellerman Levy
Sara Heath
Sara Kalish
Sara Rosenblatt
Sara Valli
Sarah Alsofrom Gl Homes
Sarah Dudak
Sasha Wellen
Scott Brenner
Scott Gardner
Scott Pressman
Scott Zinman
Seema Shah
Shannon Pollack
Shari Shanefield
Sharon Schwartz
Sharon Tilles
Sharyn Bilenker
Sharyn Frankel
Shawn Murray
Sheldon And Debbie Gross
Shelley Posd
Shelly Fierman
Sherri Hoffman
Sherrie Wohl
Sherry Brennan
Sherry Penree
Sheryl Beyer
Shmuel Goldstein
Stacey Marks
Stacey Mastenbaum
Stacy Levine
Stacy Schwartz
Stacy Schwarz
Stefanie Copelow
Stefanie Freeman
Stephanie Aaron Krause
Stephanie Gillespie
Stephanie Giordano
Stephanie Kane
Stephanie Lewis
Stephanie sterling
Steve Greenberg
Steve Gross
Steven Hibshman
Steven Kandel
Steven Kopstick
Studio Gild - Gild Foundation
Susan Baron
Susan Cohen
Susan Markowitz
Susan P Merkel
Susan Vogel
Suzanne Smith
Suzett Maxwell
Sylvia Butler
Sylvia Kahana
Tal Roberts
Tammy L Eckert
Tammy McCormack
Tanya Milin
Terri Eisenberg
Terry Story
The Creegans
Tim Mead
Tina Krinsky
Tina Wais
Traci Test
Tracie Kurland
Tricia Pagano
Tricia Tuberty
Trinh Tran
Trudy Vincent
Valentine Family
Valerie Feder
Valerie Hughes
Vera Yudovina
Veronica Frost
Vic Schwartz
vicki marino
Victoria Karasin
Viviana Sanzberro-Martinez
Wendi Appelbaum
Wendy Brokowsky
Wendy Ed Sternlieb
Wendy Talpalar
Wendy Tzuker
Wren Cannon
Yanett Green
Zach And Casey Zeris
Zach Friedman
Zachary Kirstein
Zoey G