Anish, a 40-year-old husband and father of two young girls, desperately needs a bone marrow or stem cell transplant to save his life. In December 2019, he was diagnosed with Acute Myeloid Leukemia and it is urgent that we find his matching donor.
A donor match is based on tissue type, and the best chance for a match is with someone from similar ancestry or ethnicity.
Anish is of Northern Indian ancestry – his parents hail from the Punjab/Haryana area.
How You Can Help
Join the registry: If you are 18 to 35 and in good health, please swab your cheek and join the registry as soon as possible! Those of Asian Indian background are especially encouraged to participate. YOU may be Anish's perfect match! To order your swab kit click on the "Get Swabbed" button, or join the registry at any donor drive. Click here to find a drive near you.
Hold a donor drive: We need people to help us register new donors for testing. It's easy and we'll train you and send you all the supplies you need. Email Samantha Sprott, to start organizing your drive today, ssprott@giftoflife.org.
Contribute funds: Processing each volunteer donor's swab kit costs $60 to find out if they are a match for Anish or another patient in desperate need. Click on "Give to My Circle" (above right) to donate money.
Share Anish's story: There are 2.8 million Asian Indians in the in United States alone, and someone out there is Anish's lifesaver. Click on either Facebook or Twitter in the "Share This Donor Circle" (above right) to spread the word.
More about Anish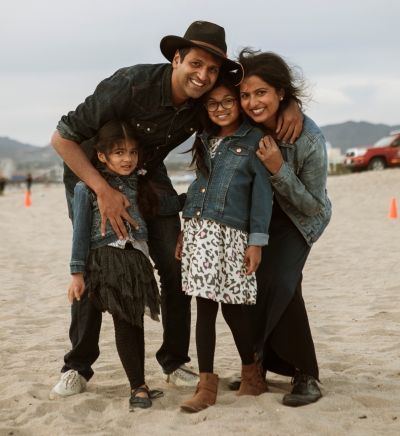 Anish lives in Southern California with his wife Lavi and his two adoring daughters, ages 3 and 8. He is a graduate of Cornell University and a technology developer, engineer and entrepreneur. He and Lavi focus their work on helping people simplify and organize their lives to gain more time to do what makes them happy. He has a deep positivity and appreciation for life that are intrinsic to his nature. They recently lost his wife's father to cancer, and just when they were putting this wound behind them, this shocking diagnosis came and upended their lives.
Anish loves music, is a world traveler, deep thinker, a boisterous friend, and a playful devoted father. He is beloved by all his family and friends, especially his girls. He embraces strangers like his own, and cares deeply for others, putting his focus on living life with passion and purpose and finding beauty everywhere in the world.
We know that someone is Anish's match – please help us find his donor.
Swab4Anish Updates
Recent Activity
Sep 23, 2020
New match in Swab4Anish
A donor sponsored by Swab4Anish has matched a 70 year old man battling Severe Aplastic Anemia.
Share on Facebook
Share on Twitter