We are currently sold out! please feel free to make a donation and check back for our next flywheel event. Thank you!
Hall of Famer Cris Carter's LIV Life Party
Hosted by Gift of Life Marrow Registry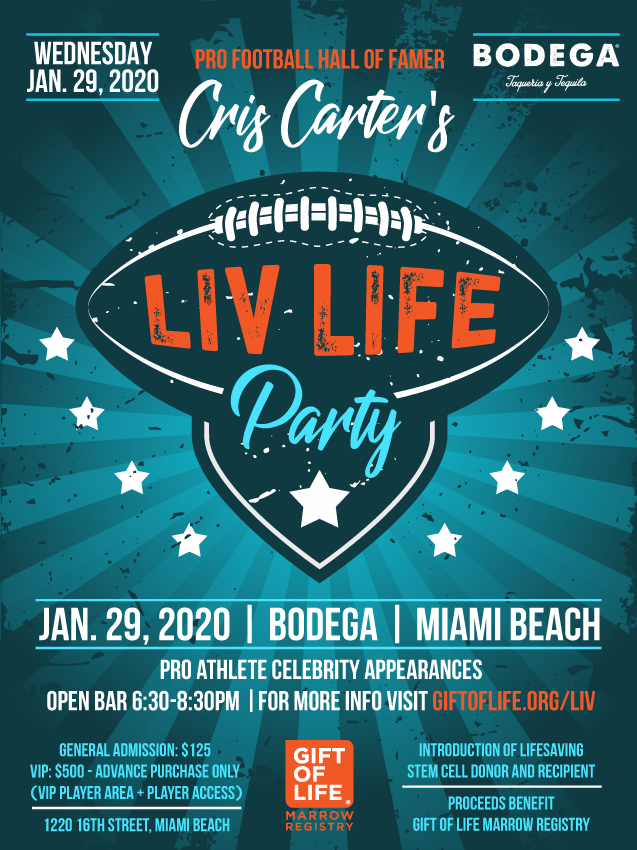 Wednesday, January 29, 2020
Location:
Bodega
1220 16th Street, Miami Beach, FL 33139
6:30 PM - 8:30 PM
Thank you for your interest! This event is SOLD OUT.

Join Gift of Life Marrow Registry
at
Hall of Famer Cris Carter's LIV Life Party
General Admission: $125
VIP Admission: $500
(VIP admission includes access to the VIP Player Area and other Pro Athletes)
Free for all professional athletes past and present

Bodega
1220 16th Street
Miami Beach, FL 33139
January 29, 2020
6:30 PM - 8:30 PM
Open Bar
PURCHASE TICKETS & VIP EXPERIENCE
Pre-Register to Swab at the Event
Sponsored by: