EVENTS
>
Gift of Life Golf Tournament
Gift of Life Golf Tournament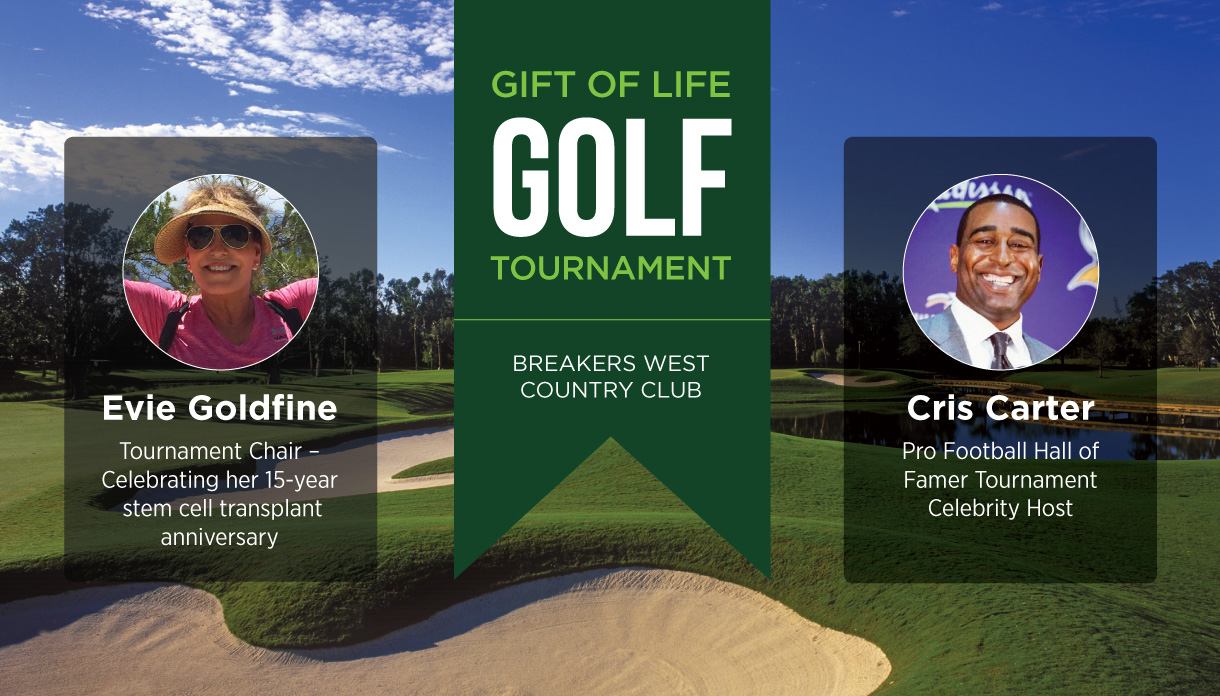 PURCHASE TICKETS
SPONSOR EVENT
DONATE
Gift of Life Golf Tournament
Chaired by Evie Goldfine
Celebrating her 15 year stem cell transplant anniversary
Followed by a first time donor and recipient meeting
Tournament Celebrity Host: Pro Football Hall of Famer Cris Carter
Golf Committee
Edward Blumenfeld
Dr. Stephen Colen
Donna Krasner
Mindy Schneider
Danny Seghi
Stephen B. Siegel
Jonathan Struhl

Want to play with a celebrity on your team?
Call 561-982-2956 for more information.

Breakers West Country Club, Rees Jones Golf Course
1550 Flagler Pkwy, West Palm Beach, FL 33411
Registration: 8:00AM
Donor and Recipient Meeting: 8:30AM
Shotgun Start: 9:00AM
Golf tournament play is scramble
$3,000 per Foursome with a Celebrity Player
$1,000 per Foursome
$350 for Individual Golfers
* Includes refreshments on the course, awards lunch, and gift bag *
REGISTER as an Individual Player
REGISTER as a Foursome
REGISTER as a Foursome with a Celebrity Player
Please fill out your preferred golf cart riding status. In compliance with COVID-19 protocols.
* Hole-In-One package allows you to have an attempt at the Hole-In-One Challenge
(2 mulligans, 1 entry into putt for cash)
COVID-19 Safety Practices for the Gift of Life Golf Tournament
Online registration 24 hours ahead of event

Your golf cart number assignment will be sent with your confirmation so you can proceed directly to your cart upon arrival

Your gift bag, which will include breakfast snack items, will be waiting on your cart and will be labeled with your name?

Golf cart use is limited to one person per cart

Sharing a golf cart is only permitted if both players reside in the same household?

Morning program will be held outside where guests will enjoy the experience from their individual golf carts (drive-in movie style!)

Beverage service will be handled in a socially distanced manner by masked servers

Lunches will be individually boxed and labeled with your name ahead of time

Seating opportunities will allow for adequate space between guests for those who choose to dine onsite
The Breakers safety procedures: https://www.thebreakers.com/bsafe/
ADD TO MY CALENDAR
1550 Flagler Pkwy, West Palm Beach, FL 33411