Florida Town Hall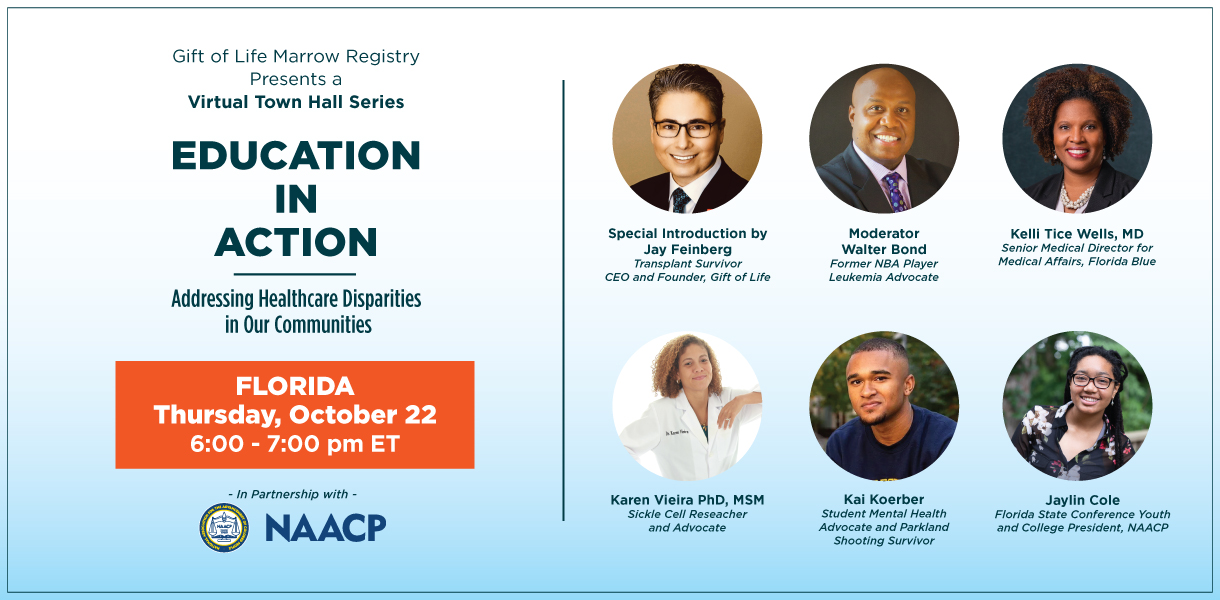 RSVP
DONATE
Education In Action: Addressing Healthcare Disparities in Our Communities
On Thursday, October 22, 2020, please join us from 6:00 to 7:00 p.m. ET for a panel discussion about healthcare disparities and effective ways that student-led communities can advocate for social change.
Special Introduction by transplant survivor Jay Feinberg, CEO and Founder, Gift of Life Marrow Registry and moderated by Walter Bond, Former NBA Player and Leukemia Advocate. The panel will feature:
Kelli Tice Wells, M.D., Senior Medical Director for Medical Affairs, Florida Blue
Karen Vieira, PhD, MSM, Sickle Cell Researcher and Advocate
Kai Koerber, Student Mental Health Advocate and Parkland Shooting Survivor
Jaylin Cole, Florida State Conference Youth and College President, NAACP
As an organization founded to solve one health inequity, the lack of diversity in the worldwide bone marrow registry, Gift of Life Marrow Registry is taking action address this public health crisis affecting BIPOC through advocacy, partnership, and action. We are proud to partner with the NAACP, Fidelity Investments, McKesson, Morgan Stanley, and Rubius Therapeutics to hold virtual town halls on college campuses across the country.
Town Halls will be held on college campuses around the country to have meaningful discussion about this crisis in health care, and to give them practical actions they can take to effect change.
ADD TO MY CALENDAR