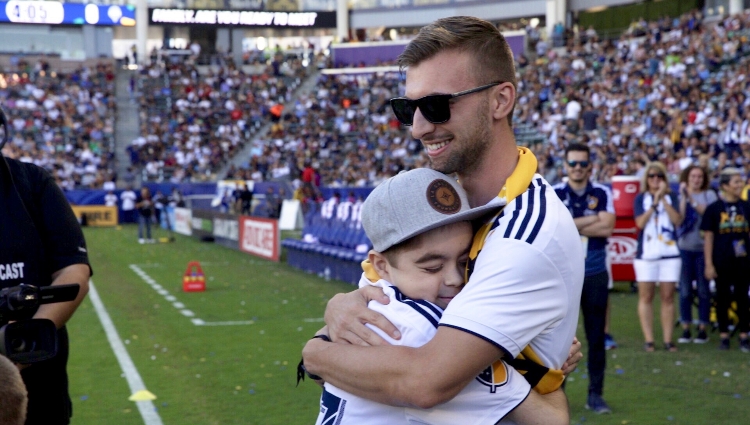 L.A. Galaxy hosts heartwarming intro of 11-year-old and his lifesaving bone marrow donor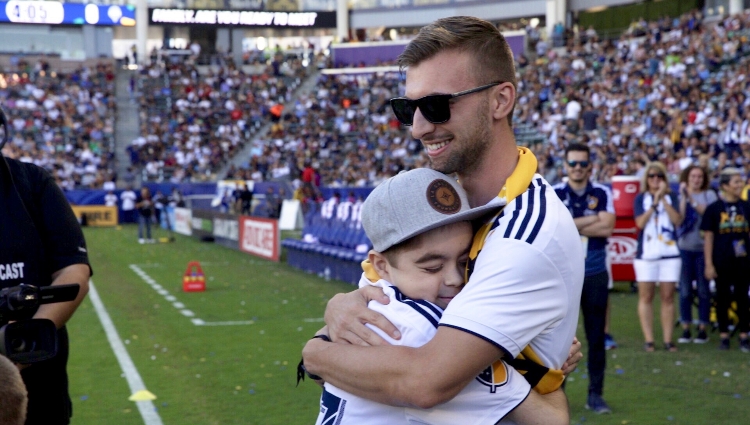 Seth Akins, a shy 11-year-old who loves soccer, was thrilled to be on the field at the StubHub Center, home to the L.A. Galaxy. Not only was he standing with his family and friends on a professional soccer pitch in front of more than 20,000 fans, he was about to meet the man who saved his life with a bone marrow transplant.
The introduction was specifically scheduled in September during Major League Soccer's Childhood Cancer Awareness Month. Annually, the Galaxy, a Gift of Life community partner, helps to educate the community and hosts recruitment drives. However, this year they chose to expand their outreach and bring a donor and recipient together for the first time.
The first-time meeting came to fruition on September 23, during half time of the Galaxy and Seattle Sounders game. Seth, his mom Renee, his sister Mariah, brother Destin and his friend Angelique, a fellow patient whom he met at the Loma Linda University Children's Hospital, were escorted onto the field by team mascot "Cozmo". He then asked them to watch a video message from Seth's donor on the Jumbotron.
Seth was diagnosed with aplastic anemia, leaving his body unable to make enough new blood cells. His best chance of a cure was a bone marrow transplant, and fortunately his donor, Aaron Allen, was already in Gift of Life's registry.
Aaron first joined the registry when he became a Campus Ambassador for Gift of Life in 2015. He represented the nonprofit organization at Washington State University.
As Seth watched the video explaining how Aaron joined the registry with a cheek swab and then was called as his donor 18 months later, Aaron himself ran onto the field to surprise him. Just a couple of huge hugs later – plus an especially tearful one from Renee – the two were already friends.
"I was really scared and nervous," said Seth. "But, he turned out to be what I was dreaming of. Thank you for doing this so I could meet him in a special way that I'll always remember."
Aaron, who majored in cell biology and genetics, works at a biotech firm in the northwest. Seth is thriving, back in school, and enjoying his favorite sports, soccer and basketball.
"I am so thrilled to meet this person that I've been wondering about over the past year," said Aaron. "I'm really excited to see a child who has a lot of joy and a lot of life left to live."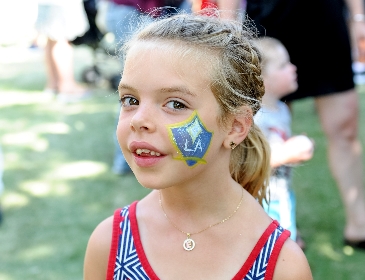 Earlier in the month, on September 9, the team sponsored Kick Blood Cancer, a soccer-themed day of activities for kids and an opportunity to join the registry for those 18 and over, hosted at The Americana at Brand. Mascot "Cozmo" and the Galaxy Star Squad were on hand as families enjoyed the outdoor activities and new volunteer donors joined the registry with a simple cheek swab.
---
"What you see in movies and on TV is not what it's actually like to be a bone marrow donor. The whole donation process was actually easier than getting my wisdom teeth out." -Aaron
---
Update November 2019: We are happy to report that Seth continues his recovery and is doing extremely well. Click here to read more.