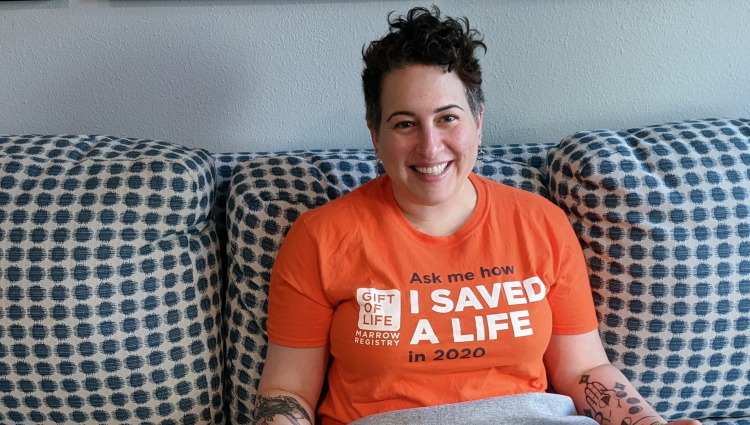 20 years after swabbing, stem cell donor and mom saves man battling lymphoma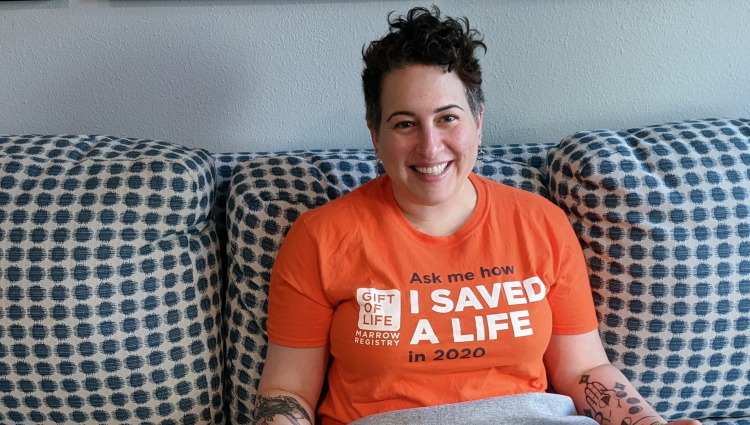 Sarah doesn't really recall the moment she swabbed and joined Gift of Life's registry – it was twenty years ago at an American Israel Public Affairs Committee (AIPAC) annual conference held in Washington, D.C.
"I was a first-year college student at the University of California, Irvine, and had recently returned from the Birthright Israel program," said Sarah. "I became involved in pro-Israel activism after that trip, and even co-founded a cultural club that still exists on campus.
Although Sarah doesn't actually remember swabbing, she is certain she joined the registry because of the chance she could help someone down the line – she just never expected that line to be 20 years long!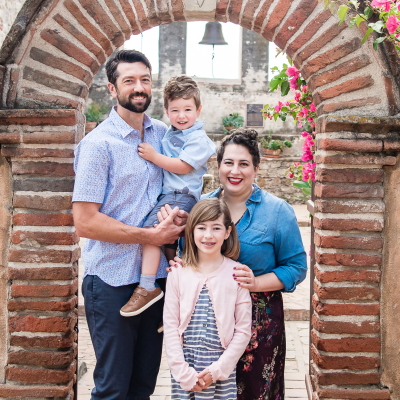 "I was on vacation with my family last summer when Gift of Life called me," said Sarah. "This was the first real escape we had out of quarantine. We took a trip to a town on California's Central Coast that my husband and I grew up visiting. I was very surprised Gift of Life was able to track me down! And I was excited to learn more."
Plenty of Gift of Life registry members will confirm that when someone's life is at stake, we work very hard to track down matching donors so the patient has the best possible chance for survival, and so donors can have that incredible opportunity to save someone's life.
Sarah's tissue-type profile matched that of a 66-year-old man battling lymphoma, but with a husband and two children at home, she could not risk exposure to the coronavirus and asked to complete her collection at a center within driving distance of her home. Additionally, she needed a central line to donate (a process sometimes used for donors with smaller veins) so Gift of Life got to work looking for the perfect facility.
"This was the biggest logistical hurdle, I wasn't going to get on a plane during a raging pandemic," said Sarah. "My coordinator went above and beyond to figure out options. I'm really grateful to my mom who took time off her job to drive me there and back – it was a whirlwind trip by made much safer by the fact that we could limit our exposure to other people."
"I mostly just read books, texted with friends and dozed," she said. "I cracked a lot of jokes and chatted with the apheresis team. It was a good experience, even with the challenging circumstances."
Sarah's experience is also about her recipient, and she's thinking of him frequently. "He's a 66-year-old man with Hodgkin's lymphoma, he's my dad's age. I hope that if the transplant was successful, he gets many more years to enjoy the people and places he loves. When I'm feeling down, I imagine a hair-thin, silver thread connecting me to him, wherever he is. There is always this invisible web binding us together as members of the same human family. And the world is full of people who have been moved to help others and are forever connected in this way."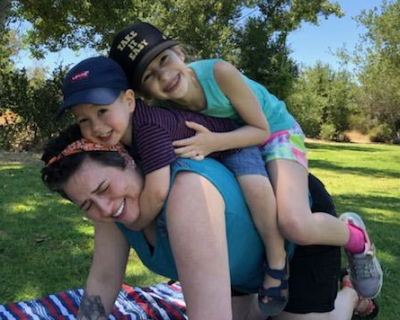 Sarah is 38 years old, a wife and mother of two children, and works as the editor for a major technology company. She has a master's degree in Journalism from Northwestern and her undergraduate degree is from the University of California, Irvine. She is a lifelong student of meditation, and reads widely. Her free time is spent with her children's activities and in her garden, and her family loves to go to the beach and catch the sunset.