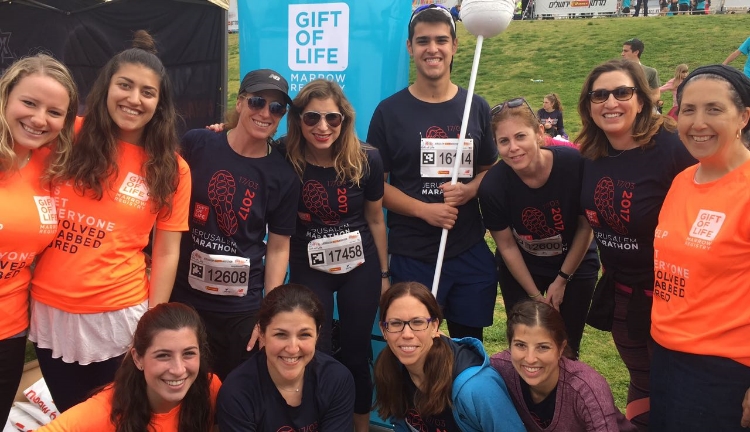 Jerusalem Marathon Team raises $14,000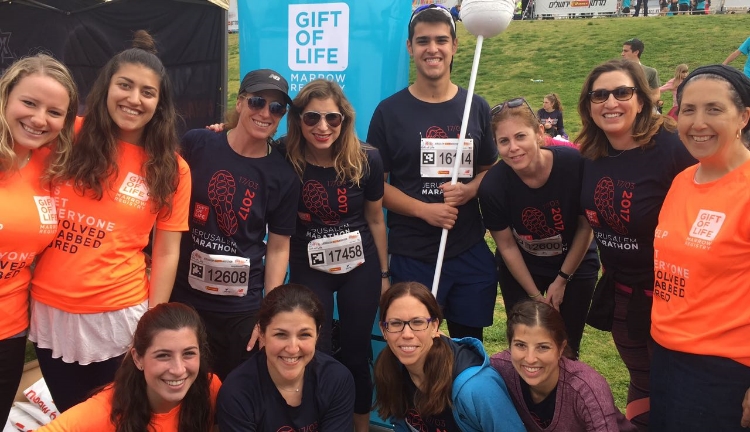 As dawn rose over Jerusalem on March 17, 2017 it was clear this would be the perfect day for a long run. The cool air and light cloud cover made for excellent conditions as over 30,000 people from 65 countries arrived near the Israeli Museum for the start of the Jerusalem Marathon. Since 2011, the marathon has attracted runners from around the world who want a unique experience of the ancient city, while raising money for their causes.
Gift of Life was represented by a team of 25 runners, many of whom ran in memory of the organization's board member Avi Karesh. Together the entire team raised more than $14,000 in contributions, to be used to add new donors to the registry. Team captain Abby Goldberg brought 15 runners to the race, who raised more than $8,700 of the overall total.
Family members of Gift of Life staff and other supporters ran the hilly and challenging course, which enters the Old City at the Jaffa Gate and exits via the Zion Gate. The race then winds along cobblestone-paved streets through Jerusalem's many neighborhoods to finish in Sacher Park.
The evening before the race the group held a pasta party to load up on those all-important carbs, and stem cell donor Rachael Hirsch recounted her March 2003 donation experience with enthusiasm. "I didn't even have a second thought as to what to do in that situation," said Rachael. "I gave something that was so little for me, but it totally changed my recipient's life." Curly-headed Rachael also said her recipient, who had straight hair before she had cancer, attributes her post-transplant wavy tresses to Rachael's stem cells!
Gift of Life has a strong presence in Israel, actively recruiting new donors among the many American students who are on their Birthright trips or are studying in a one-year overseas program. If you plan to run the Jerusalem Marathon next year, why not join Gift of Life's 2018 marathon team? We'd love to have you run with us to help fight blood cancer. To get involved, contact Halana Rosenfeld, hrosenfield@giftoflife.org.