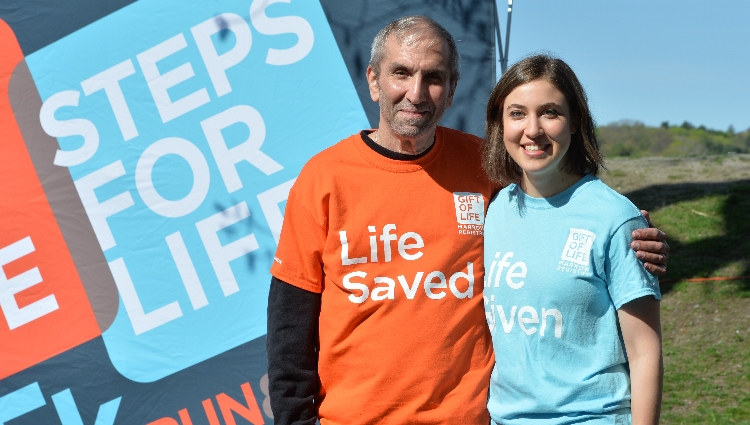 Boston transplant survivor meets his donor for the first time at Steps for Life 5K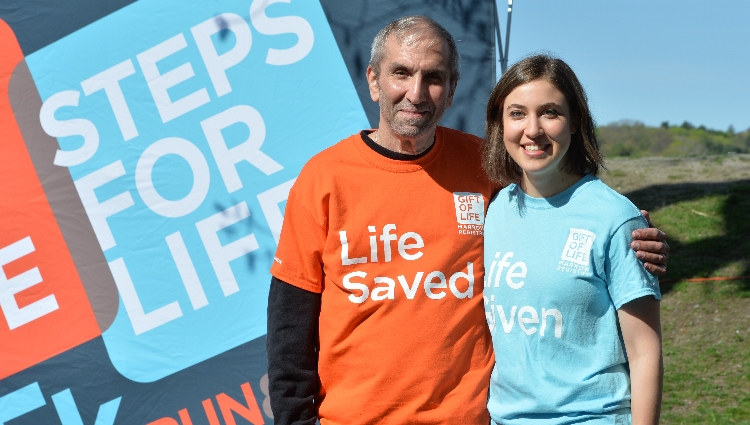 Gift of Life held the Steps for Life 5K Run and Walk of Boston on Sunday, April 30, raising more than $83,000 – a new record for the Boston event. For two special people among the nearly 700 people arriving at the Chestnut Hill Reservoir, this was one of the most exciting days of their lives – they were about to meet for the first time, and one of them had saved the other's life. How do you save someone you've never even met? You cure that stranger's life-threatening cancer by sharing your peripheral blood stem cells or bone marrow.
Boston native meets stem cell donor who saved his life
After waiting for nearly two years since the transplant took place, the moment was finally here. Dr. Corey Cutler, a senior transplant physician at Dana-Farber Cancer Institute's Clinical Research and Lymphoma Program, invited stem cell transplant recipient Peter Levine to the stage. Peter, a Boston native who owned and operated Ross Dry Cleaners on Newbury Street for many years, became ill in 2015. He was diagnosed with non-Hodgkin's lymphoma, a cancer of the immune system. Doctors recommended a stem cell transplant, and Peter was fortunate that Gift of Life quickly found his matching donor in its registry.
Cheryl Rosenberg, a 24-year-old business consultant from New York, was so overjoyed to meet Peter she could barely speak, and in a heartwarming turnabout, Peter, the cancer patient whose life she had saved, put his arm around her in support. "I discovered that I didn't need to be this big courageous person to have an impact on the world," said Cheryl, "I just needed to do this little thing [donate stem cells] and it ended up being so big and amazing!"
McKesson announces first employee marrow donation
McKesson, a perennial supporter of Gift of Life's mission and a Platinum Sponsor for the event, brought a large team of 175 runners and walkers. McKesson offers employees the chance to join the registry during their annual health screening, and nearly 3,000 of their staff have done so. Jamie Horst, McKesson's Director of Corporate Citizenship, announced that their first employee had been found as a match, and donated stem cells to a patient with blood cancer in recent weeks. A total of four matches have been found so far, with many more to come.
"Every year we participate in hundreds of volunteer events that serve cancer patients, and we are proud to report that we have contributed more than $200,000 to Gift of Life in the past two years," said Horst. "This is one of our favorite partnerships."
Blue Cross Blue Shield of Massachusetts, a Platinum Sponsor, brought a large team of employees to their first Steps for Life and were excited to take this first step in an ongoing partnership.
Gift of Life thanks both McKesson and Blue Cross Blue Shield of Massachusetts for their support.
AEPi and Hillel present check
A few weeks before Steps for Life, AEPi fraternity's Northeastern University Chapter and Hillel at Northeastern University joined forces to hold a cruise in Boston Harbor, with all proceeds benefiting Gift of Life. Chapter President of Hillel Sam Starkman and Vice President of AEPi Chapter Mack Krell presented a check for $25,216 to Jay Feinberg, Founder and CEO of Gift of Life.
Distinguished Service award to Jared Stein and family
Gift of Life's Chairman Bill Begal presented the 2017 Distinguished Service Award to Jared Stein and the Stein family. "Jared not only donated stem cells to save a woman with lymphoma, he has run more than 20 donor recruitment drives swabbing over 1,000 people," said Begal. To date, three transplants have resulted from Jared's efforts. His brothers, Daniel and Sam, and his parents Russell and Rebecca, also support Gift of Life – they planned the first Steps for Life in Boston, and hold the committee meetings at their home.
The organization is fortunate to have the active involvement of such dynamic individuals who are deeply committed to our mission.
Superhero Sprint
To kick off the race portion of the morning, a large contingent of amazing superheroes, all aged 6 years and under, lined up to run the Superhero Sprint. Every one of Gift of Life's littlest heroes received a bright orange cape and were awarded medals for completing the 50-yard dash.
5K Run & Walk
Donor Cheryl and recipient Peter led off the 5K Run & Walk. With runners from all over the Boston area participating, the field was packed with competitive energy. Walkers followed the runners out of the starting line, following the tree-lined course around the reservoir.
The top male finishers were Alex Praschma of Cambridge, Harry Erlich of Boston and Jimmy Baggot of Boston. Top female finishers were Lora Golann of Boston, Wendy Stanko of Southbury, Conn. and Tatiana Hasson of Brookline, Mass.
Fundraiser Results
"The teams and individuals raised over $83,000, far surpassing the event goal," said Gift of Life Race Coordinator Jennifer De Gruccio. "We are incredibly grateful to everyone who participated in Boston for the tremendous outpouring of support for Gift of Life's mission to cure blood cancers." Funds raised at Steps for Life will be used to add new donors to the registry, where they may be found as a lifesaving match for a patient in desperate need.
Top fundraiser Lynne Goodman, a Gift of Life transplant recipient, was present for her very first Gift of Life event with her donor, Natan Siegel. Lynne had both the top team and was the top individual fundraiser.
Top Five Teams
Team Lynne — $24,893
McKesson Corporation — $13,785
Team Burkin — $6,641
Peter's Team — $3,650
Team Samfield — $2,283
Top Five Individuals
Lynne Goodman, Team Lynne — $8,640
Joseph Goodman, Team Lynne — $1,025
Robert Bostian, Peter's Team — $1,015
Todd Samost, Team Samfield — $989
MIchael Burkin — $946
Top Superhero Fundraisers — Our youngest supporters!
George Braunstein, Team Burkin — $160
Blake Harrison, The Charles Hotel — $135
Event sponsors
Our sponsors make the Steps for Life 5K Run & Walk possible. Thank you!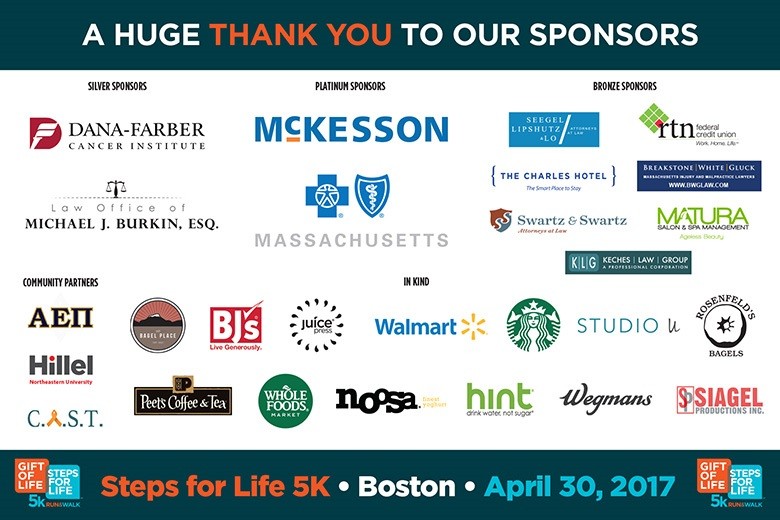 Every person has the power to save a life
Speaking on the large turnout and enthusiastic support shown by attendees, Feinberg said, "As we saw with our heroic donor, Cheryl, it only takes one person to save a life, that one person can make a huge difference in the life of a total stranger."
Patients in need who do not have a match in their family have the best chance of finding a donor through the international bone marrow registry. If you are interested in becoming a volunteer donor, please visit www.giftoflife.org/register . While not every donor is called as a match, you may someday be given the miraculous chance to save another person's life.
View event video and photo gallery
To view our video of the entire opening ceremony, click here.
A photo gallery from the event is available here.
---
Steps for Life 5K of Boston 2018 will be held in the spring. Visit www.giftoflife.org/stepsforlife for the date announcement, or join our mailing list to receive advance notice.