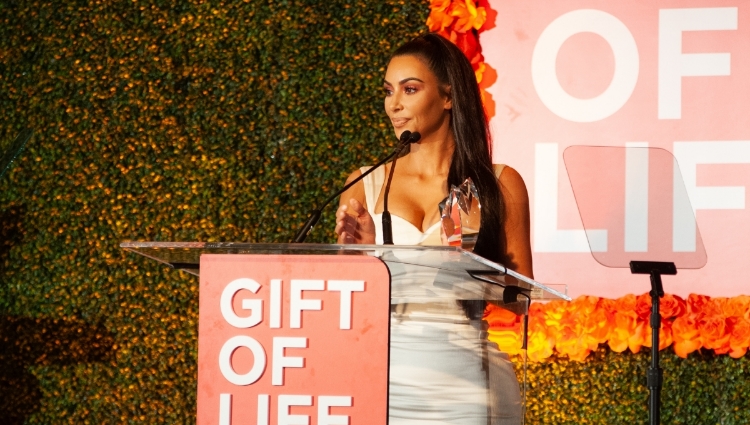 Inaugural Los Angeles Gala introduced two transplant recipients to their lifesaving donors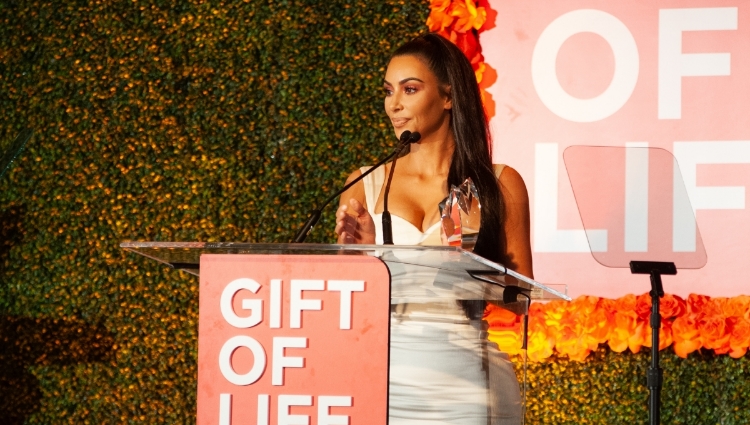 Gift of Life's inaugural One Huge Night Los Angeles at the SLS Beverly Hills Hotel on October 29 was an incredible and historic evening for the organization – and an emotional one as we witnessed the introductions of two transplant survivors and their heroic donors.
Impact Award: Kim Kardashian West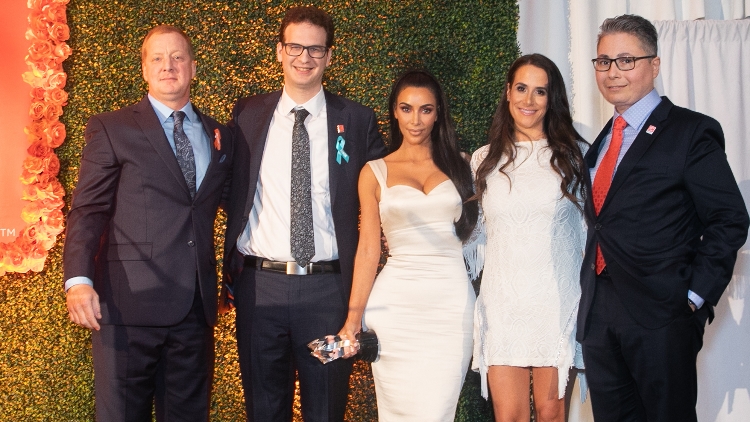 [l to r] Stem cell recipient Tony Wolfe, his donor Alan Weinberg, Kim Kardashian West, Lia Mantel Krief, Gift of Life CEO Jay Feinberg.
On behalf of Gift of Life, Lia Mantel Krief presented Kim Kardashian West with the Impact Award.
In July 2016, a young father named Adam Krief z″l was diagnosed with an aggressive form of blood cancer, and told his best hope for survival was a bone marrow transplant. He did not have a match among the more than 20 million people in the worldwide registry, so Krief and his family turned to the Gift of Life Marrow Registry for help. The Hope4Adam campaign became an international search that caught the attention of Kim Kardashian West, and on September 27, 2016, she took to Twitter and Instagram to urge her followers to help. Gift of Life was flooded with requests for swab kits.
Ms. Kardashian West's leverage of her social media power to focus attention on Adam Krief and the urgent need for bone marrow donors resulted in more than 10,000 new donors joining the registry. Many of them would never have heard of bone marrow donation otherwise. Through the Kim Kardashian West Donor Circle, Gift of Life has found four potential matches for patients, with one lifesaving transplant completed. We expect many more in the future.
"I was overwhelmed and inspired by the 10,000 who joined the registry," said Ms. Kardashian West. "You never know when you could save someone's life. It's such a simple thing to do."
The Steven Bochco Award: Eric Gurevich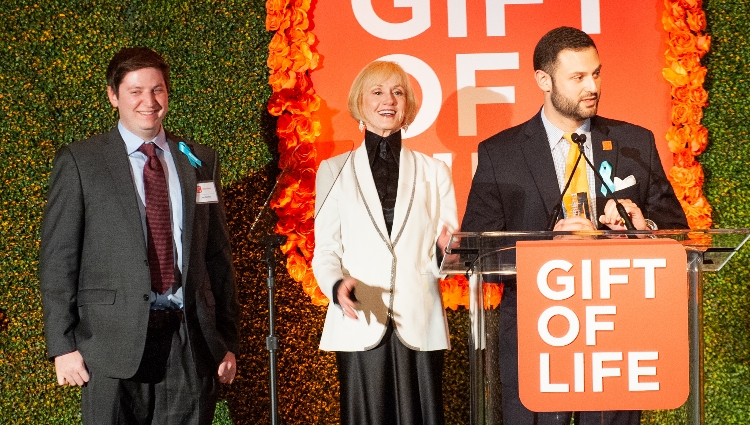 We celebrated the life and legacy of Steven Bochco with the Inaugural Award in his honor, presented by his wife, Dayna (above, center), and his stem cell donor, Jon Kayne (above, left). The winner, two-time stem cell donor Eric Gurevich (above, right), exemplifies the qualities Steven was best known for: vision, innovation and storytelling.
When Eric was called as a stem cell donor, he did more than anyone expected, battling a blizzard to get his first Neupogen shot, then, to prevent the bad weather from delaying the transplant, he flew to the donation center four days early so he could donate on time. He has counseled countless new donors since his donation experience to ease them through the process, and remains actively involved with Gift of Life.
"Steven Bochco pushed boundaries and redefined television while creating rich, compelling characters. At first, it did not compute that I was named the first-ever recipient of the Steven Bochco Award," said Eric. "Frankly, I'm still dumbfounded and profoundly humbled. His legacy and this award are a powerful reminder that we all have compelling stories worth sharing. Moreover, at any moment, each of us can rise to do the right thing."
He and his recipient, Ron Dreben, have become great friends, and Ron was present at the gala to congratulate him. To read about how Eric and Ron were introduced, click here.
Ohio University graduate meets her young recipient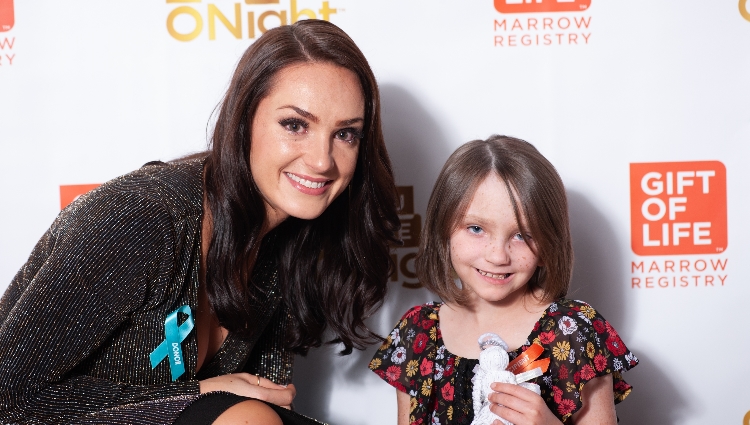 Holly Chislow (above, left), a donor who swabbed on her college campus at Ohio University, tearfully embraced eight-year-old Lola Ross, whose life she saved. Lola was only three years old when she was diagnosed with Fanconi anemia, a life threatening disease. Children with the condition often live in isolation to prevent infections.
"I am grateful that not only was I a match, but that my cells would be able to help this little girl," said Holly, 26, a fitness instructor for Orange Theory in Medina, Ohio.
Lola's aunt Lisa stayed with her at the hospital, and Lola's dad visited her every time he could. It was a difficult time for a little child with many uncomfortable medical tests, but help was on the way. When the stem cells arrived the hospital room, Lola quickly received the infusion and the first day of her recovery began! After a month Lola and Lisa were able to move to the Ronald McDonald House, where they lived for 96 days before returning home to Kentucky.
"The transplant itself only took 15 minutes, but it has made a big difference," said Lisa. "Lola missed first and second grade but she's now able to go to school, and we are working hard to help her catch up."
As Lola told emcee Bill Begal, she is now riding a two-wheeler bike and only had training wheel on for two days. She loves animals, and has a horse, a dog, a cat, a rabbit, and a pet chameleon – none of whom overshadow her special stuffed tiger, named "Lisa" after her aunt.
"I feel that God had a purpose for my life, and that includes being a match for this sweet little girl" said Holly. "I want her to know that I care about her and will do whatever I can to help her for the duration of both our lives."
Hope4Adam stem cell donor meets transplant recipient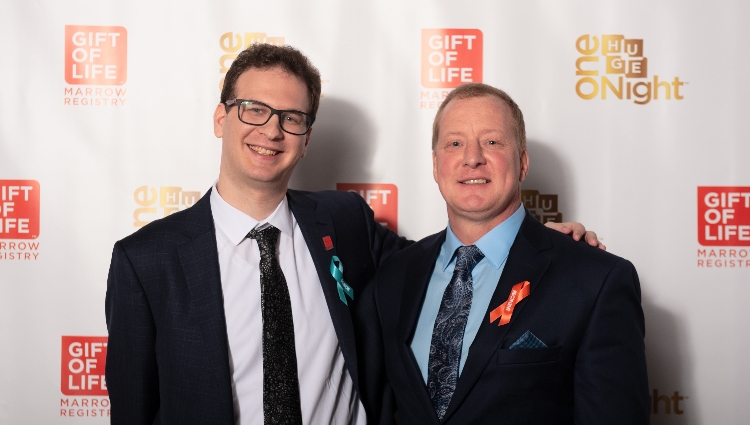 One of the highlights of the evening was the introduction of transplant recipient Tony Wolfe (above, right) to his heroic stem cell donor, Alan Weinberg (above, left). Lia Krief and Kim Kardashian West offered the introduction, as the pair were brought together as a result of the Hope4Adam drives.
Tony Wolfe has always been athletic, so when he began suffering from fevers, pain and night sweats, he knew something was wrong. The diagnosis was devastating, Acute Lymphocytic Leukemia. Tony's family had been hurt by leukemia before, when 12-year-old son Hunter passed away in 2011 as a result of the disease.
Doctors told him he would need a stem cell transplant in order to survive. Although his brother was not a match for Tony, yet he remained hopeful that a donor could be found in the registry.
"The search did not take long, and I was very excited when I was told a match had been found," said Tony.
That donor was Alan Weinberg, a 30-year-old resident of Queens who serves as the Fiscal Officer for the Borough President. Alan had joined Gift of Life in August 2016 at a fundraiser and barbecue in New York. "There was a table set up looking for donors for a particular patient [Adam Krief z″l] and they asked us to swab. We said, 'Why not?' and joined the registry," said Alan.
He didn't really expect to be a match, but was in the registry for only ten months when he was called as Tony's match.
Both men have been looking forward to meeting, with Alan saying that ever since he learned from Gift of Life that the transplant had worked and his recipient was in recovery, he has wondered about him constantly – "how he is feeling, is he getting better, and did he get my allergies!"
Alan also wants others to know that in the short time it takes to donate you are giving someone an incredible gift – literally a second chance at life. "Going through the medical tests, the travel, and giving up some of your time is worth it, every single second," said Alan. "Saving someone's life is important and should be a goal everyone has."
Christina Bianco "impressed" the crowd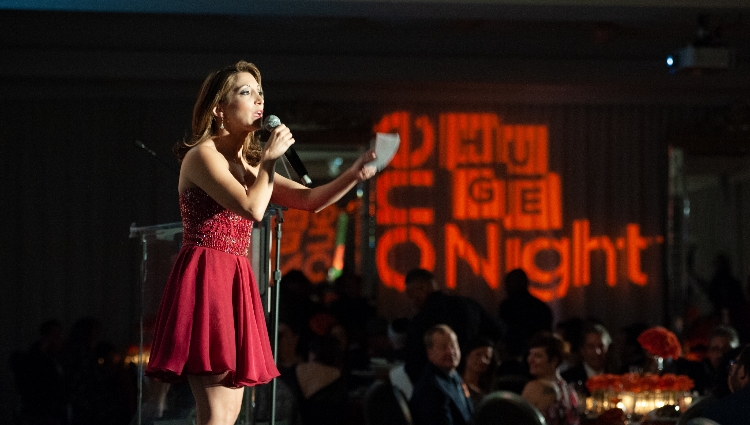 Singer, actor and impressionist Christina Bianco provided entertainment for the evening. Ms. Bianco is famed for you YouTube impressions, her one woman show The Woman of a Thousand Voices, and for portraying Dora in Dora the Explorer Live!
Bill Begal serves as master of ceremonies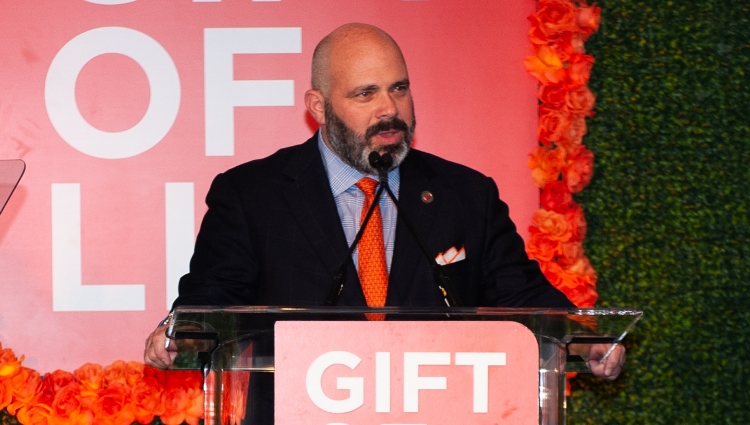 Gift of Life's Chairman of the Board Bill Begal served as master of ceremonies.
Bill has made the mission of saving lives his own, and shows his support not only in his formal leadership role as Chairman, but also on a personal level: when Bill and his wife Kira were married in 2017, in lieu of wedding presents they asked guests to give generously to Gift of Life. Their donor circle has already found eight matches for patients, resulting in their first lifesaving transplant in July 2018.
For many years, Bill has continued to visit donors during their collections, and is often called on to courier donated bone marrow and stem cells to transplant centers all over the world.
Photo and Video Gallery
To view and download photos in the gallery click here.
To watch the event video on Ustream.tv click here.