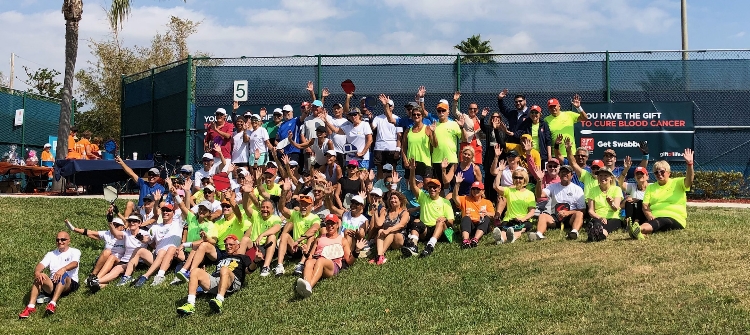 Pickleball Clubs partner with Gift of Life to Save Lives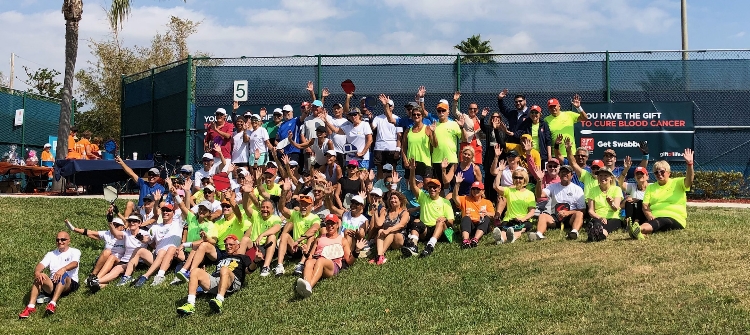 A dedicated group of volunteers from the Delray Beach Pickleball Club and the Valencia Palms Gift of Life Club held its 2nd Annual Round Robin Pickleball Tournament benefiting Gift of Life Marrow Registry on Wednesday, March 21, 2018 at the Delray Beach Tennis Center.
Pickleball, an easy-to-learn sport invented on Washington State's Bainbridge Island in 1965, has exploded across South Florida in the past two years, with new courts being added across the region. This combination of tennis, ping pong and racquetball has drawn large numbers of players to the court – and fortunately for Gift of Life, is a sport that attracts many giving and charitable players.
More than 100 players and spectators, including marrow donors, transplant recipients and volunteers joined together to support Gift of Life's mission of helping those battling blood diseases and in need of a transplant find their lifesaving marrow matches. Every three minutes someone is diagnosed with blood cancer, but 70 percent of patients do not have a related match and must search the worldwide registry for a volunteer donor.
Those attending the event included two-time marrow donor Matthew Hocherman of Boca Raton and bone marrow transplant recipient Barbara Goodman of Boynton Beach. Gift of Life Founder and CEO Jay Feinberg presented medals to the tournament winners. The medalists were Michael Krooks and Arnie Weinberg – gold, David Amrani and Mark Vogel – silver, and Tobias Kaye and Arthur Stein - bronze.
"The Gift of Life Pickleball Tournament was a terrific success," said event organizer Gail Oliver. "A fantastic group of dedicated volunteers was able to share the lifesaving mission of Gift of Life with a huge crowd of pickleball enthusiasts. It was pickleball with a purpose!"
Since its founding in 1991, the Gift of Life Marrow Registry has registered over a quarter million potential donors and saved over 3,200 lives. Relying on the generosity of partners to underwrite the $60 laboratory cost needed to process each test kit and add new donors to the registry, the funds raised at the tournament will be used to help save lives.
Want to get into the swing of the game so you can be part of the 2019 tournament? Pickleball courts are everywhere – there are more than 5,000 courts and 2.5 million players in the United States, so there is plenty of opportunity to learn this rapidly growing sport. Visit places2play.org to find out where you can pick up a paddle and get started.