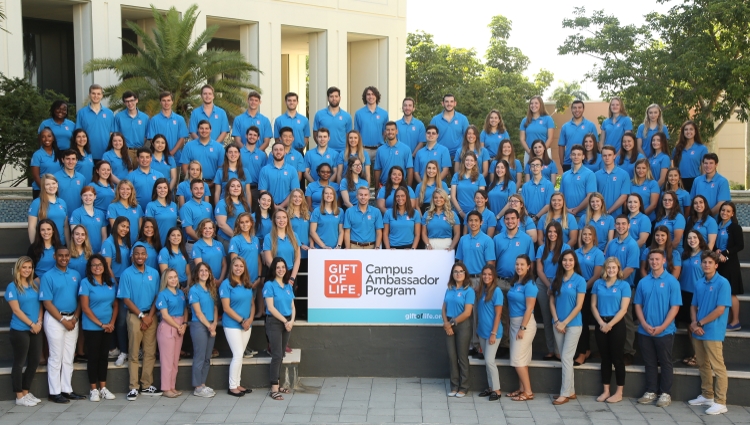 Campus Ambassadors attend annual Symposium for training in marrow and stem cell donor recruitment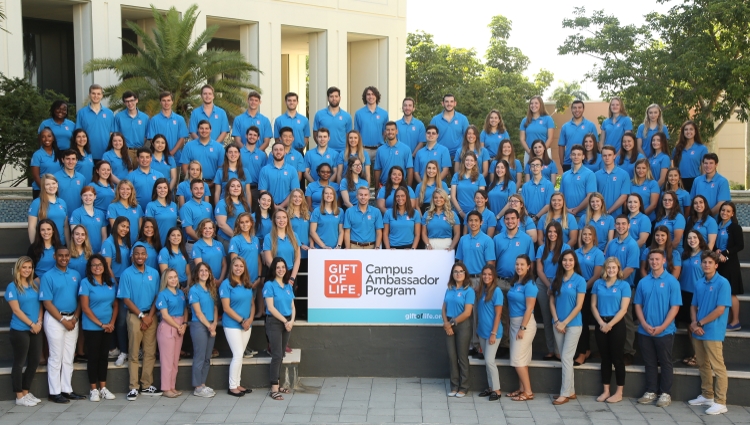 On July 28, 2019, 110 college students participated in Gift of Life Marrow Registry's annual Campus Ambassador Symposium. The symposium, which consisted of seminars to prepare students for running marrow donor recruitment drives on their college campuses during the upcoming academic year, will ultimately comprise the larger group of 230 CAPs in the field at 104 colleges across the country.
"We combine educational programs about the science behind marrow and stem cell transplants with hands-on practice in organizing, promoting and managing drives," said Gift of Life Community Engagement Director Marti Freund. "The CAPs also learn public speaking skills, and how to recruit and motivate volunteers. They leave here fully prepared to represent Gift of Life and hold drives at their university."
Gift of Life invited a number of experts to share their knowledge and inspire the Ambassadors. They included Doug Bartel, Senior Director of Business Development and Beth Johnson, Direction of Regional Business Development at FloridaBlue; John Kracum, President Florida Mayhem and Vice President Misfits Gaming and Justin Stefanovic, VP Partnerships at Misfits Gaming and Florida Mayhem; Dustin Mackey, Community Development Specialist and Oscar Quincoces, Gaming Expert at Microsoft.
Stem Cell Recipient Lisa Dunbar flies in from Iowa to surprise her donor, Gift of Life staffer Sean Conklin
The CAP Symposium kicked off with a surprise on Sunday night, July 28, as the ambassadors gathered for dinner. Unbeknownst to Community Engagement Coordinator and stem cell donor Sean Conklin, 28, Gift of Life had flown in his recipient Lisa Dunbar, 50, from Iowa to meet him in person. Sean donated stem cells to save Lisa's life in January, 2014, but they only recently connected and became friends online.

Lisa had battled an extremely rare form of lymphoma that began in her sinuses and spread across parts of her face. Her sister Karen, who accompanied her to Boca Raton, was not a close enough match to donate stem cells, but Lisa's doctors found her perfect 10/10 donor in the worldwide registry.
"Right before Thanksgiving in 2013 I learned my match had been found, and we included him in our discussion of things we were thankful for at Thanksgiving dinner, and toasted him every Thanksgiving since then," said Lisa. "This year we have the name to put with that incredible act of selflessness."
Sean joined the registry in 2013 while an undergraduate at SUNY-Plattsburgh during a drive held annually by the baseball team in memory of a player who had lost his battle with leukemia. Sean was the first donor resulting from their drives. "When I saw the post for the job at Gift of Life I was already aware of the organization," said Sean. "I'm a brother in Zeta Beta Tau Fraternity, and they run drives every year. I already knew the work was important."
"I don't want it to seem like I did something exceptional," Sean told the Campus Ambassadors. "Anyone can do this, I want everyone to know that you can donate stem cells and it's not something that's difficult – and then you get an incredible moment like this one!"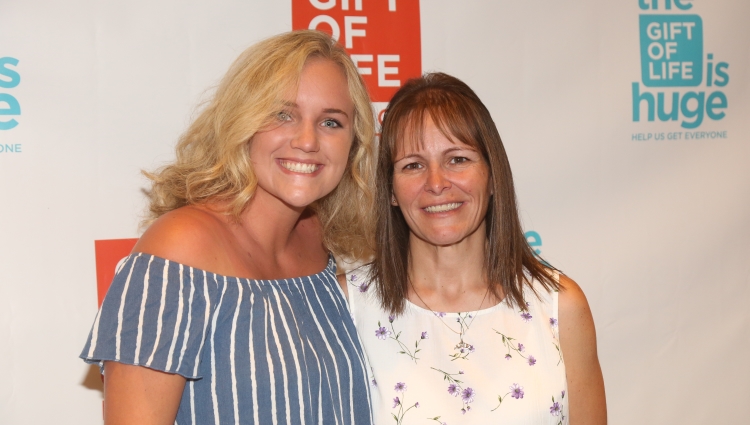 Courtney Manning (l) donated stem cells to save Nicole Killem's mother, Patricia Zych, who had been diagnosed with leukemia.
Donor who swabbed at CAP drive meets recipient's daughter
Texas native Courtney Manning swabbed her cheek and joined the registry at a drive run by Gift of Life's Campus Ambassadors at Mississippi State University, where she is majoring in special education. The drive was during Valentine's week 2017, and their theme was "Will You Marrow Me?" Courtney hoped she would increase the odds of a patient finding a match, and give hope to those searching for donors. "It only took five minutes to swab and join Gift of Life, but those five minutes were very important and crucial," said Courtney.
That fall, Patricia Zych, a 62-year-old resident of Oscoda, Mich., developed unusual bruises on her arms and legs. After a series of tests, her doctors diagnosed her with acute lymphocytic leukemia, and explained that her best chance of survival was a stem cell transplant. Although she did not have a matching donor within the family, Patricia's doctors turned to the registry to search for an unrelated donor – and Courtney was already there.
In early December, Courtney received that magical phone call from Gift of Life to tell her she was a match, and in February, 2018, just over a year after joining the registry, Courtney donated stem cells. While donors and recipients must remain anonymous for the first year, after that time they can meet if both parties agree.
Gift of Life invited Courtney and Patricia to join us at the CAP banquet on Tuesday, July 20. Although Patricia could not attend, her daughter Nicole Killem of Raleigh, N.C., represented her and was introduced to Courtney in an emotional and heartfelt ceremony by Gift of Life advocate and transplant recipient Avi Tansman.
"This week I got to be immersed in the feeling of purpose and joy," said Courtney. "Love is greater than all the hate in the world. Life is good, and people can be too. All too often hope is lost; let's bring it back one magical moment and one story at a time."
Courtney looks forward to becoming a teacher when she graduates in December 2019, and we sincerely wish Patricia the best as she continues her recovery.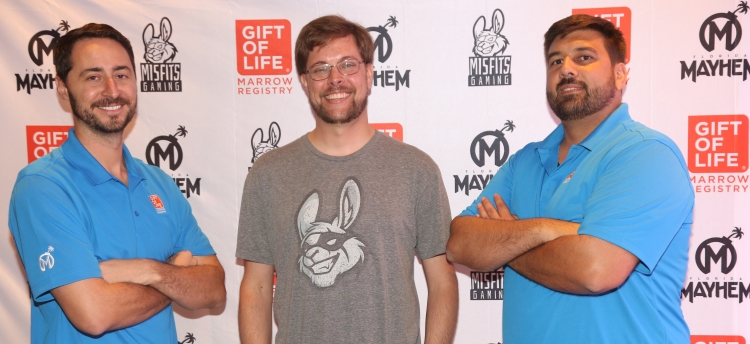 (L-R) Rob Walker, Partnerships Account Manager at Misfits Gaming, John Kracum, President of Florida Mayhem, and Justin Stefanovic, VP Partnerships at Misfits Gaming and Florida Mayhem took the stage at the CAP Symposium to announce the partnership.
Misfits Gaming and Florida Mayhem partner with CAPs for Esports Events
Gift of Life is proud to announce a partnership with Misfits Gaming and the Florida Mayhem to hold swab drives at esports events and tournaments, and educate the esports audience about the need for stem cell and marrow donors. With nearly 400 million viewers, esports attracts a large audience of predominantly young adults – the most preferred donor demographic.
Gaming clubs, esports events and tournaments are springing up on campuses nationwide as colleges recognize the popularity of esports and are adding stadiums to their facilities. Campus Ambassadors now have a great opportunity to hold successful donor recruitment drives in tandem with these events.
Misfits Gaming and the Florida Mayhem also announced an incredible contest: the Campus Ambassador who adds the highest number of completed swab kits from esports events by the end of the year will win a VIP trip for two to Miami to attend a Miami Heat Basketball game.
"Gift of Life is a fantastic Florida-based organization that has saved and improved the quality of lives for almost 30 years, and all of us in Misfits Gaming and the Florida Mayhem are proud to be partnering with them," said John Kracum, President of Florida Mayhem. "This empowers our fans by letting them help others and save lives without requiring cash donations or a large up-front time commitment."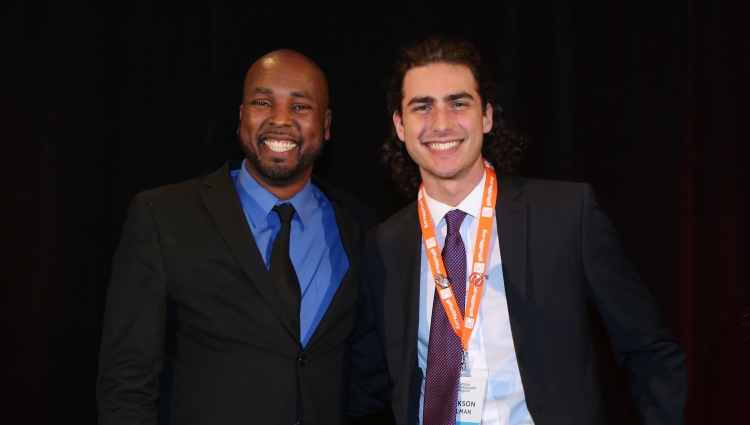 Event emcee Don Chris (l) of WMBX 102.3 Radio congratulates the 2019 Most Valuable CAP, Jackson Hillman, a junior at Florida Atlantic University.
MVC (Most Valuable CAP) and CAP Rookie of the Year are recognized
Gift of Life recognized Campus Ambassador Jackson Hillman as Most Valuable CAP of the Year, and presented him with a pair of Apple Airpod Wireless Headphones. He is a junior at Florida Atlantic University majoring in political science, and has been involved with Gift of Life since he was in high school. In the past year he has added more than 600 new donors to the registry, and held the landmark 15,000th donor drive for Gift of Life.
Campus Ambassador Alexis Puritz, who attends the University of Wisconsin – Madison, was recognized by Gift of Life as CAP Rookie of the Year. In her first year as a CAP she held 21 drives, recruiting more than 500 new donors. She received a $100 Amazon Gift Card in recognition of her efforts.
Additionally, new incoming Campus Ambassador Shannon Downie of Miami University (Ohio) was awarded a $25 Amazon Gift Card for her creative CAP internship application video.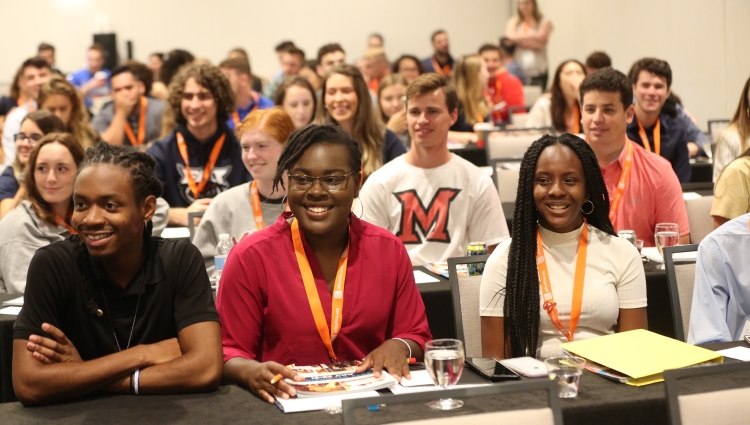 Want to become a Campus Ambassador?
The Campus Ambassador Program has been wildly successful, adding more than 42,000 new donors, and resulting in over 600 matches for patients with 89 lifesaving transplants completed to date. Transplant centers most often request donors 18 to 25 because they produce a better outcome for patients, due in part to producing a higher number of stem cells and being healthier in general.
"The Campus Ambassadors have a tremendous impact through their recruiting efforts," said Gift of Life CEO Jay Feinberg. "Thousands of new donors join the registry every month through their efforts, and that gives incredible hope to those battling blood cancer."
Are you a college student? Would you like to save someone's life? Apply to become a CAP for the spring 2020 semester. To learn more, visit www.campusambassador.org.