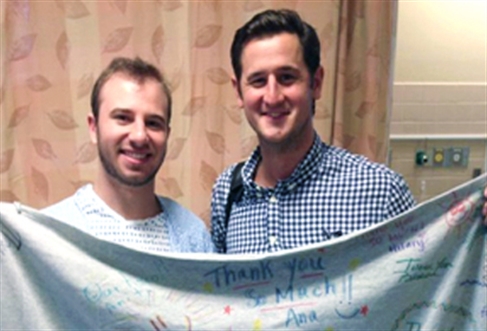 Michael donated bone marrow to save a life!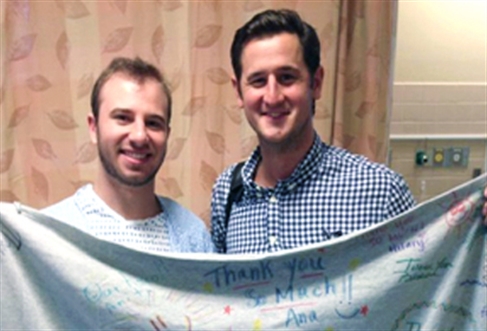 Donor Michael (L) with Gift of Life's representative Nick (R) on the day of donation.
Michael, a student at University of Rochester, usually donated blood platelets every three months or whenever a blood drive was held on campus. But on a dusky, frigid evening at a blood drive, Michael decided to do something he had never done before—swab his cheek and join Gift of Life's registry. "It was very casual," said Michael when describing his swabbing experience. "As a biotechnology student, I had some familiarity with stem cells, but I was unfamiliar with bone marrow donation. After reading up on it, I decided that this was for me."
Michael, a biotech major and philosophy minor, grew up and currently resides in Sharon, MA. The 21-year-old is an avid musician: he plays guitar in his own rock band on the Rochester campus and also plays clarinet in the wind symphony. When asked about his hobbies, Michael passionately explained, "I have so many hobbies: community service, computer programming, music, etc. On top of that, I really want to pursue a career in biotech. It's difficult to juggle all of my interests because sometimes they have very little to do with each other— but that's what makes it fun."
Michael donated bone marrow to a 68-year-old man with acute leukemia. Speaking about the donation process, Michael said, "The donation was really smooth. I had relatively little pain and after about three days, I felt completely back to my old self. What upset me was when I had friends coming to me and asking why I was donating. They had heard that the process was painful and had complications." Michael then took it upon himself to offer them the the perspective of a donor going through the process. "I began writing this blog," said Michael, "and all of a sudden people started walking up to me on campus asking how they could help."
Michael is now entering his senior year at Rochester, and he is excited for a trip to Europe a few weeks before classes start. "I would love to meet the recipient—just knowing I helped save someone's life is an overwhelming mix of emotions, and I can't imagine a better way to celebrate life than meeting my recipient," said Michael.
Being a philosophy minor, Michael couldn't help but examine his own mix of emotions and how he dealt with them: "On one side, I was really excited about being a match; on the other side, I was concerned that I was donating for my own sake. I struggled with this idea of selfishness for a while and whether or not I was donating for the right reasons. Ultimately, it became clear to me that what really mattered was saving this person's life." Michael explained, "It really sank in after donation; I recognized the gravity of what I had done and how impactful it can be—it really changed how I felt about the whole experience."
When asked if he would go through with the donation again, Michael said, "Of course, I would do it," adding, "People throw around the word hero. I don't think I am a hero—the real heroes are the staff at Gift of Life and the staff at the hospital working to save this person's life." You can read Michael's blog about donation
here
.