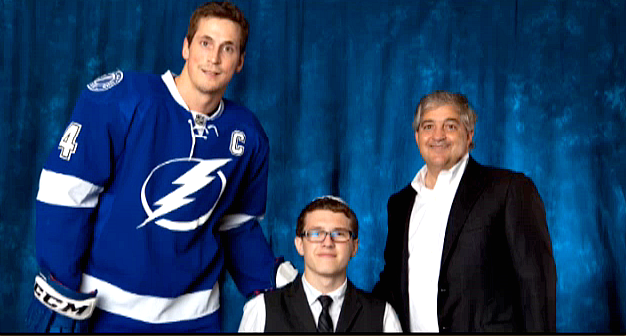 A Community Hero Aims to Save Lives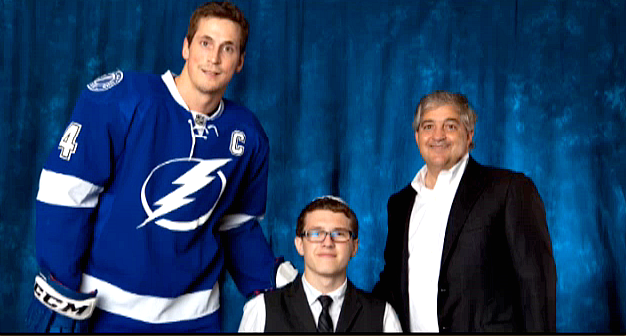 Avi is a remarkable 19 year-old High School senior. In 2009, he was in a horrific accident that left him paralyzed and with 2nd and 3rd degree burns all over his body. Though his accident caused him to be in the hospital for months because of a coma and his injuries, that did not affect his compassion and caring for others and how he serves his community. In fact, it fueled his passion to serve.
Avi and his family are from Tampa Bay, Florida, where they are active in the community and have a heart and love for serving others in need. Even though Avi is paralyzed, he continues to volunteer at Tampa Jewish Family Services where he acts as a mentor to his peers and adults, as well as serving as a leader in his congregation's youth group. He also holds various positions in both local and regional Jewish youth organizations.
It is because of this remarkable spirit that the Tampa Bay Lightning honored Avi as a Lightning Community Hero during their game against the Carolina Hurricanes. Each year, the Lightning Foundation honors a member of the community who they consider a hero. Avi was nominated by one of the organizations he volunteers at, and this year, the Lightning Foundation chose to honor him as a Community Hero. Avi received a $50,000 donation from the Foundation and has divided the money among charities of his choice; one of the charities he decided to donate to is Gift of Life.
Avi's mom introduced him to Gift of Life after she met Shayne, Gift of Life's recruitment coordinator, at an event. She learned about our mission to save the lives of patients in need of bone marrow transplants, and she wanted to help by organizing a donor drive. Avi chose Gift of Life because there were a lack of drives being run in his community, and he wants to change that.
One of his goals in life is to help others who are suffering from illnesses and disabilities. So, he and his mom, alongside Gift of Life, are planning a donor recruitment drive for June 1 at the Tampa JCC. His donation of $2,700 will sponsor the first 50 people to register. His generosity means that someone could find his or her life-saving match and have a second chance at life, just like Avi.
If you are interested in planning your own drive, please email our Recruitment Team.