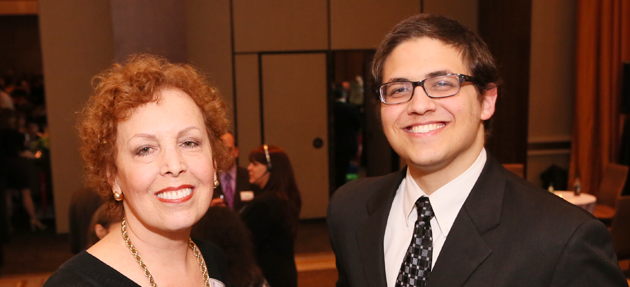 Ariel and Marilyn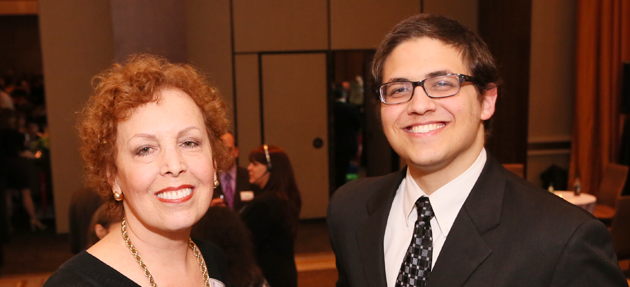 "I felt like I was carrying someone's life in my bones," said 23 year old Ariel upon learning he was a match for a patient in need. Ariel joined the registry a year earlier at a drive held by Yeshiva University's Student Medical Ethics Society. As an aspiring bioresearcher with a fascination about seeing biological knowledge put into practice, Ariel thought that a simple cheek swab was an easy first step to saving a life.
Across the country, Marilyn's life changed forever when she learned that she would have a second chance at life. Twenty-six years earlier, she was diagnosed with Mycosis Fungoides, a condition that caused her to develop rashes on her arms and legs. When her condition worsened and progressed to Cutaneous T-Cell Lymphoma, she was distraught. Marilyn was told she would need a bone marrow transplant and since she did not have extended family that could be tested for her; she was left to rely on a complete stranger to save her life.
Once he made the decision to donate, he never looked back. As Ariel proceeded with the workup process, he felt an interesting mix of pressure, responsibility, and purpose on his shoulders. He joked, "I was pregnant with a 62-year-old woman! But in a sense it was true - I was living for two, taking care of myself because someone else was depending on me." He saw his donation as a unique, divinely ordained mission, and was excited and proud to get the chance to give someone else a second chance at life.
Ariel's cells were flown to Seattle Cancer Alliance in Seattle, Washington where Marilyn's transplant took place. Her family members took great care of her, and she thinks of them as her heroes. Her husband was her main caretaker, taking her to her daily clinic visits and making sure she took all of her medications on time. Her daughters and friends also pitched in, often bringing laughter and wonderful conversation.
She says, "Since facing the transplant, I look at this journey called life, with a much deeper respect and with much greater ease. I have become a more positive person and trust that things will turn out for the best." She continued, "When one faces the end of life and gets a reprieve, a gift from someone you don't know, one cannot help but reflect upon what we are made of and that we have been given the most valuable extension ever…the gift of more time."
Marilyn was able to meet the man who saved her life, Ariel, at Gift of Life's 12th Annual Partners for Life Gala in New York City in May.
Ariel was thrilled to meet Marilyn. He said, "It's not often that you get to meet someone whose life you saved - it's a great way to kick-start a great friendship!" Marilyn was equally as excited to meet the kind, generous, and selfless man who gave her the chance to watch her granddaughter grow.
She said, "I am awestruck by my donor, Ariel. To be so young and giving of himself touches the depths of my heart. I will be eternally grateful to him for saving my life, to give me extended years, without disease, to continue to love my family, my friends, and now my donor. Bless you, Ariel."
Finding life- saving matches for our patients in-need would not be possible without the dedication and courageous acts of our donors. Gift of Life strives to continue growing the registry so more matches like Ariel and Marilyn can be made. By increasing the number of volunteer bone marrow donors in the registry, more individuals will be given a second chance at life. If you're interested in hosting a donor drive, please contact our Recruitment team at recruitment@giftoflife.org.