While on his Birthright Israel trip in 2017, Dan swabbed to join the Gift of Life Marrow Registry after a short presentation about the organization.
"It was one of those 'why not?' moments," said Dan. "If someone needs my stem cells, then why not be on the registry so they can know I'm available to donate."
Four years later, Dan received a call from Gift of Life, but he was a little confused at first when he saw the caller ID.
"I thought they were calling for a blood donation, like Vitalant," said Dan. "The blood bank calls me because I have O- blood. I wondered why they were calling since it hadn't been 60 days yet since the last time I had donated blood. But then, when I answered, I was told that it was Gift of Life and I had matched with a man in his 60s who was battling leukemia."
Some of Dan's family members were concerned about him donating stem cells, but after he explained that only a tiny fraction of the body's cells is collected and they naturally regenerate in just a few weeks, they were happy for him to proceed.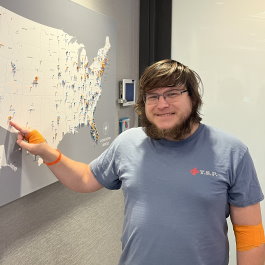 Travel to the collection center was coordinated with Dan and he and his girlfriend flew from his home in Tempe, Ariz. to Delray Beach, Fla. where he was put up in a beachfront hotel. The cost of travel and accommodations for donors is covered by Gift of Life, and a meal stipend is also provided.
"The hotel was great," said Dan. "My girlfriend and I got to enjoy Delray, it was a nice time, if not a little humid – it's a different kind of heat than I'm used to in Arizona!"
For four days, a nurse came to the hotel room to administer Neupogen, a synthetic version of a naturally occurring protein found in the body, to encourage the stem cells to enter the blood stream. The injections are given once per day for five days. Neupogen has been used to prepare donors for more than 30 years, so the effects are well documented. Some donors report feeling achy while taking it, and others feel as if they have the flu. These symptoms typically disappear within a day of the final injection, sometimes within a few hours. This was the case for Dan.
On the day of his donation, a car service brought him to the Adelson Collection Center in Boca Raton where the final dose of Neupogen was administered and the collection process conducted.
"The donation was super quick," said Dan. "My body was producing a lot of stem cells, as the Neupogen was working very effectively. And the bag they took away was pretty big. The donation was 2½ hours, during which my girlfriend and I watched Netflix, and we talked a bunch with the staff and nurses who were awesome. The nurses who came by were always really nice and professional."
Dan feels that donating is worth it.
"Doing this made me appreciate things a lot more," he said. "You're saving someone else's life. No qualifiers. Just flat out saving someone's life."
Dan, 27, is a resident of Tempe, Ariz. where he works as a legal document specialist. He is a graduate of Arizona State University. In his free time, he enjoys playing Dungeons and Dragons with his friends.
---
Dan's swab kit was sponsored by the Adelson Family Foundation Donor Circle.