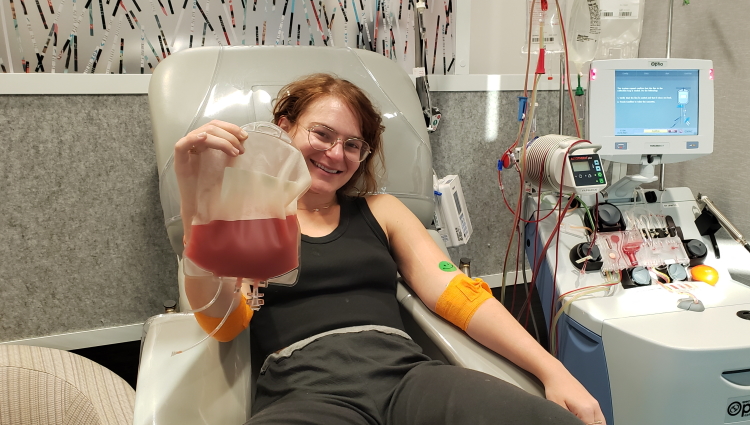 Boca Raton native becomes Adelson Collection Center's 300th stem cell donor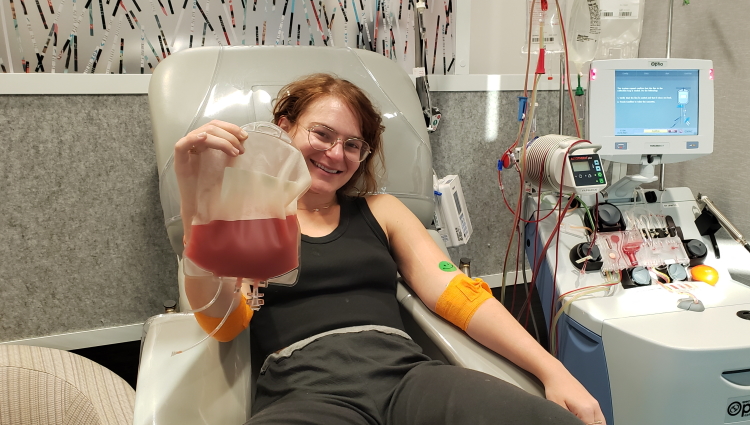 In 2019, Taylor was in Israel celebrating Purim with her fellow Birthright travelers when they decided as a group to join Gift of Life's marrow registry together and become future stem cell and bone marrow donors. Fast forward to Purim 2021, where Taylor found herself at Gift of Life's collection center in Boca Raton, Fla., giving stem cells to save the life of a 69-year-old man battling acute myelogenous

leukemia.
That day, Taylor became the 300th donor to have their stem cells collected at the Dr. Miriam and Sheldon G. Adelson Gift of Life-Be The Match Collection Center. The facility was long a dream of Gift of Life's founder and CEO, Jay Feinberg, who believed having in-house collections would speed the transplant process and save more lives. Gift of Life was able to remain fully functioning throughout the pandemic, saving 240 lives in 2020, more than in any previous year.
"At the time I swabbed I was working for Masa Israel, a Jewish nonprofit, and they let me staff a Birthright trip," said Taylor. "I got to go to Israel and have a tremendous experience. Without me being there and swabbing, I wouldn't have been able to help my recipient."
Taylor, 28, is a graduate student pursuing her master's degree in International Affairs at The New School in New York City. However, when she learned she was a match, she was actually in Boca Raton, only a ten-minute drive from Gift of Life's headquarters.
"I was already in Boca at the time, and even though classes are remote I had planned to go back to New York at the end of January," said Taylor. "The donation date was set for late February, so I stayed on a few extra weeks for the procedure." Both of her parents were excited she would be donating, and her boyfriend Ethan also stayed on in Boca to accompany Taylor on her collection day.
"The funny thing is everyone says, 'Oh, you're so brave!', but this is easy for me to do," said Taylor. "My Gift of Life coordinator asked if I just wanted to come to the office for the physical exam and Neupogen shots [to help mobilize her stem cells] so I came right in the following week."
"The staff is incredible," she added. "The nurses made me comfortable and the donor concierge was so sweet and nice, they did everything to make us feel at home. Ethan and I watched some shows on Netflix, and they also fed us really well." She was also thinking about her recipient, saying, "I think about the fact that this man has leukemia and compared to that, donating stem cells is not a big deal."
Taylor's friends have been very interested in her experience, and a few are even jealous, saying things like, "I've been on the registry for years and they've never called me!" But, finding a match between two people that is close enough for a transplant to work is quite rare; about one in 1,300 people on Gift of Life's registry are found to match a patient, and only one in 300 of those make it to the collection process.
"I would love to meet my recipient face-to-face," said Taylor. "It's so crazy, they told me that your recipient will get your allergies – it feels like they take on a little piece of you."
For anyone thinking of donating, Taylor says, "Just go for it, it's a small thing we can do for someone's life and for their family's life. I'm so honored – it's the best thing I've ever done in my life, it's amazing. I am really grateful for the opportunity."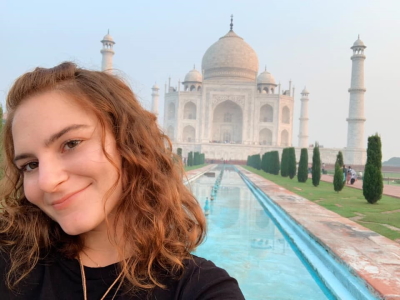 Taylor earned her undergraduate degree from the University of Central Florida. In addition to Israel, she has traveled widely including to China, South Asia, Japan, Morocco, Rwanda and India, and likes to explore local foods: "I'll eat anything, I've had some strange things while traveling!". While studying for her master's degree at The New School, she runs an online thrifting business. In her free time, she enjoys golf, reading and eating.
Thank you, Taylor, for being our 300th donor at the Dr. Miriam and Sheldon G. Adelson Collection Center!