Steps for Life 5k South Florida attracts more than 600 participants for 10th anniversary run/walk
With perfect weather greeting runners and walkers on Sunday January 19, 2020, Gift of Life held its 10th annual Steps for Life 5k Run & Walk of South Florida. More than 600 participants and supporters flocked to the Florida Atlantic University campus for the event. The high point of the morning was the emotional moment when a young blood cancer survivor met the man whose bone marrow donation saved his life.
Dighton, Mass. boy meets Chicago resident who saved his life
You would never know from looking at four-year-old Grant Medeiros's happy face that just two years ago, he was battling for his life. He was three when his parents, Lori and Philip, took him to the doctor for a high fever and a swollen eye. The shocking diagnosis was Acute Myeloid Leukemia—but their doctors at Dana-Farber Children's Cancer and Blood Disorders Center in Boston assured them that a bone marrow transplant from a matching donor would give Grant the chance for a cure.
The entire community in Dighton, Mass. pulled together to support Grant, Lori and Philip during his treatment, and the fire department even made Grant an honorary firefighter!
Bone marrow transplants depend on finding a matching donor, and Grant was incredibly fortunate: only a week after they started the search, his matching donor, Graeme Ossey, was located in Gift of Life's registry.
Graeme, 31, joined the registry in 2007 during a recruitment drive at Beth David Synagogue while he was attending high school. "I felt if there were people in need, maybe I could help," said Graeme. "I was so excited when I got the call that I was Grant's match!" Since donating bone marrow in 2018, Graeme has finished his MBA degree, married, moved to Chicago to work in hospital administration, and now has a two-year-old son of his own.
Although the transplant was completed in 2018, under federal regulation, donors and recipients may not learn each other's identities for the first year. When the invitation came from Gift of Life to be introduced at the Steps for Life 5k in South Florida, both families were thrilled for the chance to meet in person.
When Grant met Graeme the connection was immediate, with Grant asking to be picked up and giving a big thumbs up to the crowd.
"When something like this happens, you're at the mercy of strangers," said Philip. "It's amazing how many great people are out there. Someone I've never met did something I couldn't do because I wasn't a match – he gave bone marrow to save my child. Thank you so much!"
Community support for Steps for Life
Boca Raton Mayor Scott Singer (above, left) kicked off the event with a warm welcome to everyone, and by emphasizing how important it is to be a member of the registry.
Steps for Life founders and co-chairs Dana Aberman, Donna Krasner and Wendy Schulman (above, center) shared the Steps for Life story on this 10th anniversary of the event.
WIRK New Country Radio personality Tim Leary (above, right) served as our master of ceremonies. WIRK supports Steps for Life every year, providing music and incredible emcees.
Lensa Jeudy, (below), Community Engagement Coordinator at Gift of Life, sang the national anthem, with the Coconut Creek High School JROTC providing the color guard.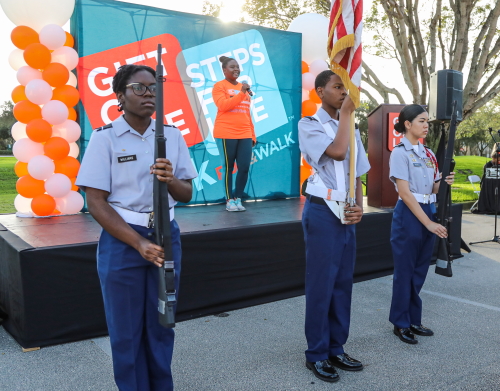 Superhero Sprint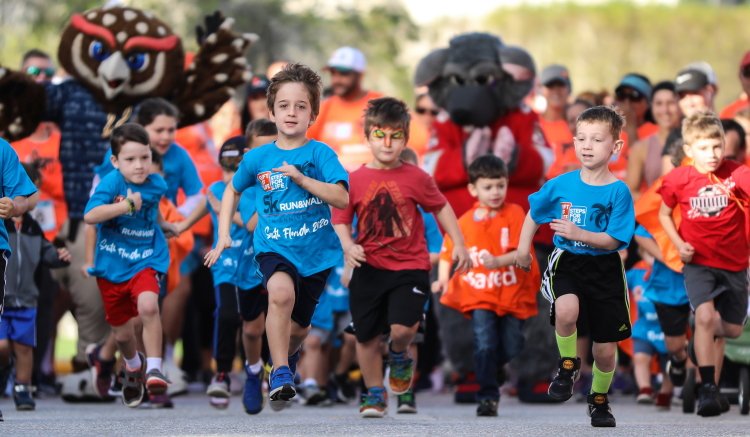 To launch the race portion of the event, a swarm of amazing superheroes lined up to run the Superhero Sprint. Every one of Gift of Life's mini-heroes received a bright orange cape and a medal for completing the 50-yard dash.
5k Run & Walk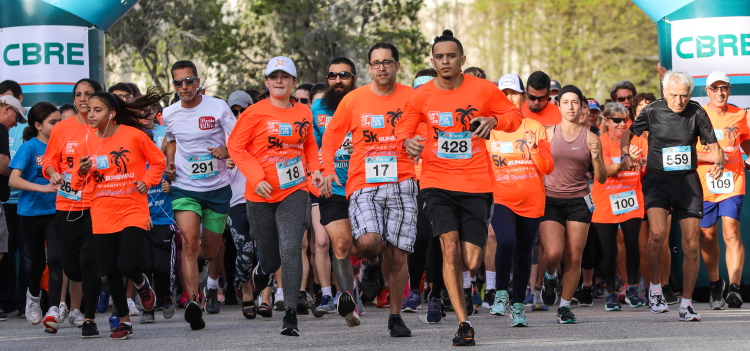 More than 600 participants from all over South Florida ran, walked or cheered people on, with walkers following the 5k runners out of the starting line to follow the course across the Florida Atlantic University campus.
The top male finishers were Cory Schneiger, Matt Triggs, and Elijah Habib. Top female finishers were Zoe Da Silva, Chris Bennett, and cancer survivor and Gift of Life volunteer, Amy Glick.
Click here for the full race results at the Accuchip Race Timing Services website.
Event Sponsors
Gift of Life thanks our generous sponsors for their support of Steps for Life, including CBRE, Brown & Brown Insurance, The Gellin Galaznick Foundation, Inc., Lennar, Ranfac, Vista BMW and VW, and many more. Your involvement with our mission helps to save lives.
Every person has the power to save a life
As the event wrapped up, Tim Leary reminded the crowd that, "It only takes one person to save a life, and you have the power within you to be someone's cure."
Patients in need who do not have a match in their family have the best chance of finding a donor through the international bone marrow registry. To become a volunteer donor, please visit www.giftoflife.org/register. While not every donor is called as a match, you may someday be given the miraculous chance to save another person's life.
Gallery
Click here to view the event photo gallery.
Click here to watch the opening ceremony, including Graeme and Grant's emotional first meeting!
We look forward to seeing you at the
Steps for Life 5k of South Florida
in January 2021.