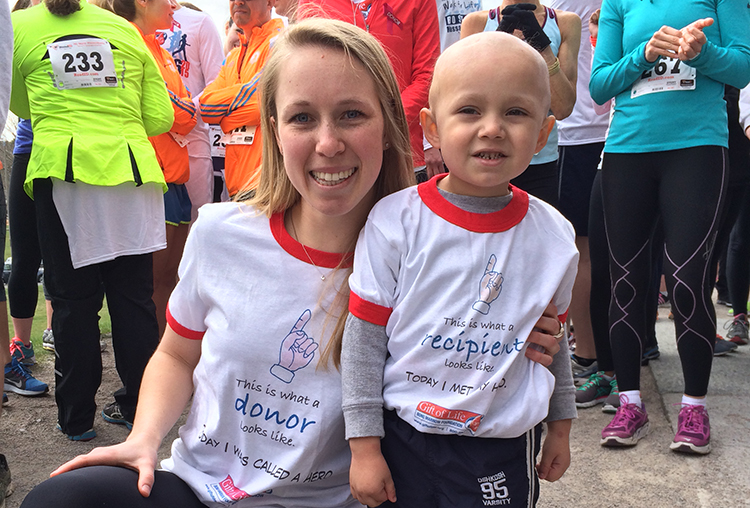 Boston College student gives boy, 4, 'Gift of Life'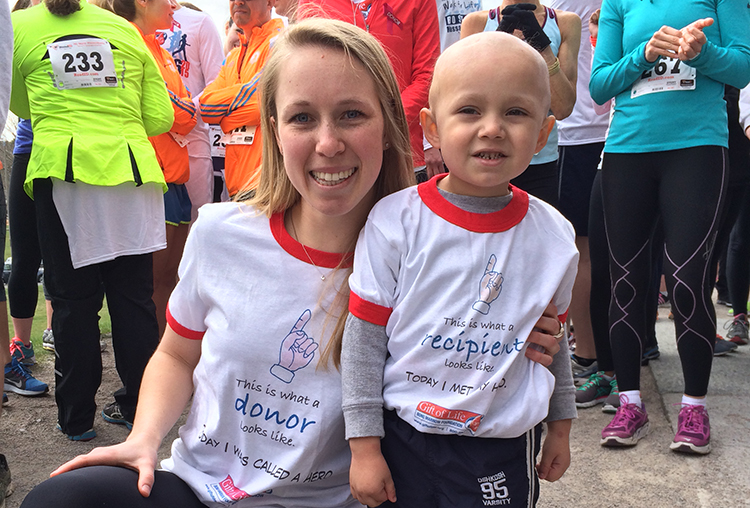 Boston College senior, Kayla Hammergren, was finally able to meet face-to-face with James Strejc the 4-year old boy whose life she saved. The introduction took place at the inaugural Gift of Life Bone Marrow Foundation Walk for Life 5k in Boston, Mass. held on April 26, 2015.
Hammergren, 22, was contacted by Gift of Life in the fall of 2013 and was told that a leukemia patient needed her bone marrow. When she received the call telling her that she was a potential match she knew this was something she wanted to do, but was not expecting to receive this call only five months after joining the registry.
After the transplant in December 2013, Gift of Life periodically updated her with the recipient's condition. Hammergren, a marketing/photography major, knew her marrow recipient was alive and out of the hospital, but due to the donor program's privacy policy neither party could share their identities until a year after the procedure.
On Sunday Hammergren was finally able to meet the little boy from Houston, Texas along with his parents at the event held at Chestnut Hill Reservoir. After their introduction, the two led the start of the walk/run race sponsored in-part by McKesson Corporation, Shark® and Ninja®.
"I wanted to be a donor because if anything ever happened to anyone in my family or to my friends and they would need this, I would hope someone would do it for them-- so, how could I not do it for someone else," said Hammergren. "I would tell other potential donors that if you are healthy enough and have a strong support system, it is all worth it. There is no greater feeling than knowing you have changed a stranger's life for the better."
Many in attendance swabbed their cheeks in order to register with Gift of Life and agreed to help those facing life-threatening blood cancers. All funds raised will go toward underwriting the $60 cost associated with processing each swab kit.
"Kayla's donation and the Gift of Life saved James' life and a part of her will be a part of him for the rest of his life," said James' father Nick. "Donors, Gift of Life and those who get swabbed make this possible and I'm so thankful for it."
Update April 2018
James and his family were featured on KHOU news in April 2018. James is clearly enjoying a healthy and active childhood!