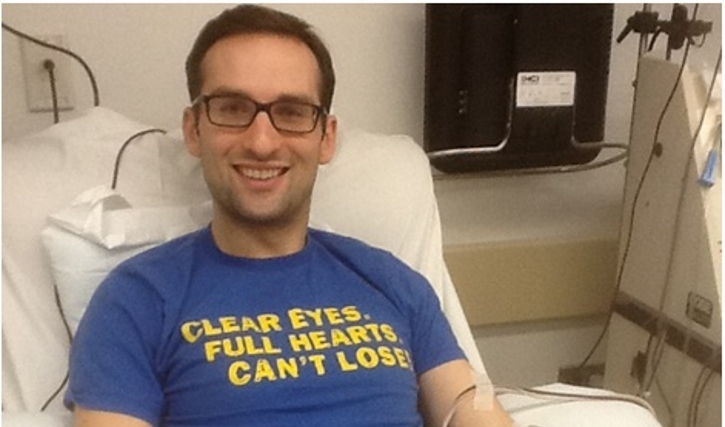 Breisen wanted to do whatever it took to save a life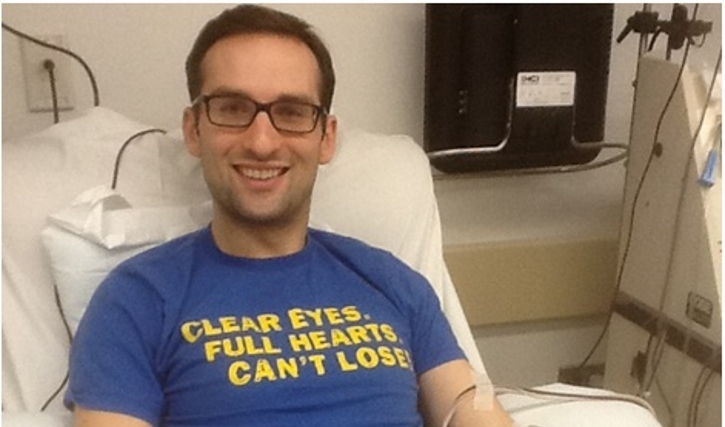 "I signed up for the Gift of Life registry in June 2009 while in Tel Aviv on a Birthright Israel trip," said Breisen. "It was the final day of the trip and I happened to walk past a donor drive, signing up on the spot. I decided to volunteer as a potential donor in honor of a friend from college who passed away after his courageous battle against acute myeloid leukemia (AML). I felt utterly helpless despite my desire to do something after his passing. But what could I do? When I saw the Gift of Life donor recruitment table, one option clearly presented itself."
A few years later, Breisen was on an adventure in the American Southwest. He didn't have good cell phone reception but happened to get an incoming call from an unknown number. The caller introduced herself and asked him if he remembered signing up for the registry several years before, then told him that he was a match for a patient with AML. "I was so excited. I cannot recall ever feeling so elated on a phone call as I was that day!" Briesen said.
Gift of Life took great care in explaining the donation process to him, even though he interrupted several times, saying, "I don't care what it entails or when or any other details: I am committing to you now for whatever is needed."
Breisen had lab confirmation testing a few weeks after the initial phone call, and had to wait two months to find out if I was indeed the right match. He called Gift of Life every few weeks, and he finally got the good news a week before Thanksgiving. It was a very special day.
"The most nerve-racking part of it all was between my hospital clearance in mid-December and the donation date in mid-January, a time when you cannot get sick without jeopardizing the health of the patient, who is preparing for the transplant," Breisen explalined. During this particular time, the flu was especially rampant in New York. "There were times that I would get off the subway and walk a mile in the cold because everyone on the train was coughing and sneezing, and I was terrified of getting sick. My roommate got the flu the week before my donation date and I moved out of my apartment until after I finished the donation." What an amazing level of commitment to his recipient, a total stranger to him!
The donation took place at Mt. Sinai Medical Center. Breisen spent two days in a comfortable chair, watching a History Channel marathon of Modern Marvels, and discussing the science behind transplantation with the doctor.
"I knew that the patient would receive the transplant the next day, and that occupied all of my thoughts," Breisen said. "I played a part in a process, and when my part was complete, I wanted to do more. But all I could do was wait and hope and pray that all the other parts of the process went smoothly. I hope to receive my first patient update soon and really am hoping that my cells are taking good care of their new host."
Breisen says he thinks about his recipient often, about how it must have felt to have to rely on a perfect stranger for this potentially lifesaving treatment. "To rely on chance is one thing and to rely on the kindness of human beings is another thing. To rely on both—the chance that you will be matched by someone in the world AND that the person is willing and able to donate—no doubt requires a lot of faith that it will happen. My recipient and I don't know anything about one another, but we are intrinsically linked forever," said Breisen.
He continued by saying, "I feel remarkably blessed to have been a donor. We all have opportunities to make a difference in the lives of others, but rare is the chance to perhaps be the one in a million who holds the key to life for someone who needs it. If I were to be in the position of the patient, I could only hope that someone would give me the chance to live and to be healthy again. I believe with the power of good health, I had an obligation to give what I could to someone who was battling cancer. If you feel that you have that power and that you would be willing to share it, just as you would hope someone would share it with you, I would highly encourage taking the step to join the registry."
Breisen lives in Brooklyn, NY. He is a business developer and writer and enjoys making films, playing sports, and traveling.