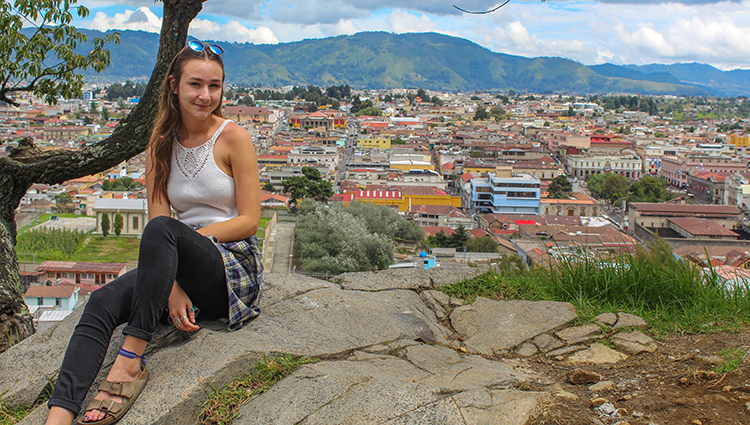 Former Campus Ambassador rejoins internship program as she heads to grad school in Israel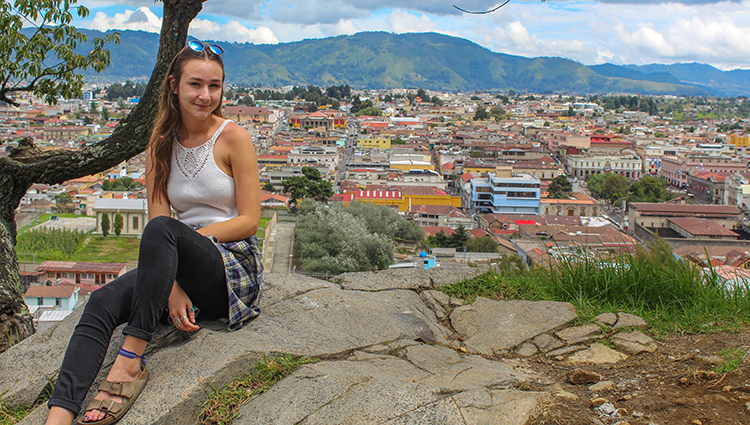 In 2015, Butler University junior Ellie Rowley was searching the Internet for a college internship program when one organization caught her eye: Gift of Life Marrow Registry, a non-profit curing blood cancer through marrow transplants. Ellie's grandmother had lost her battle with blood cancer in 2011 when treatment options for her were limited due to her age. Ellie spent the next hour reading the entire Gift of Life website and watching dozens of videos on its YouTube channel, then decided, "This is an internship that will have personal meaning for me."
Gift of Life launched its Campus Ambassador Program in 2014. While the organization had a history of holding occasional donor recruitment drives on college campuses, Gift of Life Recruitment Manager Nick Hudson had seen the potential of peer-to-peer recruiting to find more donors, and was awarded an innovation grant from LinkedIn to develop an on-campus internship.
As Gift of Life's Ambassador for Butler University, Ellie went into action right away. She had served as vice president of her high school's Student Council, so one of her first activities was to go back to Lyons Township High School and address the entire student body of over 5,000. Each year, Lyons picks a charity to support, and Ellie's presentation about the lifesaving potential of bone marrow transplantation convinced them to choose Gift of Life. The students raised $6,000 in contributions.
Many colleges require students who want to sponsor activities on campus to form a club, so Ellie formed the Gift of Life Club at Butler. The university has a history of supporting bone marrow donation in honor of alumnus Andrew Smith, who lost his battle with blood cancer when only 25 years old.
Ellie organized her first major drive for World Marrow Donor Day on September 19, 2015. She and a team of volunteers set up a table in front of the main dining hall, and began asking everyone who passed, "Do you have 60 seconds to save a life?" With that attention grabbing question, the swabbing table had a steady stream of students volunteering to join the registry, each of them hoping to one day be a hero. Even the campus police got into the act, showing up to do a music video singalong.
"This was my very first drive on campus and it felt great that it was so successful," said Ellie. "Making it fun attracted many more people than we expected!"
During her senior year, Ellie studied abroad in Latin America, so was not able to participate as a Campus Ambassador, but she recently called Gift of Life with some exciting news: she has been accepted as a graduate student in Conflict Resolution and Mediation by Tel Aviv University in Israel and would like to represent Gift of Life again. Since Gift of Life actively recruits marrow donors among the many American students who visit Israel for their gap year, a Birthright trip, or to attend college, Ellie's offer was most welcome.
"As someone studying conflict resolution, my interests lie in determining what can bring people together in ways that go beyond their perceived divisions," said Ellie. "Gift of Life gives me a reason to talk to anyone, people I'd never have a reason to approach, because cancer hits everyone, it doesn't care who or what you are."
Ellie will arrive in Israel before classes start to attend an Ulpan program, a six-week intensive course in Hebrew and Arabic that will help familiarize her with the culture and better navigate the city. She's looking forward to her studies at The Gordon H. Gershon Faculty of Social Sciences at Tel Aviv University, and to her future activities with Gift of Life.
Ellie will graduate from Butler University in May 2017 as a dual major in Political Science and Peace & Conflict Studies. She currently volunteers for Exodus Refugee Education in Indianapolis, which teaches new arrivals to the United States how to navigate life in their new home.
If you're interested in the Campus Ambassador Program, learn more or apply to the program by visiting www.campusambassador.org.