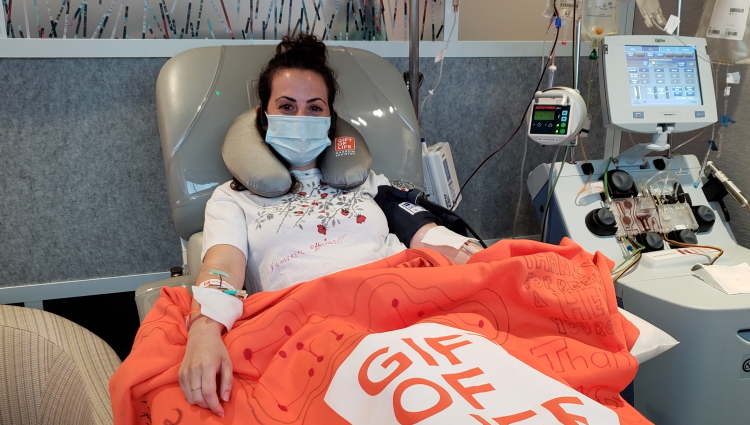 Canadian nurse travels to Florida to donate stem cells to a man battling leukemia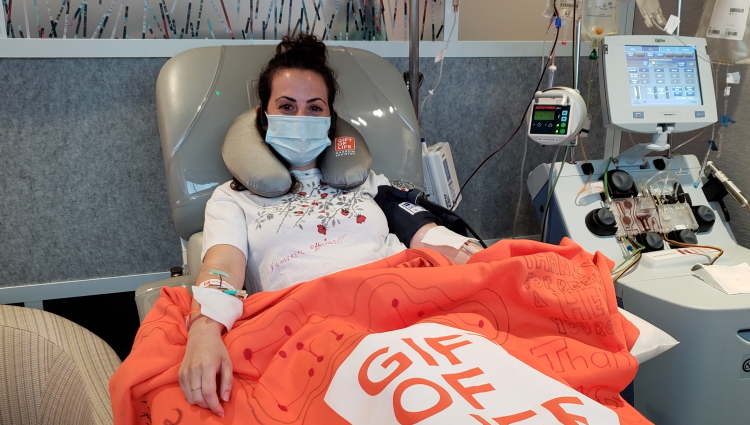 In September 2016, Emelie, a nurse in Montreal, Canada, saw information on social media about a bone marrow donor drive coming up at the Montreal Torah Center. She and several friends decided to swab their cheeks and join Gift of Life's registry. When they arrived at the center, crowds of people were in line to get their swab kits, and that day more than 440 people joined Gift of Life, hoping to help patients in urgent need of transplant donors.
"It's been embedded in me since I was a little girl to do good for others and to treat them like I would want to be treated," said Emelie. "I knew if I joined the registry, there was a chance my cells could help save someone's life." After swabbing, Emelie didn't hear anything more for over four years, then one evening in September 2020, her phone rang with a call from Florida.
"I had just finished a full day of studying and I didn't recognize the caller; I was sure it was a wrong number," said Emelie. "Then I listened to the voice mail and realized it was Gift of Life calling. I was so excited that I was found as a match for someone after being on the registry so long. I was all-in the second I found out!" Emelie immediately told her fiancé, Shon, that she had the opportunity to save the life of a man in his 70s who was fighting leukemia.
"He was a little nervous, but also really happy I would have the opportunity to help someone battle cancer," she said. "My friends who went with me to get swabbed more than four years ago were really happy one of us got the call to donate." Her collection was scheduled at Gift of Life's Adelson Collection Center in early January.
---
I was so excited that I was found as a match for someone...I was all-in the second I found out! Despite the pandemic, I couldn't refuse to travel knowing that I could save someone's life.
---
"Traveling during the pandemic was pretty stressful for me. I am a Nurse Clinician working in the hospitals and it was a source of stress knowing I would be flying in these times," said Emelie. "Working in health care makes you hyper aware of how many millions of people are suffering from COVID-19. However, despite the pandemic, I couldn't refuse to travel knowing I could save someone's life."
Gift of Life has incredible donor services and collection center staff, and no one appreciated that more than a fellow nurse.
"Every staff member I interacted with was fabulous, wanting to make sure I was comfortable and safe," said Emelie. "During the donation I watched some Netflix, and the process was super smooth. The nurses were amazing, they paid attention to every detail. Everyone was so kind!"
Emelie also had exceptional support from her workplace, where the Director of Nursing said her donation was an "exceptional gesture" at a time when "COVID demands a great deal of effort from all nursing staff, which many have called heroic."
"It's a very special feeling to have been able to donate. I feel grateful that I put myself on the registry over four years ago and have been able to match someone battling cancer," said Emilie. "Donating has also impacted my community. From sharing my story, more than 15 people have ordered swab kits. It's an amazing feeling to have an influence to do good in the world."
Emelie, 25, and a resident of Montreal, is completing her Master's Degree at McGill University to become a Nurse Practitioner in Neonatology. Although being a nurse and a nursing student she doesn't have much free time, when she does she loves to read, cook and bake, and listen to podcasts.