When Anna was invited by her friend Katherine to go to a Hillel meeting in 2019 for some great food and a chance to join Gift of Life's registry, she thought it sounded like a fun event.
"I was an undergrad at UC Santa Barbara at the time, and Katherine was involved with Hillel at that campus," said Anna. Gift of Life has a partnership with Hillel International to offer students the chance to join the registry and possibly become someone's lifesaving hero.
"While joining the registry was something I did on a whim, I knew my mom's goddaughter was alive now because she'd received a bone marrow transplant," said Anna. "She was born with Sickle Cell disease, and a transplant when she was three years old gave her a healthy life."
Although she didn't match with anyone immediately after swabbing, Anna was in graduate school studying bioethics at Case Western University when she learned she was the best match for a woman in her 50s who was battling Acute Myelogenous Leukemia.
"I got a random phone call, which I usually don't answer, and it was Gift of Life," said Anna. "I never expected to actually match someone, and I was so excited. Donating was something I really wanted to do. It was also a bit overwhelming at first, because I'm in graduate school, have two jobs, and am on the cheerleader squad. I decided that regardless of how difficult the logistics might be, I was going to commit to doing it anyway."
The first person she told was Katherine, the friend who had invited her to swab.
"I knew she would be happy that someone she swabbed ended up getting a match and donating," said Anna. "She's still involved with Hillel, and she is the person I invited to be my day-of-donation companion at the collection center."
The next people Anna called were her parents, to tell them she'd be helping someone the way her mother's goddaughter had been helped.
---
I think about her [my recipient] every day and I really want to know how she's doing. I hope I get the chance to meet her someday. It's such a fulfilling process and so many people are here to help you along the way, it's completely worth the commitment.
---
"My mom said it was an amazing opportunity and was thankful I would be able to do it," said Anna. "I also had to arrange time off from classes and both of my jobs, which turned out to be easy. I am a Bioethics major at Case Western now, and when I told my professors they were fully supportive. I'm also a bartender at a small family restaurant and they were so happy for me."
Anna flew to South Florida with her friend Katherine and they were impressed by the accommodations Gift of Life had arranged for them.
"The hotel was incredible! When we checked in and walked into the suite we were saying to each other, 'Is all this room for us?'", said Anna. "It was really nice, a great place to stay and hang out while getting the Neupogen shots and preparing for the donation."
Stem cell donors receive five shots of Neupogen, one each day for four days and the fifth right before donating. This helps mobilize the stem cells from the bone marrow into the circulating blood for collection, and has been used safely in blood stem cell donation for more than 25 years.
"They needed a lot of stem cells for my recipient, so I agreed to donate for two days," said Anna. "The process went very smoothly and everyone at the collection center was so helpful. They gave us snacks and lunch and we binge-watched, "Only Murders in the Building" on Hulu, and Katherine crocheted while we watched the show."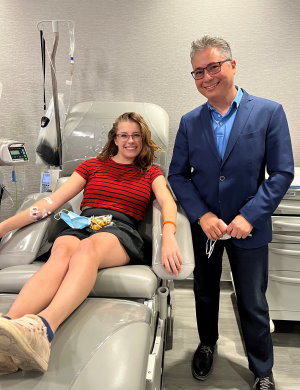 What Anna did not know was that she was a special donor for the Dr. Miriam and Sheldon G. Adelson Gift of Life-Be The Match Collection Center. The state-of-the-art center opened in October 2019 and was the first in the world to be fully-integrated within a marrow registry.
Jay Feinberg, Gift of Life's CEO and founder, stopped in to the collection center to thank Anna for being a donor, and to share some exciting news with her.
"The second day was more tiring than the first one, but then they came in with a sign and told me I was the 1000th donor to have stem cells collected at this facility," said Anna. "What a crazy coincidence! It's already not very likely to match with someone, but then to also be the 1000th donor was crazy!"
Anna's mind has also been on her recipient.
"I think about her every day and I really want to know how she's doing," said Anna. "I hope I get the chance to meet her someday. It's such a fulfilling process and so many people are here to help you along the way, it's completely worth the commitment. I had a fantastic experience that has only enhanced my life."
Anna, 21, is a graduate student in Bioethics at Case Western University, where she also earned her bachelor's degree in Biology. She is a cheerleader at Case Western, and when not studying she enjoys cheer practice, walking three miles daily with her dog, and knitting, which she learned during the pandemic.