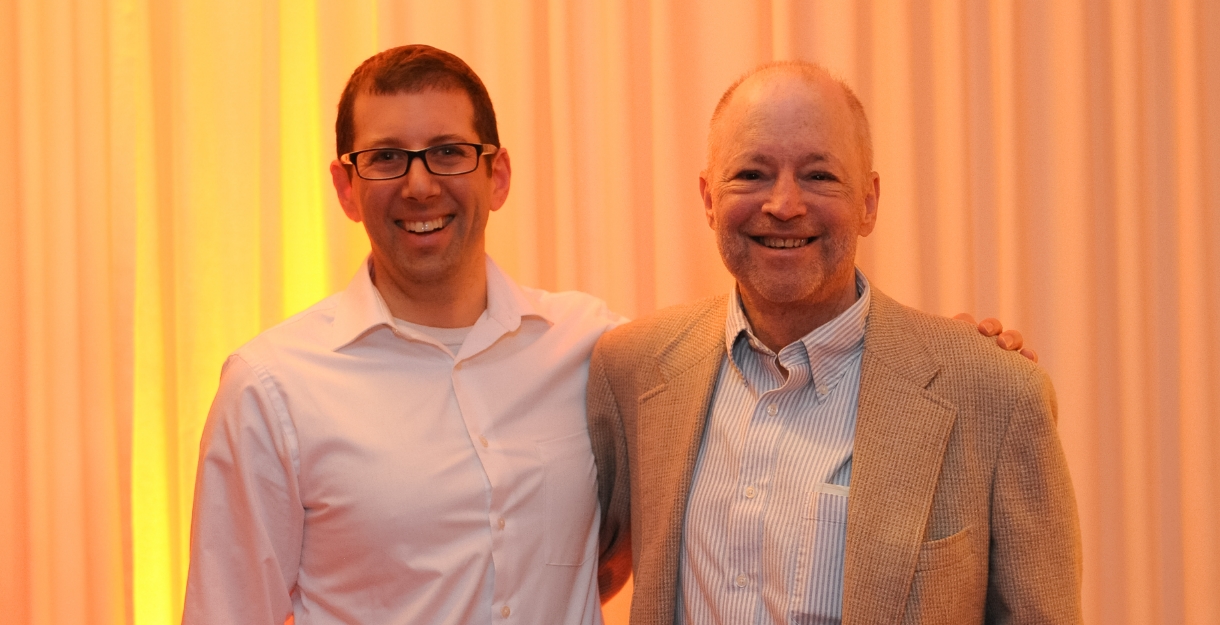 First Hope4Adam donor and recipient meet at Celebrating Life Los Angeles party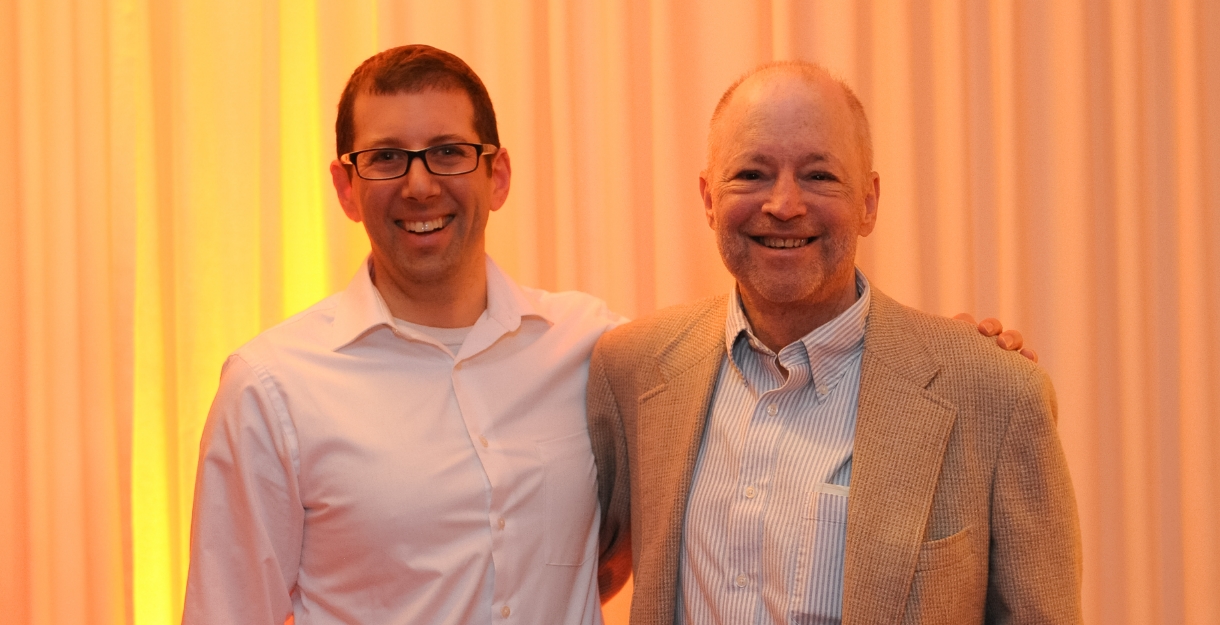 Every spring, Gift of Life honors donors, recipients, volunteers and supporters at Celebrating Life events in Los Angeles and New York.
Celebrating Life Los Angeles was held on Thursday, March 8, 2018, with more than 300 people gathering to share in the festivities and show their appreciation. The event was hosted by Gift of Life's Young Professionals Committee of Los Angeles.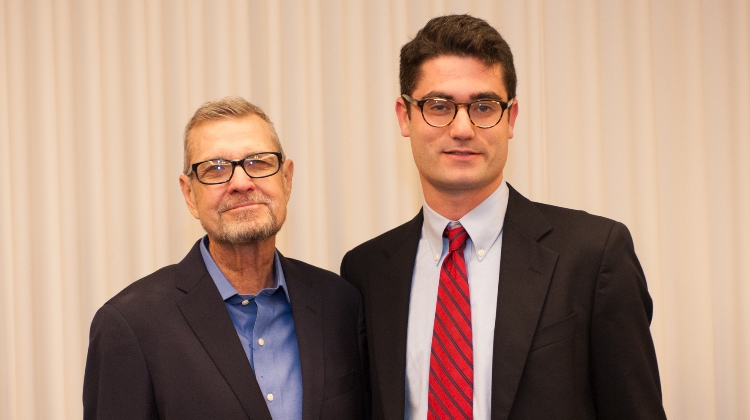 Two-time stem cell recipient meets his donor
Mark Citron, 68 (pictured above left), a neurobiologist from Calabasas, Calif., has had the unique experience of receiving two different stem cell transplants – the first using his own stem cells to treat Multiple Myeloma in 2008. Although he remained in remission for seven years after the first transplant, a routine follow-up found Mark to be in the early stages of leukemia, and this time doctors recommended using stem cells from a volunteer donor in the hope of a cure.
His matching donor, Alex Leibowitz, 20 (above right), an economics student at Dartmouth University, joined the registry in May, 2015 while a high school student at Ramaz Upper School. After donating stem cells to Mark in December 2015, Alex became a Gift of Life Campus Ambassador, running drives to recruit new donors on campus.
At a VIP reception, Mark was introduced to Alex by Gift of Life Director of Development Robyn Malek.
"I'm incredibly happy, and lucky, to be here, and I'm also extremely grateful to my donor who is totally unselfish," said Mark to more than 50 family members and friends who came to support him.
First Hope4Adam donor and recipient pair are introduced
In 2016, Gift of Life partnered with the family and friends of Adam Kreif z″l, who was battling an aggressive blood cancer, to search for his matching donor. More than 25,000 donors joined Gift of Life's registry during the national recruitment effort. At Celebrating Life, Lia Krief, Adam's widow (pictured above right), was invited on stage to introduce the first transplant donor found through a Hope4Adam drive to his recipient.
Lia first welcomed stem cell recipient Paul Katz (above center) and shared his story. In June 2016, Paul was diagnosed with acute lymphoblastic leukemia during a routine checkup with his physician. As an active 62-year-old who serves on Ski Patrol, his reaction was shock and disbelief. When other treatments proved to be ineffective, a stem cell transplant was Paul's best option for a cure.
Paul's donor, Evan Smith (above left), joined the registry in August 2016 at a Hope4Adam drive at Congregation Shaare Tefilla in Dallas, Texas, and he was found to be Paul's match within five weeks of swabbing his cheek.
Just over a month later, even though he did not know his recipient's identity, Evan donated stem cells. "This was the opportunity of a lifetime, and I felt I had to stand up for my values and demonstrate to my children the importance of life," said Evan.
Lia invited Evan to the stage to meet Paul, and the moment of their introduction was deeply emotional for those attending, many of whose involvement with Gift of Life began through Hope4Adam.
"Adam and his family – through recruiting my donor Evan – bought me precious time to watch my kids grow up, play with my dogs, live a normal life," said Paul. "I was visiting my son and learned I am going to be a grandfather for the first time. I'm going to get see that little kid – thank you so much!"
Evan eloquently expressed what being a stem cell donor means to him. "From the name you think it's a one way street, with the donor giving and the recipient getting. But I went through the process and realize the donor receives so much as well. He gave me the once-in-a-lifetime opportunity to be a part of this, to achieve this extraordinary potential, to learn about myself and reaffirm my values, and demonstrate them to the people around me and my family."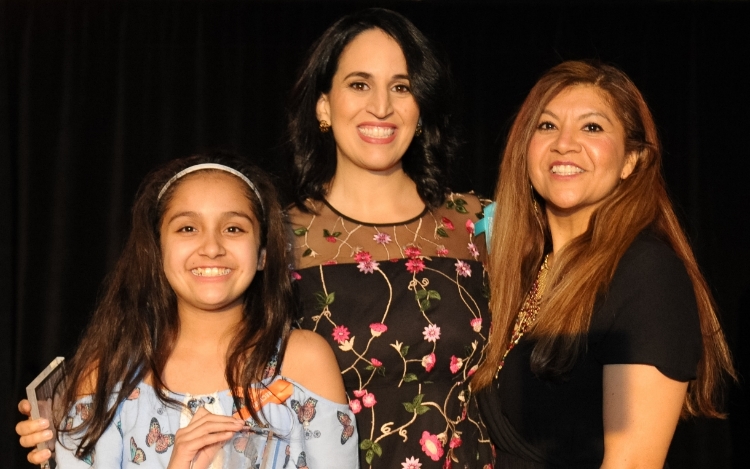 Donor Lillian and recipient Daisy celebrate their 10-year transplant anniversary
Daisy Sanchez (above, left) was only a baby in 2007 when she was diagnosed with a life-threatening immune disorder that required a bone marrow transplant to give her a new, healthy immune system. Her lifesaving donor, Lillian Archer (center), was found in Gift of Life's registry. Not only was the transplant tremendously successful, Daisy is now thriving and is an active and creative sixth grade student.
Lillian and Daisy were recognized on their tenth "transplant-iversary" with applause and award for each of them. They have stayed in contact and Lillian is clearly considered to be a part of the family. Daisy's mother Violeta (right) thanked her for choosing to be a donor. "Our child is living an awesome, happy, healthy life – thank you so much!" she said.
Lillian, who now has children of her own, said, "I can't imagine what it is to go through as a mother when your child's life is threatened. Now you have the whole world ahead of you, Daisy."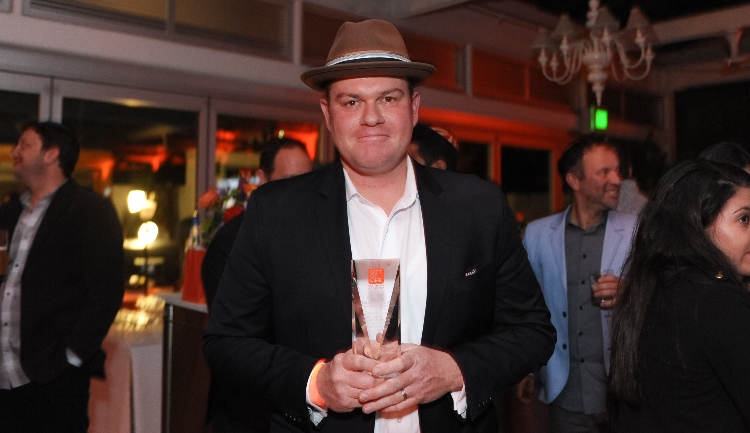 Jeremie Braun honored with Celebrating Life Award
Gift of Life was proud to honor Jeremie Braun with the Adam Krief z″l Celebrating Life Award, presented by his close friend, Lia Krief. Jeremie took on the Hope4Adam effort as a personal mission, and with the support of his wife and children, devoted innumerable days and weeks to organizing donor drives. Incredibly, he set up more than 100 drives in 100 days, and spent many hours with Adam in his hospital room, offering strength and drawing inspiration from Adam's selflessness.
"I asked Adam, 'How did you feel when you first learned your diagnosis,'" said Jeremie, "Adam told me, 'I was diagnosed with this disease to save other people's lives.' I told him, 'I'm in.'" In his beautiful and heartwarming acceptance speech, Jeremie not only talked about the power Adam showed to "gather people together for one purpose, to save lives," he reminded the crowd that, "We're here to celebrate life. Life is a gift. Make time to call a family member, call a friend to say hello, to say I love you."
Jeremie also stated his commitment to ensuring that the legacy Adam Krief established continues on. Today, through the efforts of Hope4Adam nationally and internationally, more than 70,000 donors have joined the worldwide registry.
"We are so honored to have the opportunity to bring Paul and Evan together tonight," said Gift of Life Founder and CEO Jay Feinberg. "To date, six transplants have been completed with Hope4Adam donors. Gift of Life will perpetuate Adam Krief's legacy and we look forward to many more lives saved in the future. There is a cure for blood cancer, and it's within one each of us."
---
To join one of our Young Professionals Committee chapters in Boston, Los Angeles, New York, San Francisco, South Florida – and coming soon to Chicago – visit our Young Professionals Committee sign up page.
If you'd like to help add new donors to the registry and give hope to those battling blood cancer, please give to the Celebrating Life Los Angeles Donor Circle.