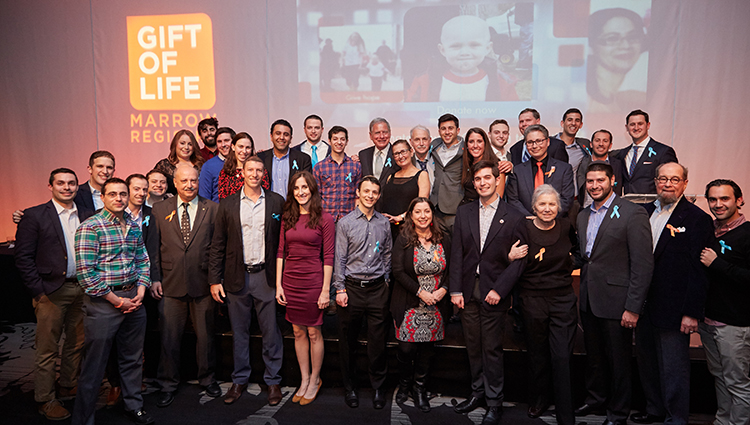 Celebrating Life from Coast to Coast, Gift of Life Style!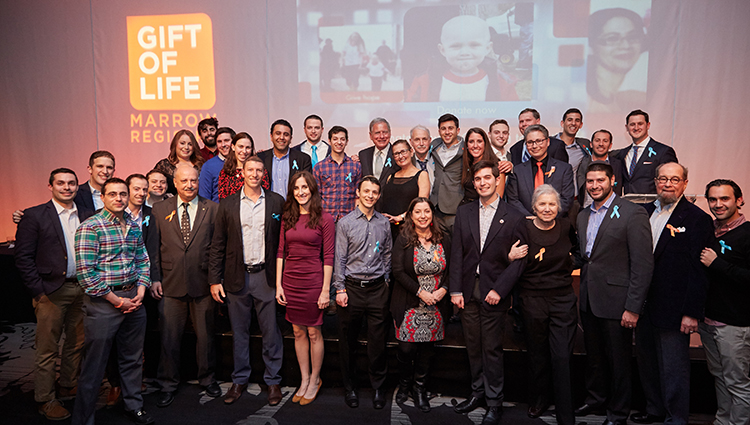 Donors and recipients stepped out of the crowd for a group photo at Celebrating Live New York City.
Every year, Gift of Life honors donors, recipients, volunteers and the many people who support our mission at our Celebrating Life event. This year the evening was expanded to two locations, New York and Los Angeles, to recognize our growing "family."
Celebrating Life New York City
Celebrating Life – New York City was held on Thursday, March 2, 2017, with more than 300 people gathering to share in the excitement and show their support. The event was sponsored by Gift of Life's Young Professionals Committee of New York City.
Transplant recipient meets her stem cell donor for the first time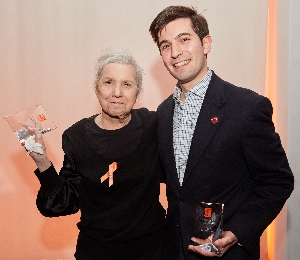 Sylvia Lutsky was diagnosed in 2013 with a high risk myelodysplastic syndrome, which interfered with her body's ability to make fully formed red blood cells. Fortunately, her perfectly matched donor, Brandon Sherr, had joined Gift of Life in 2008 at a Taglit-Birthright drive in Israel. Sylvia's transplant physician, Dr. Ruthee-Lu Bayer, the Director of the Bone Marrow Transplantation Unit at the Don Monti Cancer Center in Long Island, introduced them on stage for the first time.
Their meeting was joyful as Sylvia, a vibrant 68-year-old woman, greeted and hugged the generous 31-year-old man who saved her life. "When I found out that a donor had been found for me I felt terrific!" Sylvia said. "Also grateful, he literally saved my life."
Brandon had originally felt that he would simply remain anonymous, until Gift of Life called him about the opportunity to meet his recipient. "When I found out that she really wanted to meet me I knew that I would be glad to be part of that," Brandon said. "I am really excited to meet her tonight!" Not only did Sylvia embrace Brandon, her entire family gathered around him as one of their own.
Donor and recipient celebrate 10-year transplant anniversary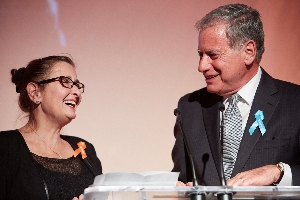 Yvonne Hatherill was diagnosed with an acute form of leukemia in November 2004. After two years of chemotherapy, she learned she would need a transplant to survive. As an only child, she had no potential family donors and knew she would have to rely on the kindness of a stranger to save her life.
That stranger was Jacques Blinbaum, who joined Gift of Life's registry in 2004 during a drive to find a match for his friend's son. While Jacques didn't match the boy, he was lucky enough to be found as a match for Yvonne, and he said "yes" to the opportunity to save her life! She had her transplant at the UCLA Medical Center in 2007, and this year celebrates the tenth anniversary of her transplant. Yvonne and Jacques were thrilled to share this anniversary with everyone at Celebrating Life.
Dikla Carmel honored for national recruiting effort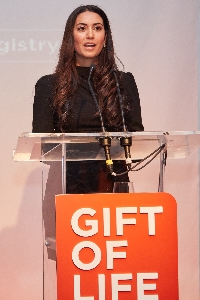 Many guests attended the event to recognize Dikla Carmel for the tremendous effort she put forth in organizing donor recruitment drives on behalf of her friend, Adam Krief. He was the subject of an extensive worldwide donor search in the fall months of 2016 via the Hope4Adam campaign. Adam passed away on March 15.
Dikla first learned that Adam was diagnosed with blood cancer in July 2016. Even worse, he did not have an existing match in the worldwide registry. Like many who knew Adam, she asked simply, "How can I help?" But what Dikla did next went above and beyond.
She single-handedly organized more than 60 donor drives all over the country to help Gift of Life search for a matching donor for Adam, adding more than 2,000 new donors to the registry.
"Dikla truly inspired all of us at Gift of Life with her determination, her passion and commitment to help a friend in need," said Founder and CEO Jay Feinberg on presenting her with the Celebrating Life award.
---
Michelle Krief honored at Celebrating Life Los Angeles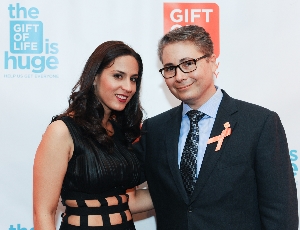 At the west coast Celebrating Life event on March 8, Gift of Life recognized Michelle Krief, sister of Adam Krief, whose contributions in 2016 were truly humbling. She spearheaded the Help4Adam campaign on behalf of her brother during the fall months of 2016. Under her oversight, donor recruitment spanned the United States – and even reached overseas.
As Jay Feinberg presented her with the Celebrating Life Award, he said "Michelle Krief is a superstar. She organized massive campaigns in Los Angeles and singlehandedly registered 3,176 potential donors in just 30 days. More than 22,000 new donors were added to the registry as a result of the Hope4Adam drives, an astonishing accomplishment."
"To all the donors worldwide, you are our heroes," said Michelle. "May we all continue to spread awareness of the need for bone marrow donation."
One lifesaving transplant and 13 matches have already resulted, with many more to come, ensuring that Adam's bravery, memory and legacy will be perpetuated.
From a donor's perspective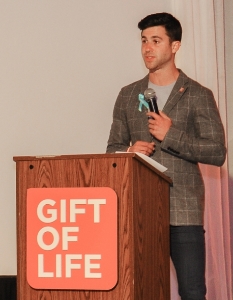 Gift of Life Project Manager and donor Alec Burkin shared his perspective as someone who not only saved a cancer patient's life, but found a purpose for his own.
"At age 19, Gift of Life gave me the opportunity to become something larger than myself," said Alec. "I swabbed my cheek in 2011 while on my Birthright trip, feeling it was just the right thing to do. Eleven months later, I got the call that I was a perfect match for a 59-year-old woman suffering from leukemia." Alec donated stem cells, and just over a year later, he met his recipient.
"I was a young, selfish college student studying entrepreneurship, but lacking any real direction or mentorship," he said. "After meeting my recipient, I realized my profession had already found me: I started working for Gift of Life later that week, and have woken up smiling every day for the past three years."
While not every donor joins the Gift of Life staff, many of them tell us that the small moment it took to swab their cheeks has made a profound change in their lives.
---
To view photographs, click on the event link:
Thank you to Histogenetics and Photo & Go Express for sponsoring both events.
---
To learn more about the Young Professionals Committee of New York, visit their Facebook page or email Gift of Life Recruitment Manager Nicholas Hudson at nhudson@giftoflife.org.
You, too, can have the opportunity to save someone else's life, and perhaps change your own. Visit www.giftoflife.org to order a swab kit and join the registry, or make a contribution online every $60 you give will add a new donor to the registry.