In February 2019, Miami University's (Ohio) Kappa Alpha Order fraternity ran a swab drive to recruit fellow college students to join Gift of Life's marrow registry. One of the 67 people who swabbed was Nathan, a KA fraternity member.
Three years later, he was contacted by Gift of Life as a match for a 75-year-old man battling Acute Myelogenous Leukemia.
"I was in my home office when I got the call," said Nathan. "I just remember having a lot of emotions. I was feeling excited, but I was just as nervous about the process."
After it was confirmed that he was a match and willing to donate, he told his family who were excited, but curious, too.
"I want to thank you all [at Gift of Life] for accommodating me," said Nathan. "You all truly made it as easy as possible and there is absolutely nothing I would change."
Gift of Life coordinated with Nathan to bring him and his girlfriend Katelyn to Boca Raton, Fla. for his peripheral blood stem cell (PBSC) collection at the Adelson Collection Center. Travel, hotel accommodations, and transportation were provided by the organization.
Nathan's process began with injections of Neupogen for the five days before his PBSC donation. Neupogen is a synthetic version of a naturally occurring protein found in the body that encourages stem cells to enter the blood stream. Many donors have mild to no side effects from these injections.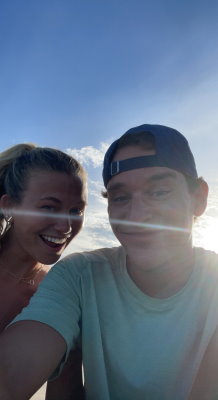 During this five-day course of injections, Nathan and Katelyn were able to spend some time enjoying the Florida weather and nearby beach.
On the day of his donation, a car service brought Nathan to the collection center.
"It went very quickly and smoothly," he said. "The people that I interacted with directly took extremely good care of me. After I was done I did my best to take it easy and relax. I made a speedy recovery which only took a few days."
Nathan feels very proud that he gave PBSC and helped save someone's life.
"The whole experience was an extremely special thing for me," he said. "I'm glad that I was able to become part of something like this. I think it has allowed me to continue to understand that things can change quickly and nothing is guaranteed, and I want to continue to give back to my community and those who I care for."
Nathan wants people to remember that being on donor registry is an opportunity to be part of something bigger than oneself.
"I think if anyone is on the fence or not sure if they want to do it, it is important to remember that they are not only providing for an individual in need," said Nathan. "You're helping their family and the difficult times that they are all experiencing too. If you're able to complete this small task, then I think you are doing the right thing."

Nathan, 23, lives in Chicago, Ill. where he works as a bartender. He is a graduate of Miami University (Ohio) and is a member of the Kappa Alpha Order fraternity. He enjoys making music and spending time with Katelyn in his free time.