On November 19, 2022, Gift of Life Marrow Registry partnered with the Florida Panthers hockey team during the National Hockey League's "Hockey Fights Cancer" month to introduce a blood cancer survivor to the blood stem cell donor who saved his life. The NHL raises awareness of cancer every November.
The transplant recipient, David Kanal, 74, a retired executive recruiter from Coral Springs, Fla., survived a form of blood cancer called Essential Thrombocythemia first diagnosed when his physician identified a high blood platelet count during a routine physical. Doctors recommended a blood stem cell transplant as his best chance for survival.
David's husband Don and his two adult children Alexandra and Elizabeth did everything possible to support him during his treatment, along with a close family friend who had also survived cancer.
"My children were disappointed at not being able to donate," said David. Due to the way matching factors, called Human Leukocyte Antigens or HLA, are inherited, a child is normally only a 50 percent match for each parent. Fortunately for David, his match was already in Gift of Life's registry.
John Sandberg, a 23-year-old resident of Chicago, joined Gift of Life in June 2018 during a Birthright Israel tour. Birthright is a ten-day excursion available at no cost to any young Jewish person wishing to visit Israel. Many Birthright participants join Gift of Life during their tour as a way of paying it forward, and John was no exception.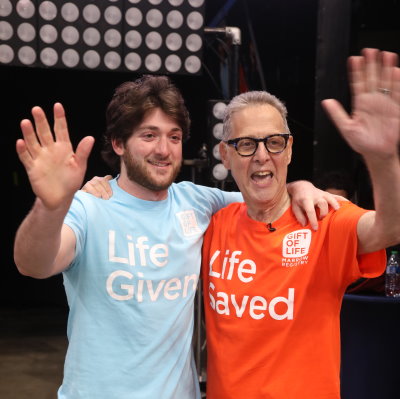 "It was a no-brainer to join the registry," said John. "There are people out there suffering from horrible blood cancers and we have a proven cure that requires minimal commitment. There is no reason not to volunteer as a donor."
John was excited to learn he was a match, and the call came while he was volunteering for AmeriCorps, and coincidentally, someone on his team had just donated stem cells.
"I said yes I would donate, and didn't question my decision even once," said John. "I was fortunate to know someone who had recently donated so I saw up-close how simple the process is."
After donating, John also became a Gift of Life Campus Ambassador at Cornell University, where he recruited more than 300 new donors to join the registry.
John and David were introduced during the first period of the Florida Panthers versus Calvary Flames game, and shared a huge hug as their meeting was displayed on the stadium's Jumbotron.
"Thank you for making my life so much better," said David. "I have been given a second chance and now realize what is truly important in life and what is not."
"Many people will never get the chance to feel what it's like to help save a life," said John. "Gift of Life gives the everyday person that opportunity, and it is the right thing to do."
David is now feeling great and plans to do volunteer work with the elderly. He enjoys travel, cooking, and interior design.
John graduated from Cornell University earlier this year and is now working in at a major food company in Chicago, Ill. While at Cornell he represented Gift of Life as a Campus Ambassador and is a member of the Sigma Chi fraternity. He is originally from New Haven, Conn., and enjoys watching all Boston sports teams, eating, and attending country music concerts.
---
John's swab kit was sponsored by the Birthright Israel and Israel Outdoors Birthright Donor Circles.