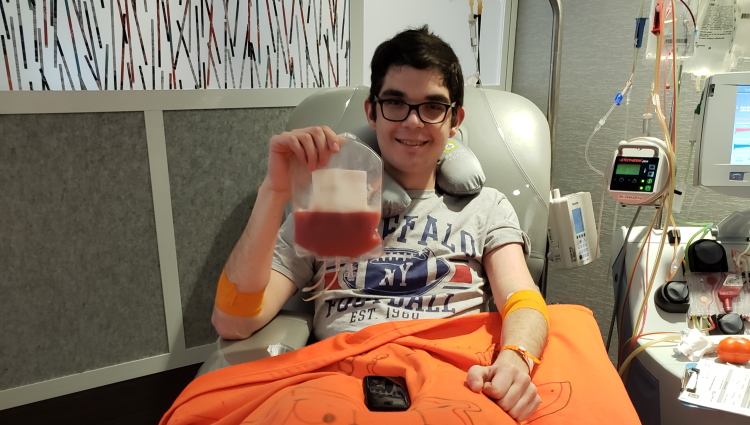 Cornell grad student travels during winter pandemic surge to donate stem cells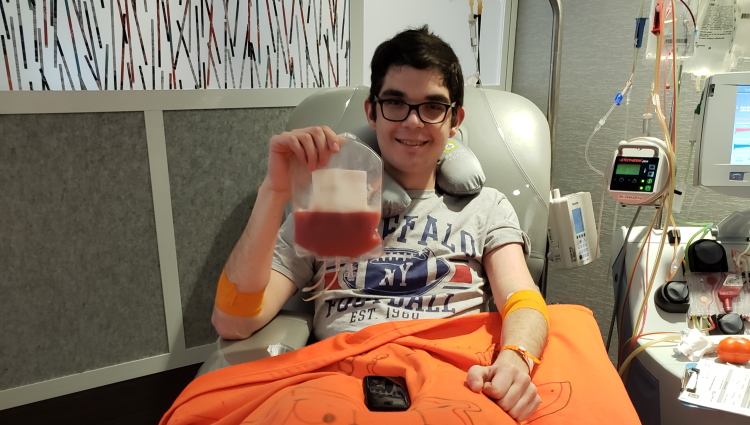 While visiting the ancient city of Ashkelon in Israel during his Hillel-sponsored Birthright trip in 2017, Matthew learned how he could possibly help a stranger in the future. A Gift of Life representative explained that by swabbing the inside of their cheeks, anyone in their group could join the marrow registry and may someday be able to save a life. With more than 70 diseases curable through stem cell and marrow transplants, it seemed like a great idea.
"The ethics I conform to place a fundamental importance on saving a life," said Matthew. "By adding myself to the registry, I helped increase the likelihood that someone in need could find their lifesaving match." Matt was also aware that the registry needs to be as diverse as the human population is, if it is to help the most people. "As part of an ethnic minority [with Jewish ancestry] my sample helps make the registry more representative, increasing equitability in our health care system," he said.
The chances of a Jewish blood cancer patient finding a donor have risen from less than one percent in 1991 to above 80 percent today, in part thanks to the dedicated recruitment efforts of Gift of Life and our partner organizations. Today, the organization's mission is still the same: diversify the registry in order to find matching donors for every patient, of every ethnicity and ancestry, at the time when the donor is needed.
"The first time I was contacted by Gift of Life about being a potential match I was out running errands," said Matt. "I was initially taken aback – it had been over three years since I joined the registry, so it came as a surprise. I also felt a sense of pride that here was a potential that I could have a monumental impact on someone's life and health."
Under normal protocols potential matches are confirmed by a blood draw, to ensure the donor is the closest possible match for the patient. But with the pandemic going on, Gift of Life has opted to use a second swab kit to confirm a donor's tissue type, so a kit was sent to Matt, who completed and returned it the same day. He was indeed the best match for a 57-year-old man batting acute leukemia.
---
As part of an ethnic minority [with Jewish ancestry] my sample helps make the registry more representative, increasing equitability in our health care system.
---
For collection to proceed, the patient must be ready to receive the transplant, which can sometimes take several months after the donor is found. That worked out well in Matt's case. A graduate student in applied mathematics at Cornell, he was able to donate during his winter break in January 2021. But the next challenge was traveling during the winter spike in pandemic cases.
"This was the part I was most concerned about," he said. "I have been taking strict precautions throughout the pandemic to stay safe, and traveling would bring about a much greater risk than I had previously been exposed to. In the end it went smoothly, the additional safety precautions taken by the airline and hotel were reassuring, and I felt confident during the trip."
Matt arrived at Gift of Life on donation day ready to give healthy stem cells to a stranger in need.
"I watched some Netflix, had lunch and a couple of snacks, but the donation went by very quickly and the nurses were able to get the amount of cells needed in just a few hours," said Matt. "Everyone at the collection center was very friendly and happy to answer any questions I had. My recovery from donating was almost immediate; I felt completely back to normal the next day."
Donating to his recipient is an act with deep meaning for Matt.
"I find it remarkable that the seemingly small step of swabbing my cheek and joining a registry could ultimately have such an immeasurable impact on another person's life," said Matt. "The donation experience has opened my eyes to the interconnectedness of humanity and the compounding value that society gains through our small acts of charity and kindness."
He also encourages others to join the registry, to help build the diversity needed to save many more lives in the future.
"I strongly recommend everyone join the Gift of Life registry," he said. "It is easy to do and can truly change someone's life. Also, there are many structural issues in our healthcare system that systematically disadvantage members of many minority communities. By including a diverse sample of people in a registry such as Gift of Life, we can work to do our part of ensure greater equity in treatment going forward."
Matt, 23, is a graduate student in applied mathematics. In his free time he enjoys cooking and baking, especially with family and friends, as well as completing crosswords and other puzzles. He is an avid fan of the Buffalo Bills.