In April 2020, Paige and other members of her family ordered cheek swab kits from Gift of Life to join the marrow registry in support of a close family friend who was battling Acute Myeloid Leukemia. Paige's mother was also fighting cancer at the time, so joining the registry was important to her.
"Knowing how precious time is, I had hope that I could help someone like my mom," said Paige.
A little over a year later, while Paige was visiting her parents, she received a call from Gift of Life saying she was a match for 61-year-old woman battling Chronic Myelomonocytic Leukemia.
"I was so excited when I heard that I could help someone," said Paige. "I shared the news with my mom that I might be able to help someone else with cancer. I also told the rest of my family and some close friends. Everyone was excited about the opportunity and proud of me for accepting the call."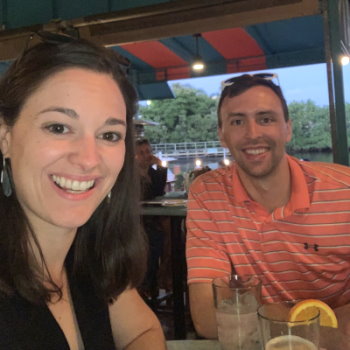 Peripheral blood stem cell donors from Gift of Life's registry are given the option to come to the headquarters in Boca Raton, Fla. for their collection at the Adelson Collection Center, and they may bring a companion. Paige's husband Brendan joined her and they enjoyed their "donation vacation," checking out the local restaurants.
During the collection process, stem cell donors are fully awake and able to talk, read and watch movies. Collection typically takes four to six hours, depending on the quantity of cells requested by the transplant center for the patient.
"During the donation, I rested and watched Netflix," said Paige. "Everything went very smoothly and the Gift of Life staff was so caring! They checked in often and took care of all my needs. My recovery was also very quick."
Paige feels very proud of having donated and taking an active role in giving back and helping others.
"It puts things in life into perspective," said Paige. "Being a donor is so rewarding. I even donate blood regularly now, knowing that I can help people out."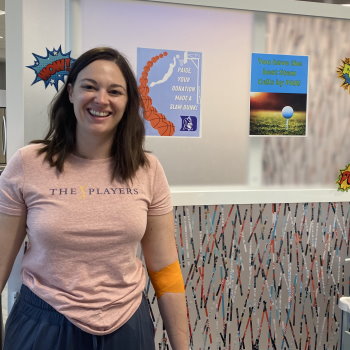 Paige, 30, is the Director of Finance at a major pharmaceutical firm and lives in Indiana with her spouse, Brendan. She is a graduate of DePauw University, earned her master's degree from Duke University, and is a member of Alpha Chi Omega sorority. In her free time, Paige enjoys playing golf, reading, and participating in group fitness.
---
Paige ordered her swab kit from the For Pete's Sake Donor Circle.