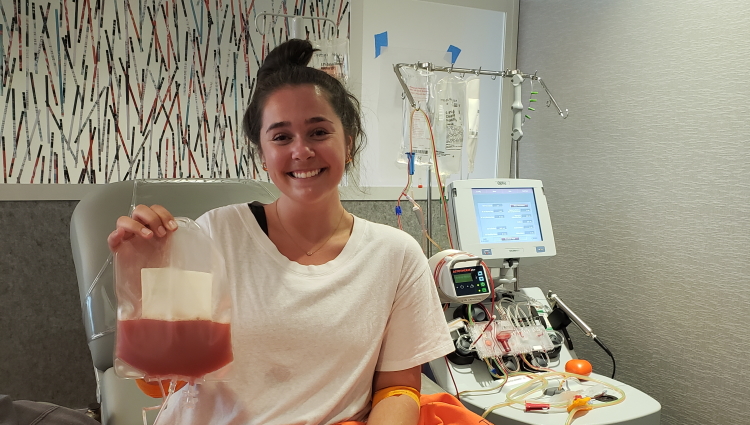 Delaware undergrad donates stem cells to save woman battling leukemia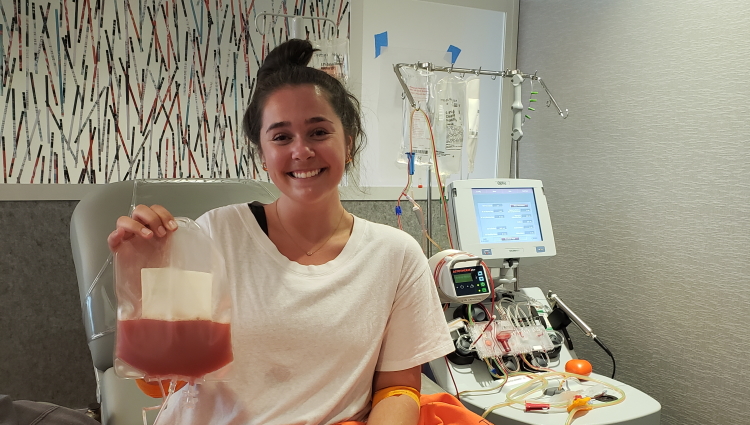 When University of Delaware undergraduate Nora went to a sorority meeting for Alpha Sigma Alpha in March 2018, the last thing she expected to hear about was leukemia. But there it was – a brother from Alpha Epsilon Pi was talking about the disease that had taken her beloved grandfather from her family. He explained that by joining Gift of Life Marrow Registry, the sisters could make their sorority membership even more meaningful, giving hope to those who are battling blood cancer and in need of matching donors. Nora needed no further prompting, and neither did anyone in the room: almost her entire pledge class joined Gift of Life that day.
"I was very close with my grandpa, who passed away ten years ago from Acute Lymphocytic Leukemia," said Nora. "Two of my best friends were both diagnosed with non-Hodgkin's lymphoma and have beat cancer! When I learned about Gift of Life I had to join and hoped that one day I could be a match and save someone's life."
Nora didn't hear anything again until January 2021, while on vacation with cousins in Ft. Lauderdale, Fla. She stepped outside to take a phone call and couldn't believe what she was hearing: she was a match for a woman in her 60s who needed a transplant to cure Acute Myelogenous Leukemia!
"When I found out I was a match I was absolutely thrilled!" said Nora. "I was also a bit overwhelmed, everything happened so fast after the call. But my donor services coordinator was like my "Gift of Life Mom," making sure I understood everything and felt welcomed and valued."
"Nora has a history of volunteering and service work, so it was no surprise to me and her mom that she was a match," added her dad, Jim.
---
This experience is something I would not trade for the world. It is incredible that I had the power to help someone so greatly.
---
Nora's actual mom, Colleen, accompanied her back to Florida in February for her donation day. The two had a great time relaxing at the hotel, walking to get smoothies every morning, and then spending time by the pool on their donation vacation.
"My mom is a high school teacher so at first we were unsure she'd be able to take time off to travel with me," said Nora. "When she met with her coworker, she told her to take as much time as she needed, and that her best friend is alive today because of a stem cell transplant she received 15 years ago." Nora's friends, family and community have reacted with incredible support for her as well.
"I felt such an outpouring of love during every step of the donation process, and I could not be more grateful to have such amazing people supporting me," she said.
She is also thinking about her recipient and wishing her the best in her recovery.
"This experience is something I would not trade for the world," said Nora. "it is incredible that I had the power to help someone so greatly. Donating has made me realize how lucky I am. I would absolutely love to one day meet my recipient."
Nora hasn't sat on her laurels, either. During the University of Delaware annual Dance Marathon, she donated ten inches of hair to be used for wigs for children fighting cancer. And it isn't her first time – she regularly donates her hair for this incredible cause.
Nora is looking forward to graduation in May with her degree in International Relations and Development, and plans to pursue a career in the nonprofit sector. In her free time, she travels, spend time with friend and family, and keeps up with her volunteer work.