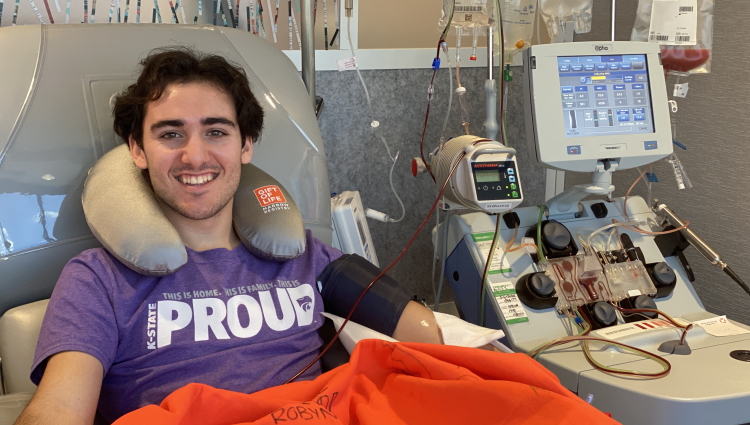 Delta Sigma Phi brother donates stem cells to leukemia patient during pandemic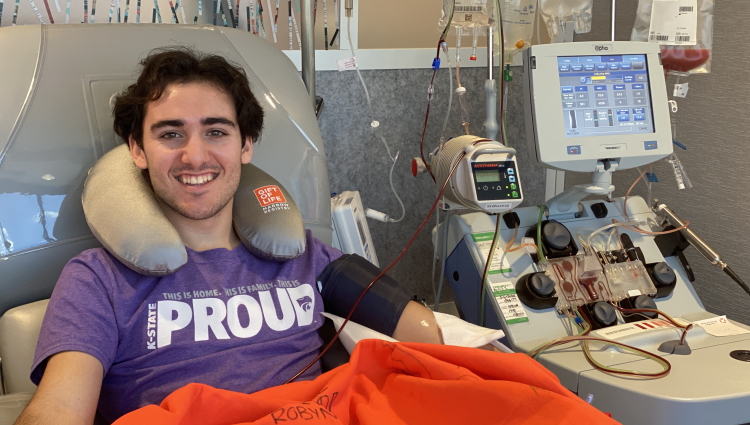 Keaton was riding his bike across the Kansas State University campus in January 2020 when his phone rang.
"Why is this Florida number calling me?" he wondered. "Normally I ignore random calls, but I picked it up and the young lady told me I matched a 58-year-old man fighting leukemia." That's when he remembered swabbing at a Delta Sigma Phi fraternity dinner.
"We often invited other campus organizations in to talk about their fundraisers and philanthropic work, and that day it was Gift of Life," said Keaton. "We have 50 or 60 brothers at these dinners, and I think more than half of us swabbed that night in 2017 and joined the registry." He thought it would be nice to "drop my name in the hat," but then put it in the back of his mind after he didn't hear anything right away. But once he got the phone call that he was a match, he was ready with no hesitation.
Keaton has a daily group chat with both his immediate family and his girlfriend Paige's family, so he went right onto the chat.
"I told them I was a match for a potential stem cell or bone marrow transplant, and I was going to do it. They had questions about the process, but were super supportive," he said. This attitude of service to others runs in the family, as his dad served in the U.S. Army for 25 years. But within weeks, the COVID pandemic hit, and everything was postponed.
"We were able to set a collection date in the fall, so I was excited to get to Florida and donate," he said. "Then my flight got delayed and I missed my connection. My coordinator was able to fix it, and arranged ground transportation to get to the hotel. Gift of Life did an amazing job making sure I was taken care of. It was like a mini-vacation – I walked on the beach, got pampered at the collection center, it's great."
---
How could I say no? I never had a second thought. I know someone at the other end is fighting to survive cancer and needs my help.
---
But Keaton never lost sight of why he was there: to save a man's life. On arriving at the collection center, he was prepared for the four-to-six hour apheresis process. He had received his Neupogen injections for several days to mobilize his stem cells and had been following collection center advice to drink "tons of water." He also had a nice long four-hour movie picked out to watch. He chatted with the collection center nurses, settled in, and started watching his movie. Then suddenly one of the nurses was telling him, "You only have about 15 minutes left."
"My reaction was, 'But I'm not done with my show' and the nurse offered to let me stay and finish watching it," he said. "That's a testament to how comfortable the facility is and how great the nurses are. Everybody is welcoming and I really enjoyed the experience."
He also added, "There is no reason not to donate. Put your name in and give another person that opportunity for a second chance at life."
As he was preparing to leave, his coordinator thanked him for helping to save a life, but, Keaton said, "How could I say no? I never had a second thought. I know someone at the other end is fighting to survive cancer and needs my help."
Keaton graduated from Kansas State University, Manhattan, Kansas shortly after the pandemic lockdown. He accepted a job in Chicago at a national management consulting firm, so after donating, he and Paige, who is a health care worker, began their move. Keaton will be serving higher education clients and says that he has a love of problem solving not only in his work, but in his favorite hobbies – rock climbing and chess, both of which require excellent planning skills.
Keaton enjoys playing chess with his toughest opponent, his niece. He also loves the challenges of rock climbing.