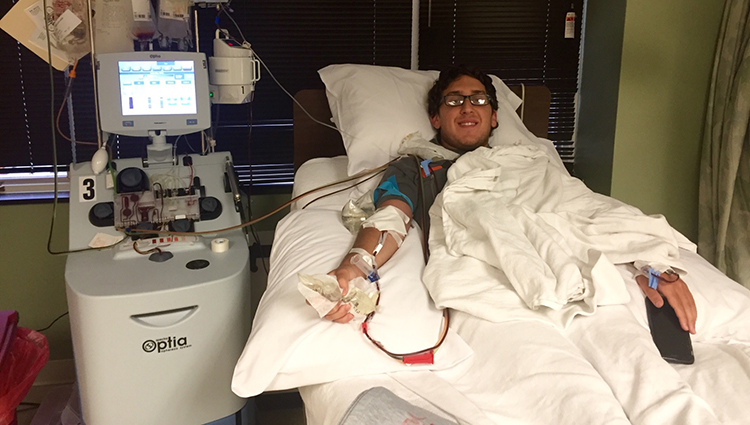 Second time is the charm for the 100th donor of 2016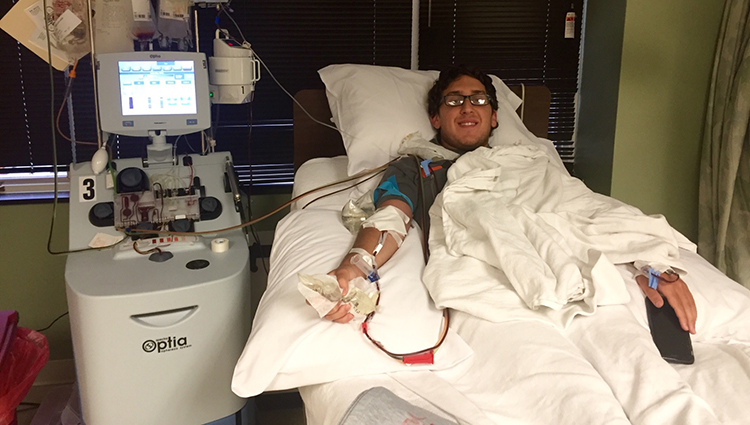 On September 19, 2016, Gift of Life marked its 100th lifesaving donation of the year. Ari Goldstein was the hero who provided peripheral blood stem cells (PBSCs) to a 49-year-old woman with Non-Hodgkin's Lymphoma, but she was not actually his first match.
Ari joined the registry on April 17, 2015 while he was a student at the University of Maryland. He was at the National Hillel Basketball Tournament that day, and saw his friend Jared Stein running a swabbing booth. He decided to join the registry and said it was easy to get started as a donor – "all you do is swab your cheek and drop the swabs in an envelope, that's it, very simple."
Of course, the chance of ever being called as a match is very rare, so Ari was astonished when he was called only a few weeks later. "Less than a month after I joined the registry I was called as a match," said Ari. "I went through Confirmatory Typing, but it turned out the patient wasn't ready for the transplant, so my information went back into the database of donors."
Fast forward to this summer – when Ari saw he had a phone call from Boca Raton he knew right away it was from Gift of Life. He was incredibly surprised to learn he was a match for a different patient, and was excited to get started as soon as possible. "This time I understood the process and how everything works and was ready to get going," said Ari. "I was very eager because I didn't get to donate the first time, and I was hopeful this second match would work out."
At the time, Ari, a recent college graduate, was on a break for several months as he applied to medical school. "I would have donated either way, but the timing was perfect," he said. "It was helpful knowing others who had donated bone marrow and PBSCs. I really educated myself as much as I could, and learned all about various aspects of the transplant process."
As of October 2016, Gift of Life has facilitated 25 bone marrow transplants and 76 peripheral blood stem cell transplants this year alone. Due to improvements in medical procedures, PBSC transplants now far outnumber the transfer of actual bone marrow, which is most likely to be used for a child. Gift of Life has also arranged seven donor lymphocyte infusions in 2016, a transplant of specialized lymphocyte cells usually given to previous transplant recipients to augment their new immune system.
"Donating is a simple thing to do, and it makes a big impact," said Ari. "I want to say thank you to everyone who has donated, and send a message of support to everyone who has received a transplant and is going through their recovery. The fact that so far in 2016, 100 people have received these crucial, lifesaving transplants that can potentially save their lives is so important. I encourage everyone to join the registry."
Ari is currently applying to medical school, and in his free time he enjoys playing tennis.
Thank you, Ari, for being our 100th donor this year!