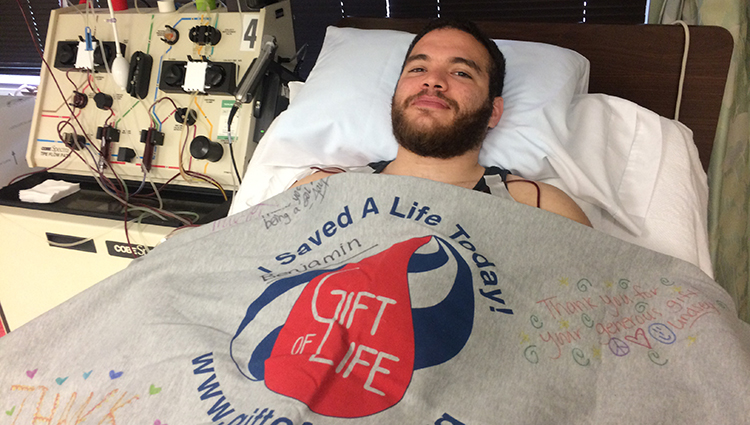 Future X-ray technician gives leukemia patient second chance at life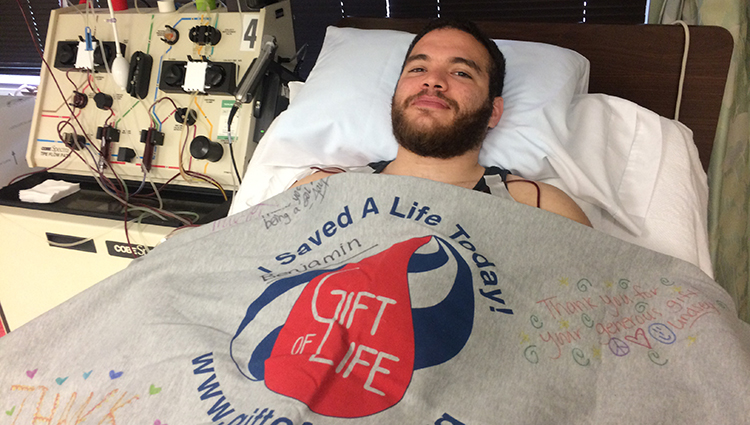 Benjamin was a frequent blood donor, so when his college fraternity held a bone marrow drive in 2011, he thought becoming a marrow donor was a natural thing to do – and something that might be needed even more.
Six years later, he received that special call from Gift of Life to let him know he was a match for a woman with leukemia who needed a peripheral blood stem cell (PBSC) transplant. Benjamin immediately committed to the procedure, saying, "I've donated blood and platelets so many times I was already familiar with the apheresis machine and the need to lie in one place for a time."
To help him understand the process, Benjamin called his friend Josh, who had previously donated bone marrow, and heard that he'd had a tremendously positive experience and that he would do it again.
Benjamin arranged to take a few days off from classes and his two jobs, and headed to the donation center at Apheresis Associates of Northern Virginia (AANOVA) accompanied by his girlfriend. The two watched movies during the donation and agreed that AANOVA has "a great DVD collection." His father was also very supportive of his son's decision.
Afterward, Benjamin quickly resumed a normal work and course schedule, and is looking forward to the updates about his recipient's recovery. While he knows his recipient could be anywhere in the world, he has joked with friends that it will probably turn out to be someone who lives nearby, maybe even in the next town.
"The registration process is so easy, there is really no reason to not want to stick a cotton swab in your mouth," said Benjamin. "I think it's important to expand the registry and especially focus on underserved groups." For a transplant to be successful, tissue types must match and these are inherited from parents and ancestors. People from some ethnicities are underrepresented in the worldwide registry, making it difficult for those with blood cancer to find donors with compatible tissue types. The more people who register, the more likely that donors will be found for them, and more lives will be saved.
Benjamin is studying to become an X-ray technician, and in his free time he plays the cello. He also studies judo and martial arts.