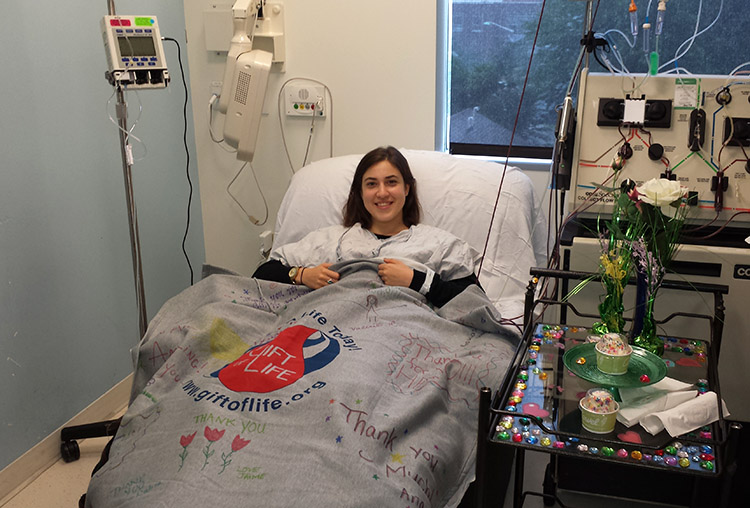 Cheryl donates PBSCs and gains new outlook on life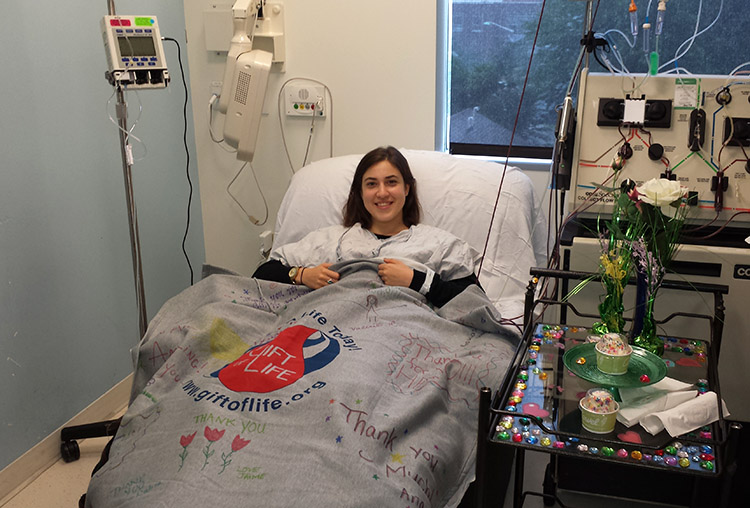 In the summer of 2010, Cheryl was working at Camp Moshava in Honesdale, PA, when she came upon a Gift of Life donor drive and decided to swab her cheek. Thanks to a partnership with the Foundation for Jewish Camp, Gift of Life has brought its lifesaving mission to camps across North America through programming and recruitment drives. This has been a successful collaboration which, as of September 2015, has added over 3,700 new donors to the registry and resulted in 72 potential matches and 10 transplants to date!
When Cheryl got the call years after joining the registry that she was a potential match for a 65-year old-man suffering from non-Hodgkin's lymphoma, it was a "very interesting time in my life." She explained, "I was coming up on graduation from college, starting my first job, and moving to New York City. Life was getting real very fast. I was questioning my career and whether I might want to dedicate my life to something more meaningful and with a greater purpose. I was feeling guilty that as a young, single person with no responsibilities, I was too selfish." She continued, "Then I got the call that said I could give to save someone else's life. It felt amazing. I no longer felt selfish and lost but instead used the mindset of helping others to tailor the rest of my daily actions. I recognized the many ways I could help and be kind to others and my entire outlook on my life changed for the better."
The donation process came at a perfect time for Cheryl. Having just graduated college and not yet begun her career, she did not have to take time away from work or school. By coincidence, the collection of her peripheral blood stem cells was scheduled on her 23rd birthday. "I've never been one to love birthdays and always feel slightly disappointed on mine because, let's be honest, it's just a regular day," said Cheryl. "Knowing that I was able to make this day something special and different just added to the experience. I much preferred making my birthday special by donating and doing a good deed."
Cheryl doesn't know much about the man she donated to, but when she considers what it must have been like for him to have to rely on a perfect stranger, she said, "I'm sure it must have been petrifying and awe-inspiring at the same time." She continued, "I want him to know although technically I gave him the gift of life, I honestly believe that through the process he also gave me that same gift. He reminded me how to live not just for myself but for others as well. I hope his faith in humanity was boosted and his confidence in the kindness of strangers stays with him throughout the rest of his long life."
Cheryl graduated from the University of Maryland and has begun her career as a consultant for Deloitte Consulting, LLP. She recently moved to New York City's Upper West Side and enjoys traveling, photography, and reading.