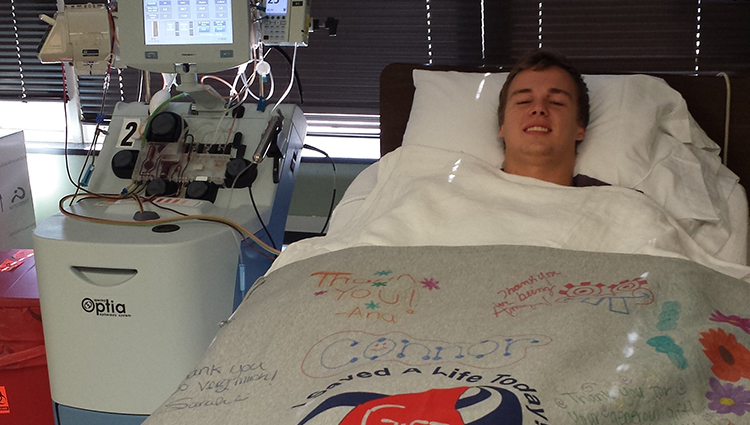 Future physician is second donor from Campus Ambassador Program drive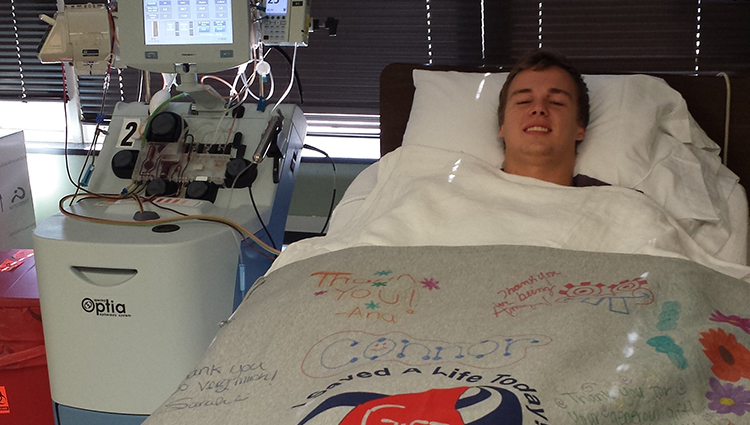 As a physiology major, Connor O'Hare knew how low the chances were of being called as a matching donor for bone marrow or peripheral blood stem cells. He joined the Gift of Life Marrow Registry at the Spring Club Fair at the University of Arizona in January 2016, because his friend, then-Gift of Life Campus Ambassador Krissy Kelly, invited him to come to the drive and swab his cheek.
On April 29, as Connor was preparing for graduation in May, he saw a post on Facebook that a match for a patient had been found from the University of Arizona Campus Ambassador Program. "I thought 'that's so cool, one of us turned out to be a match for a 54-year-old man,'" said Connor. "Then later that afternoon I got the phone call that I was the person who was the match! Krissy was one of the first people I called with the news and she said, 'No way! That's amazing!'" Connor is friends with many of the Gift of Life volunteers at University of Arizona and they were all excited to hear that their first match had been made.
For Connor, the next step was Confirmatory Testing to find out exactly how closely matched he was with the patient, followed by physical exams to ensure he was healthy and able to donate on schedule. Once the all clear was given, Connor was ready to proceed.
"I never questioned it, I was always excited to donate," said Connor. "You're changing someone's life and it's so powerful – that's what motivated me to make my donation."
Connor received several injections of Neupogen to stimulate his production of peripheral blood stem cells (PBSCs) and encourage their circulation in his blood stream. On the day he donated, he was accompanied by his mother, and a Gift of Life Donation Coordinator who ensured he had everything he needed and had plenty of support if he had questions.
PBSCs are collected through apheresis, a process similar to donating platelets, where blood is drawn from one arm, and specific cells are identified and filtered out; the remaining blood is returned to the other arm.
Connor's mother treated him to his favorite – a nice sushi dinner – afterward, and he said he felt fine by the next day. Since he had taken two months off before starting medical school, traveling to the donation center didn't impact his schedule. However, it made a big impression on his friends and family.
"Gift of Life posted a picture of me donating on Facebook, and I had over 500 likes on that photo, and received a ton of messages," said Connor. "I got tremendous support from people I didn't even know very well, which was amazing. I was surprised because I didn't expect this outpouring of emotion." Some people have even approached him to find out how to join the registry themselves.
Connor is looking forward to the first update on his recipient, and hopes they will be able to meet in person someday.
"Gift of Life is an amazing experience and I was blessed to be selected as a match. It is incredibly motivational as I start my own journey to become a physician. I highly recommend to my college friends that they become involved in the Campus Ambassador Program donor drives. It is an easy decision to donate if you are ever called as a match."
Connor, a student at the University of California, San Diego School of Medicine, expects to graduate as a physician in 2020. In his free time he enjoys playing hockey, boxing, spending time in the outdoors, and he loves eating sushi.
Krissy Kelly graduated last spring, and has joined Gift of Life's staff as Community Engagement Coordinator working in Boston to serve the New England area. We're looking forward to her accomplishments!