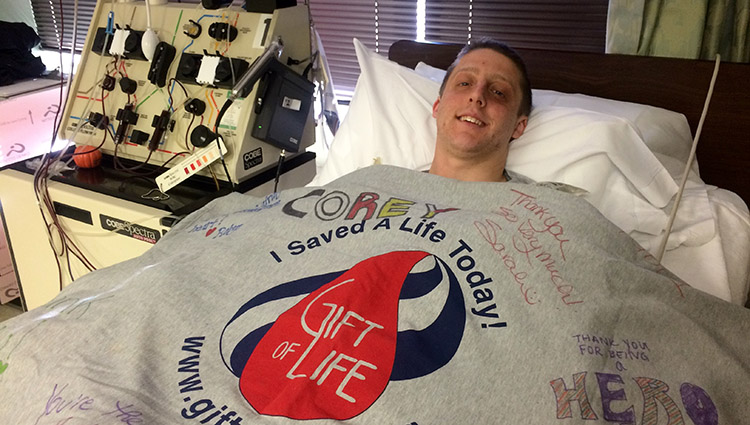 University of Maryland alum donates marrow to save a life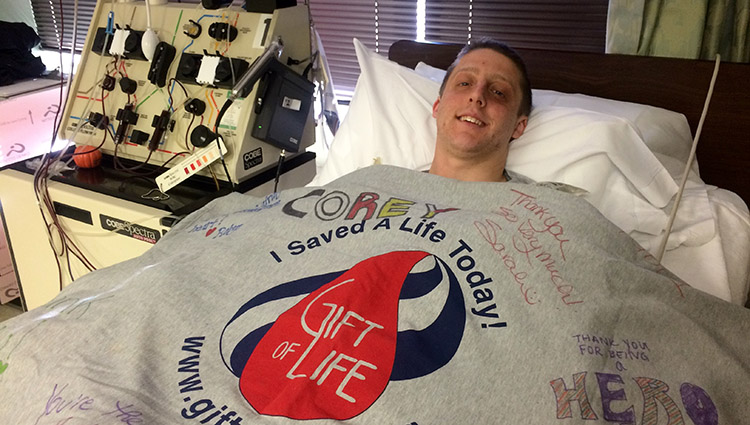 Corey Ruben already understood the important need for bone marrow transplants when he joined the Gift of Life registry during the University of Maryland's Terp Thon in 2013. Two years earlier his cousin had donated marrow for Corey's uncle to treat Acute Lymphoblastic Leukemia.
A recent graduate of the University of Maryland, Corey knew how rare the chances were of being a match for someone and was thrilled and excited when the call came. He would be donating peripheral blood stem cells to a man with a type of leukemia in need of a transplant.
"I was excited and called my mom right away to tell her the good news," said Corey. "She is the one that taught me to always think of others first. Having the opportunity to help someone that much was very exciting."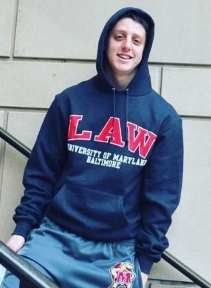 In spite of a large positive response to his donation and being congratulated by many people, Corey does not feel like he's the hero. "I consider myself lucky to be picked as a match," he said. "My recipient, though, is really the one that's a hero. He is the one that had to go through all the treatments and he was brave enough to do the stem cell transplant. He was fighting for his life."
Corey, age 22, recently received the first update on his recipient and it's positive: he is doing well and is now recovering at home.
A huge advocate for people contributing in some way to prevent others from having to go through cancer, Corey said, "It's not that difficult to impact someone else's life in a positive way. I just encourage everyone to join the registry. If you can do something to save someone's life, then you have to do it."
Corey graduated from the University of Maryland in 2016 and has started his first year at University of Maryland Francis King Carey School of Law. He enjoys playing basketball in his free time.