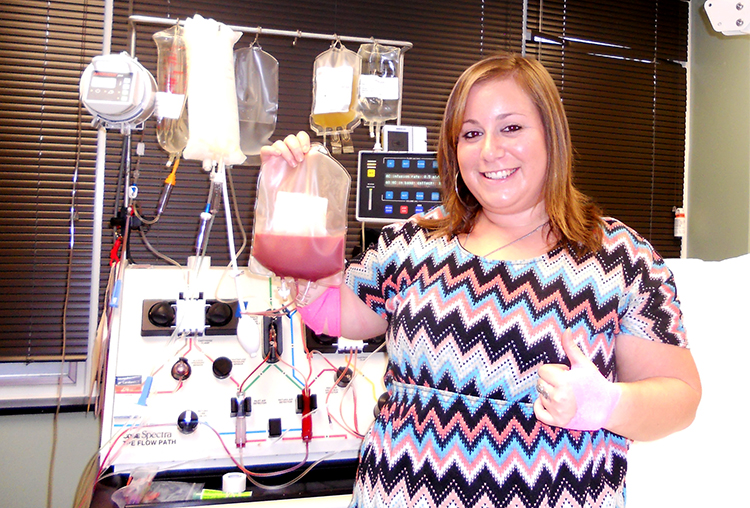 Laura says donating was "a great way to give back"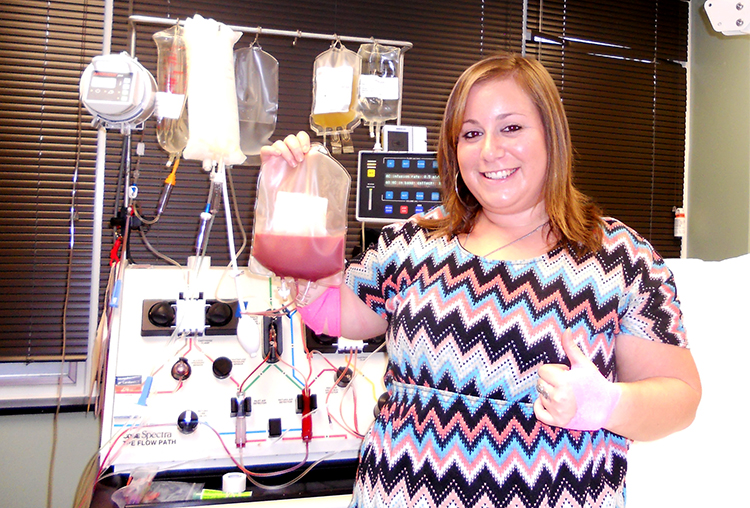 In July 2007, Laura was in Jerusalem on a Birthright Israel trip, a once-in-a-lifetime opportunity to experience ten days of Jewish culture and history in Israel, at no cost to participants. "I had received so much from the world, and I thought that joining Gift of Life's registry would be a great opportunity to give back," she said. The recruitment drive was offered through a partnership between Gift of Life and Taglit Birthright Israel, a collaboration that, as of October 2015, has added over 32,000 donors to the registry, identified over 1,100 potential matches, and resulted in over 150 transplants.
When Laura learned that she was a match for a 59-year-old woman suffering from biphenic leukemia, she was "in total shock." Her immediate reaction was that she wanted to help, but soon the problem of logistics crept in. She was studying in Israel at the time and became concerned about traveling back to the United States for the donation and missing too much school. Thankfully, her teachers were supportive and assured her that she would be able to keep up with her studies remotely via online assignments. "When I found out about the match, I connected to this stranger by thinking back to my own mother," said Laura. "She had been through a pancreas surgery and had had complications for a few days after, and I knew how worried I had been. I knew that I would want someone to help my mother or my family in any way possible, so that is why I was determined to follow through with the donation. That kept me going."
Laura describes her marrow donation, which took place in January 2013, as "a true team effort." She said, "Friends and family took great care of me when I arrived home, escorting me to my appointments and helping me out. My teachers e-mailed me weekly and the school sent me baskets with fun things. A few friends sent me flowers and cookies, and I even received a spa gift card! Everyone at Gift of Life was great, too," she added. "I really appreciated the daily phone calls and the blanket that the staff signed. I could not have done it without all of their support. I felt back to normal after the donation and returned to Israel a few days later."
Following her donation experience, Laura reflected on the many ways that the transplant impacted her. "The feeling of 'I can do something super important' is so incredible, and I now have so much empathy for other people, even perfect strangers," she said. "I look at everyone so differently now. I was inspired to run a donor recruitment drive in Israel a few months after the donation and spoke to students about getting swabbed. It was great for everyone to hear my story."
Once the required amount of time passed after the transplant, Laura and her recipient, Frieda, reached out to one another through e-mail and Facebook. Frieda eventually made the trip to New York from her home in Sherman Oaks, CA, and the pair met for brunch, together with their families. Laura described it as an incredible experience, explaining, "She is the sweetest woman ever and her family was so warm. It was so emotional meeting everyone and sharing stories. We felt like family right away and really bonded. We've remained in touch and I know our families will forever be connected."
Laura lives in Brooklyn, NY, where she teaches Jewish studies to seventh graders at a private Jewish high school.